Skid steers are some of the most capable pieces of equipment you can buy. They have significant lifting capacity but are also very maneuverable, able to turn on a dime. That is likely why there are a large number of attachment options. One of the most popular is a skid steer trailer attachment. Below are some tips on buying your next trailer online.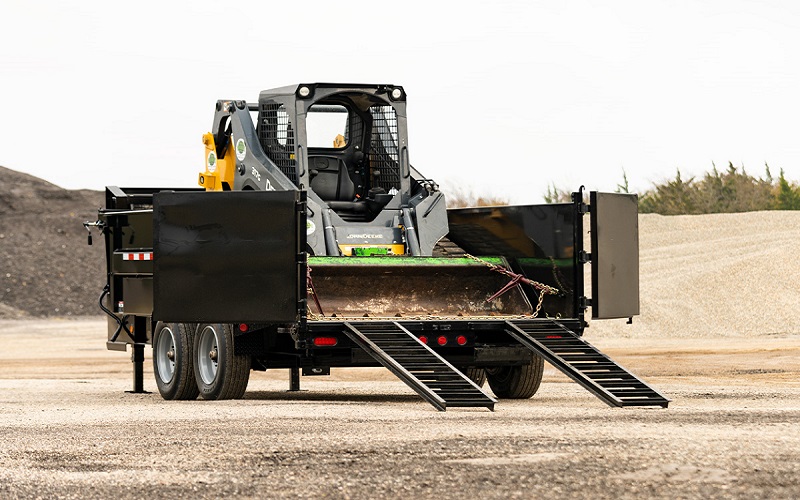 Identify the Load Requirements
Trailers are rated for different load weights. This is perhaps the most important element to consider when you are buying a trailer. If it can't handle the loads you need to move, then it won't be worth very much.
Keep in mind that the trailer and load also need to be pulled by your skid steer. So, check the load capacity for the vehicle as well. The trailer's weight will count against the skid steer's towing capacity. If you buy a trailer that can handle 5,000 pounds and weighs 1,500 pounds but your skid steer can only handle 3,000, you will be severely limiting yourself.
Factor in a little extra weight beyond your normal load amount. This will give you some extra flexibility later on.
Get the Dimensions Right
Another key factor is the size of the trailer. Sometimes you will need to carry loads that are relatively light but take up a lot of space. Conversely, you may only ever be carrying highly dense loads. In other words, buy a trailer that has the necessary deck size for the jobs you intend to do.
The length is a particularly important element of the decision since most trailers are a standardized width. Consider laying out a likely load on the ground to get a good sense of the correct size. Like the weight capacity, it is good to search for dimensions that are slightly more than you strictly need.
Of course, it is also important not to go too big. If you will be working in tight spaces, it is better to make two trips than to have to carefully maneuver and keep getting stuck.
Choose Additional Features
Finally, you can think about the types of additional features you may need. This should include basic things such as whether you will use a 3 point trailer hitch or another hitch type.
Another feature consideration is whether you want a flatbed or walls. If you want the latter, how high should they be? Should they be removable or fixed?
You can also look for features such as the right floor materials. Ramps may be another important feature for you. While there are standalone ramps available, if you will be loading vehicles on your trailer frequently, you will want to have built-in ones.
Find the Right Trailer Today
Check out your trailer options today to find the right option for your needs. Skid steers can be very practical machines. They are even more useful if you have the right attachments such as a trailer. Plus, you can grab some other options such as John Deere loader forks. With a few attachments, you can take on all sorts of cargo-moving needs.