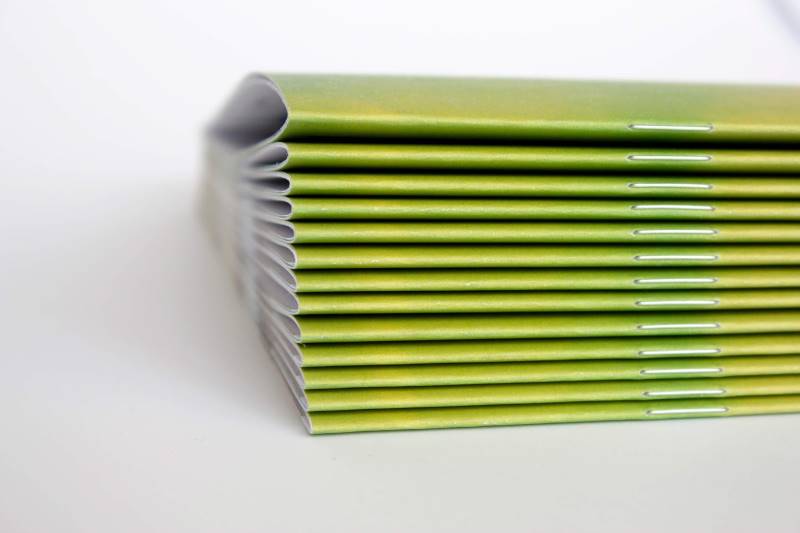 Do you need to have some brochures printed? In order for your print materials to look vivid and appealing, you need to make the right choice of binding technique. 
Saddle stitching and perfect bounding are both popular alternatives, providing individuals with an opportunity to select the preferred paper format, texture, and thickness. The final decision would depend on the required page count and the budget of clients. 
Get familiar with the difference between saddle stitching and perfect bound printing in order to choose better. 
Saddle stitching
This binding technique is unquestionably one of the simplest in the printing world, referring to the method of folding pages at their center, placing them in the right order, and stapling them in the middle of the folding line. The saddle stitching technique is ideal for binding brochures, booklets, comic books, and magazines. Make sure you learn more about saddle stitch booklets in order to see if this booklet binding method matches your requirements. No more than two staples are required to keep the pages together, but papers of larger size might require more. 
When it comes to page count, saddle stitching is an appropriate binding method for as few as eight pages to as many as sixty-four sheets. Bear in mind that the thickness of the paper is what dictates the page count. The thicker the paper, the lower the number of pages. In order for you to use the maximal count, the thickness shouldn't exceed 0, 1 mm. 
Moreover, saddle-stitch booklets are available in multiple sizes, even A6. Clients can have their books printed both in landscape and portrait orientation in accordance with their needs. Individuals are also provided with a choice of paper weight and finish. Printing companies offer not only uncoated but also gloss paper. The thickness can be a minimum of 130gsm to a maximum of 350gsm. Usually, the cover differs in terms of weight, being thicker than the rest of the sheets. 
In order for the cover to be more long-lasting, clients are advised to have it laminated. Additionally, individuals looking for an environmentally friendly printing solution can choose from a variety of recyclable sheets used to protect the environment.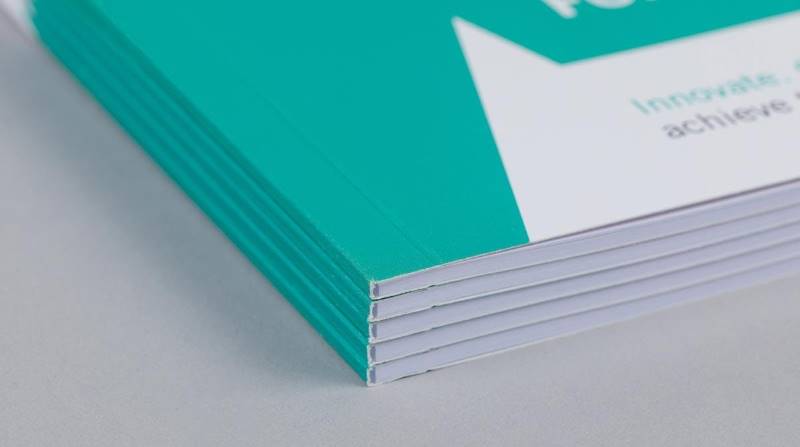 Furthermore, saddle stitching is widely preferred for its cost-effectiveness and speed of the printing process. It allows clients to get creative with the choice of paper, as well as use a separate cover. On the negative side, saddle stitching poses limitations when it comes to page count, preventing users from printing more than 64 sheets. Also, the lack of a spine makes booklets, catalogs, and magazines more susceptible to wear and tear. Click here to learn about how to saddle stitch staplers work.
Perfect bounding
Perfect bound printing, on the other hand, uses glue instead of staples to hold the sheets together at the spine, which belongs to the cover. The adhesive used for this method has to be chosen carefully in order for the pages not to fall apart when reading. 
Regarding page count, perfect bounding enables clients to print books of at least forty to as many as seven hundred pages. Consequently, this method is used for printing directories, books, journals, magazines, manuals, reports, catalogs, etc. Besides guaranteeing durability, perfect binding provides clients with attractive-looking books. 
Similar to saddle stitching, perfect bound printing offers an assortment of paper sizes, textures, and orientation options. Despite the standard A4 format, people can print books in A5 or A6 format. The weight of the paper ranges from 100gsm to 150gsm, whereas the texture can be silk, gloss, or uncoated. 
The silk texture is suitable for individuals looking to print brochures or catalogs in vivid colors with excellent contrast. Gloss-coated sheets resemble the silk-coated ones in providing sharp tones and a smooth feel. Nevertheless, the latter eliminates the need for the cover to be laminated. 
In case you aren't looking for a sheen, the uncoated paper would be a perfect choice. Its absorbing nature makes the ink look appealing while providing a soft feel. Check out this link, https://www.britannica.com/technology/papermaking/Paper-properties-and-uses, to get an insight into the papermaking process.
Final word
Both binding techniques are specific in their own way.
It's your decision only!