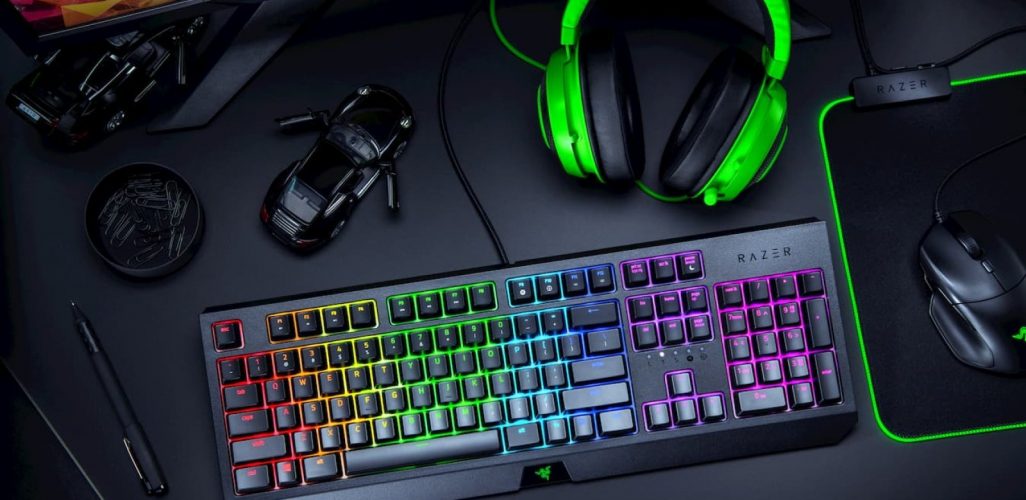 Gaming is referred to be an expensive hobby and with the expansion of the gaming industry across the globe, a range of improved gaming accessories is being introduced in the market. These accessories help gamers to improve their gaming setup and skills as well as may aid in their overall health. The following are the ten essential accessories that every gamer needs to buy for a better gaming setup.
Gaming Desk:
The gaming desk is often referred to as the backbone of a gaming setup. No doubt you can put your gaming PC setup on any desk but a good gamer knows that a gaming desk is necessary. A gaming desk is specifically designed to increase your gaming flow and efficiency. This desk manages your all gaming accessories in a good manner and provides the essential space for storing all your PC equipment. You should buy the gaming desk which suits your needs and is suitable for the area you have dedicated to gaming.
Gaming Headset:
If you choose the right gaming headset for you, it will allow you to play loud games without disturbing the nearby people or maybe the people at your home. Gaming headset not only provides you the best gaming sound but it also helps you to communicate well with your teammates. You might be thinking that you can use a usual headset for gaming instead of buying a specific gaming headset. But one must remember gaming headsets are not the same as those usual headsets. They are more comfortable than the usual headsets which may hurt your ears if you have been gaming for a long time and the usual headsets may also start to feel heavy on your head.
Gaming Keyboard:
Hundreds of gaming keyboards are available out there in the market and you can buy one according to your needs and the space available for your keyboard in the gaming setup. Some gaming keyboards also have lighting under the keys to help you see the keys in a dark room. A good gaming keyboard is comfortable to use and is user-friendly. It depends on the gamers which type and model of gaming keyboard fit their demands.
Custom-Built PC:
There is a lot of gaming PCs available in the market built specifically for gaming but they are often over-priced. We would recommend you build a custom PC that fits your gaming demands. It will be a more powerful PC for your gaming as well as cost your less money. Moreover, you can build a custom PC keeping in mind the PC requirements of some specific games you plan to play.
CPU cooler:
A good gamer focuses on the performance of their gaming PC setup while playing video games. If you want to enhance your PC performance, you should buy a CPU cooler which will keep your CPU from overheating resulting in enhanced performance of your PC. They are often very affordable and are available in various shapes and sizes in the market.
Gaming Mouse:
The right gaming mouse provides you the features a usual mouse cannot offer. A good gaming mouse can vibrate to alert you about a critical situation within the game and are customizable. These gaming mouse have solid click durability and if you want your gaming mouse to work better, you should consider using it on a large gaming mouse pad.
Gaming Chair:
Usually, PC gamers play for an hour or more within a single gaming session and it might hurt your back if you are using a regular chair. You should consider buying a chair with an ergonomic design which will help you to improve your posture and may also help in temperature regulation. A good ergonomic gaming chair is probably the best solution for a gamer in this aspect and you may experience negative physical impacts if you don't consider buying a well-designed ergonomic gaming chair.
Controllers:
Many of the gamers prefer to play on consoles with controllers plugged into a gaming PC. The right controller removes the need of using a keyboard or a mouse during the game and there may be some specific games that you might play better using game controllers. Keep in mind that you need to buy a good-quality game controller for the best results and you should always check the compatibility before buying controllers for you.
Gaming Monitor:
Monitors are the basic piece of equipment you need to buy for your gaming setup. Consider buying monitors specifically designed for gaming which suits your needs well. It is recommended to buy lightweight gaming monitors that are easily transportable and it must provide high-quality video gaming graphics. Consider the resolution, refresh rate, adaptive sync and the panel technology of a gaming monitor before deciding which monitor is best for you.
Gaming Glasses:
Everybody knows that computers emit blue light which damages human eyes. PC gaming can have negative impacts on your eyes if you do not take any precautionary measures. You may consider buying gaming glasses to protect your eyes from dangerous blue light rays being emitted by the computers. These glasses work by blocking these harmful light rays and are very affordable.