Through the years, in-memory computing (IMC) has slowly gained traction and has been adopted by a number of businesses and industries. The demand for faster data processing and real-time analytics has pushed the boundaries on big data and compelled businesses to rethink the way they approach data storage and handling. As data sources continue to increase, the need to simplify processes and architecture increase with them.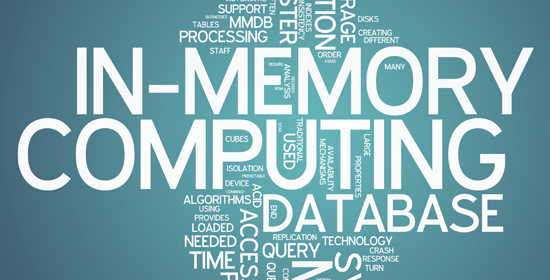 IMC solutions used to be an expensive option due to the cost of RAM, which has always been more expensive than disk. Costs have been gradually getting lower, though, due to the accessibility of SSD and persistent store technologies. Additionally, IMC is becoming more viable because traditional solutions simply cannot keep up with today's business intelligence (BI) requirements. Although different than in-memory data grid (IMDG), IMC is successful today thanks to the IMDG design philosophy; IMDG is considered as a key technology enabler for IMC.
Today's businesses demand super-fast computing and real-time scalability of data, and these cannot be achieved by relational databases that use SQL query language and rely on disk storage.
How Does IMC Work?
Speed, scalability, and simplicity—these are the three main factors IMC offers that make it a viable and arguably the best solution for businesses that process large amounts of data each day. It makes data processing thousands of times faster and simplifies access to data sources that continuously increase in number and magnitude. Real-time insights are vital in today's competitive business landscape, and IMC provides this through an innovative approach and technology. By using RAM as storage and processing data in parallel, IMC presents real-time data that enables businesses to make sound decisions and intelligent predictions. This is why IMC is ideal for businesses that use applications for hybrid transactional/analytical processing (HTAP).
IMC is able to provide low latency because it uses an IMDG to distribute data across a horizontally scalable architecture. This is in contrast to the traditional computing paradigm that moves data to a separate database, processes it, and saves it back to the data store. This approach to computing hindered real-time speeds because it was the disk I/O that prevented workloads from happening in real-time.
With IMC, the paradigm has been renewed into a unified one. In-memory data stores help eliminate bottlenecks and handle mixed workloads within the same architecture so there is no need to separate transactional databases from analytics databases, which is the main reason for disk slowdowns.
What's in Store for IMC?
IMC has seen great adoption due to its benefits in business; it has provided industries a way to easily access data and analytics to get actionable insights that help in sound decision making. By year-end of 2021, Gartner estimates that the IMC market will reach the $15 billion mark as the demand for IMC technologies continues to rise. With these numbers, how does the future of IMC look like? Below is a glimpse of how IMC can revolutionize computing in general.
Conquering past limitations


Due to the shortcomings of traditional computing solutions when it comes to big data, IMC has been pushed to the forefront as a viable memory-based solution. It has reduced bottlenecks by storing data in RAM across multiple computers in a network. Traditional approaches, in contrast, used a disk-based architecture that resulted in disk I/O bottlenecks and required investing in more and larger disk storage as quantities of data grew.

A memory-centric computing platform


The success of several NVRAM technologies is predicted to push IMC in the years to come, with performance, durability, and cost being the main considerations. Memory-centric computing will be an evolution in computing that promises flexibility and better ROI for a multitude of use cases. As the cost of RAM gets lower, the advantage of "persistent store" capabilities becomes more mainstream. This allows the amount of data to exceed the amount of memory, helping optimize data so that they can reside both on disk and in memory.

Platform accessibility


As IMC becomes more mainstream, the future sees it as an accessible alternative for smaller companies. As costs go down and implementation becomes easier to manage, adoption may grow more quickly than imagined. IMC will branch out to a broad range of industries and bring with it the advantages of using RAM storage to accelerate data processing and analytics. Currently, IMC presents use cases for financial services, retail, healthcare, and more.
The onslaught of big data on disk-based platforms shows no signs of stopping anytime soon, leaving organizations with no choice but to adopt in-memory computing systems. The right platform or implementation will determine which companies will have a competitive edge over their competitors. The cost of high-performing in-memory solutions may still be a hard pill to swallow for small businesses, but costs will go down as the platform matures. Considering the big picture and focusing on ROI will also show that, with IMC, the benefits overshadow the expenses.