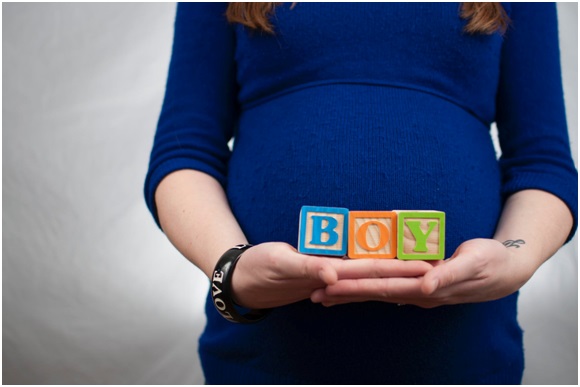 Source: Pexel
If you have been a mom and passed through the whole journey of a pregnancy, you definitely know the importance of comfortable dressing during your pregnancy. You may go along with your regular wardrobe for the first 4-5 months, but as soon as you start your third trimester you have to add a few more dresses to your wardrobe. This is also the time when your baby bump starts showing. You not only wish to be comfortable but many moms-to-be would wish to look stylish as well.
In the last trimester, style does not come before comfort. In fact, many would be willing to sacrifice style over comfort. You do not wish to worry about your dressing when you're emotional and feel discomfort. You need to focus on dresses that make you feel relaxed in the last few weeks of your pregnancy. Ideally, you should buy a few pieces that you can easily mix and match with your current wardrobe essentials. It is quite obvious that you will not be using maternity dresses in your regular life unless you are pregnant again, so it is prudent to be selective when looking for pregnancy wardrobe. Let us explore some comfortable yet stylish dress ideas for moms-to-be.
Maternity Pants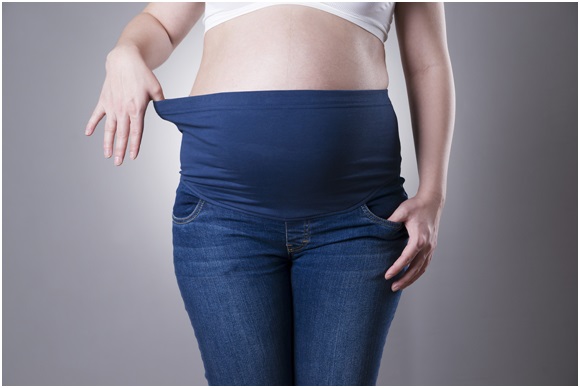 Source: Shutterstock
Someone heard the woes of a pregnant lady and invented this must have item for a mom-to-be. You cannot wear your regular pants after you have completed the first trimester. The maternity pants are a lifesaver in this situation. Maternity pants come in various styles and fabrics. You can find yourself a pair that is stretchy and has a panel that grows along with your bump. You can wear these pants as casual and formal wear during your pregnancy.
Cardigans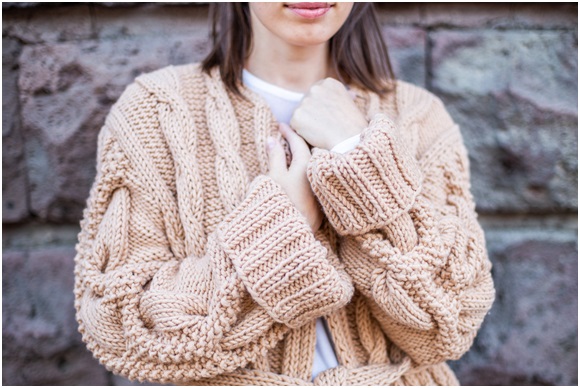 Source: Shutterstock
During the second trimester, you may wish to hide your bump, you can get some oversize cardigans. Pair the cardigans with yoga pants or maternity pants and you will have comfort with style. The cardigans are a clothing item that you can use after your pregnancy as well. You got it mostly for its style value and it had the bonus of serving as a top to hide your bump. A perfect day look for a mom-to-be in winters is an oversize cardigan, maternity pants and a messy bun!
Tank Tops
If you are expecting your baby in summer and want to proclaim to the world you are a mom-to-be, then give some relief to your body by opting for tank tops. These sleeveless tops will give you the freedom of movement and won't make you feel hot on those extra warm days. These tops can be paired with yoga pants and in case of a chilly evening, you can keep a shrug in your handbag. These stretchy tops will help you throughout your pregnancy. You do not need to spend extra money for this clothing item.
Wrap Dresses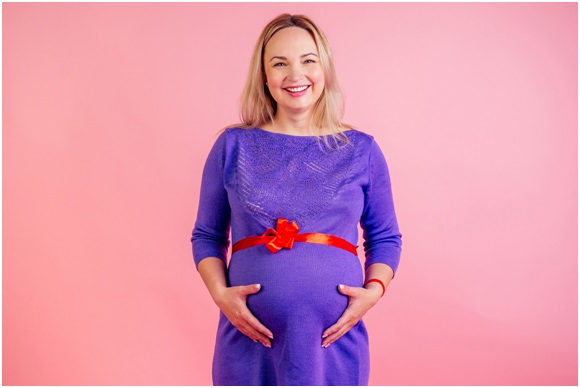 Source: Shutterstock
Wrap dresses are a woman's best choice when her baby is about to come into this world. Chic yet comfortable, get yourself a couple of wrap dresses if you do not already have them in your wardrobe. It is up to you whether you wish for a mid-length or knee-length dress. If you wish to hide being a bump girl, then you can get yourself a printed wrap dress. However, that will only work if you are in your second trimester or at the beginning of third. These dresses will work for your even after your pregnancy is over. So, it is a smart choice to shop for the wrap dresses.
Skirts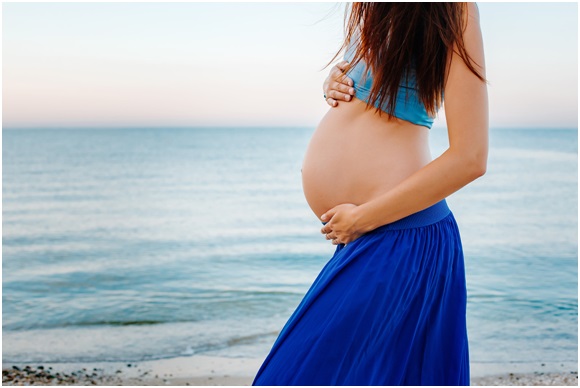 Source: Shutterstock
Get those skirts with an elastic waistband or a drawstring. They may not seem cool to you but no one can really see those, can they? Plus, during your pregnancy you value your comfort more than your style. Wear the skirt either above your bump or below it, whatever makes you feel more at ease. You can get skirts in a variety of fabrics and prints. Skirts can be paired with tank tops or tunics. If you have a printed skirt, pair it with a plain tunic and if you have a plain skirt then buy yourself a few printed tunics to change the look.
Flowy Dresses/Maxis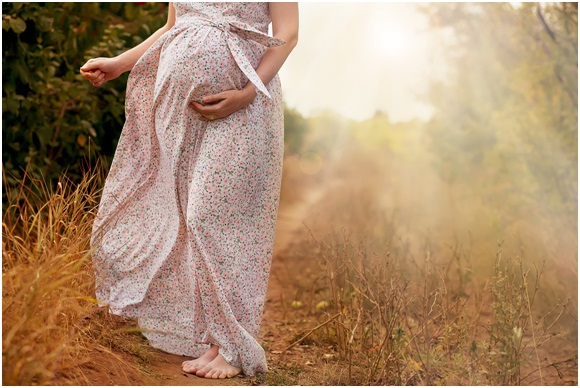 Source: Shutterstock
A must-have item in your wardrobe during your last trimester are flowy dresses. These let the air flow through and are especially useful during summer. Keeping those dresses floor length or knee-length is your personal choice. If you are looking for casual wear, then opt for printed dresses of a light fabric like cotton.
Undergarments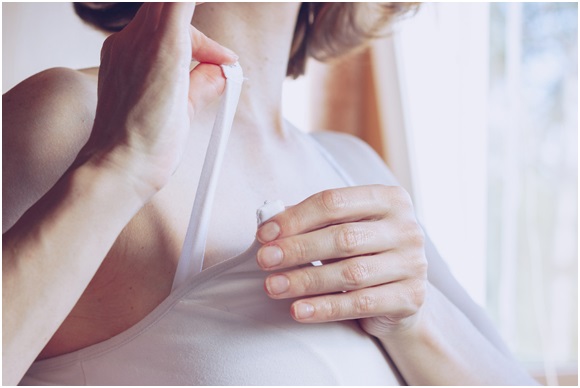 Source: Shutterstock
Do not ignore your undergarments during your pregnancy. Your bra size will change throughout your pregnancy so keep changing as you feel the need. Do not wear a size too small or a size too big. Not only is it uncomfortable, it is also unwise. When you only need to extend the band size, get yourself inexpensive bra extenders to save some money! Select panties with comfortable elastic bands during your pregnancy. Try to wear cotton undergarments in your pregnancy as the breathable material will keep you comfortable in those times when your body goes through massive changes.
Maternity Dress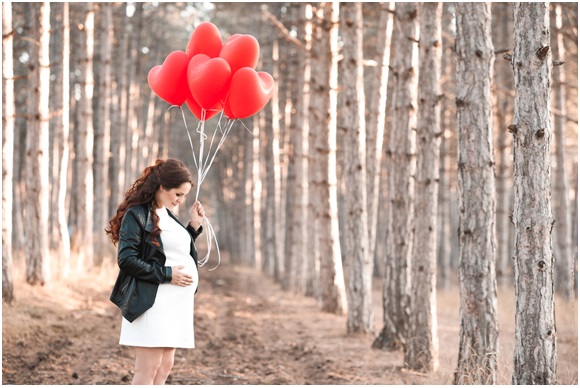 Source: Shutterstock
You may avoid it in the first two trimesters but a maternity dress is your best friend in the last two months of your pregnancy. Easy to carry and super comfortable — get yourself a few of those. You do need to be a spendthrift and get a dozen of such dresses. Buy 4-5 maternity dresses in a style that can serve you later as well.
Pregnancy can be a tough time emotionally and physically so invest time in proper care. Buying a few dresses that make you feel comfortable is not something you should ignore. If you are unable to afford new clothes, you can even rent maternity clothes or get them from a thrift store. Invest in your proper care and have the time of your life!