Peles Castle has been considered one of the finest splendid castles in Romania and even in rest of the Europe. Given its rich history, outstanding architecture, beautiful location, and surroundings, no wonder it is on top of Romania's list of attractions.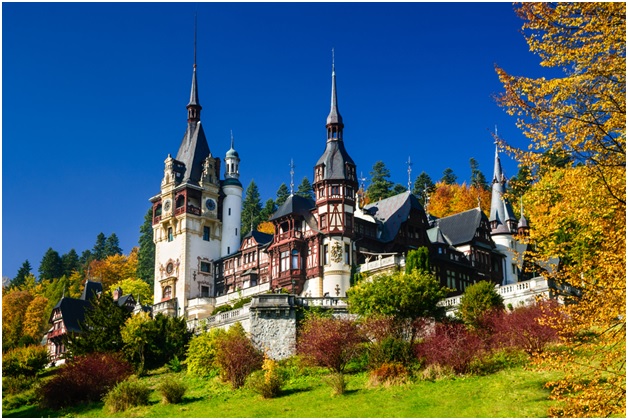 If you ever take into consideration visiting Romania put Peles on your must-see list, as high as possible. Why should you do that? Why not put any other sight ahead? Well, let us give you major reasons why you must do it.
4 Reasons to Visit Peles Castle in Romania
There are so many things to say about this amazing place that we don't even know what to start with, but here we go:
Its rich history
It's well-known fact that this tourist attraction has been built at the wish of the first Romanian king, Carol I, whose reign extended over the course of 75 years, being initially used as a summer residence.
The most impressive thing about Peles is that it was the first one in Europe that had electricity and central heating. That's a big deal for Romania. During the communist regime, the castle served as a meeting place for communist ruler Nicolae Ceausescu and for leaders and statesmen from all over the world – Richard Nixon (the US president at that time), Muammar Gaddafi (the Libyan leader), and Yasser Arafat (the Palestinian leader).
Today, Peles is owned by the Romanian Royal Family, but it is left in the management of Romanian's Ministry of Culture and National Identity. The museum is open for visitors and it is one of the most visited museums in Romania.
Impressive architecture and design
If there is someone among our readers who have ever visited this wonderful tourist attraction, they can confirm that it's a real masterpiece regarding the architecture and the design.
The interior can be for sure defined as luxurious since the castle served as a home for the Romanian Family, having german and neo-renaissance architecture. This unique construction has no less than 160 rooms, all of them containing some of the top-notch European art pieces such as Murano crystal chandeliers, handmade embroideries, and many more.
Beautiful location and surroundings
Located in the picturesque town, surrounded by the tall Bucegi Mountains, Peles Castle is somehow secluded but offers tourists great green views. Its location is easily accessible by car (75 miles north from Bucharest) or by train (one and a half hours from Bucharest).
Once you get there, you'll be impressed by the great number of beautiful statues in the inner courtyard of the castle that seem to send tourists back in time. The exterior design is truly breathtaking which is why all the visitors take dozens of pictures and even selfies with the stunning castle's fronts in the background.
TravelMaker – the best way to visit Peles Castle
Would you like to spend the time of your visit to Romania and have the chance to see cool outstanding castles in this country?
Through the shared and private tours organized by TravelMaker Tour, one of the best travel agencies in Romania, you can enjoy a great tour of the Peles, at your own pace or on your group's of the maximum of 16 people.
Why is this the best way to visit Peles? Because, being such a known and exquisite place, it is very crowded almost the entire year. Booking a tour on travelmakertours.com in advance will give you priority in visiting the inside of the castle. More than that, you have access to an audio guide in your language (English, Spanish, Italian, French) and the opportunity to find out more information about the construction, about its secret history, and even about the royal family that lived there.
Book your shared or private tour with TravelMaker and pack your backpack. Don't forget your camera and some extra batteries! You'll need them for sure as you'll probably take pictures of this amazing place from all angles.