Before beginning the development of a medical device, a medical device company should either perform an in depth competitive analysis to understand the market, or hire a medical device consulting firm to perform the analysis for them. To earn a profitable share in the market, the device should either enter the market first, before its competitors, or offer a product that is superior to existing technology to secure a better position by delivering cost effective healthcare outcomes.
Medical device value analysis committees compare different offerings to determine the technology that delivers value in terms of healthcare outcomes, cost and workflow. For this reason, competitive analysis consulting is a critical step. In addition to analyzing its competitor, the developer should also analyze its company, innovation and the target market.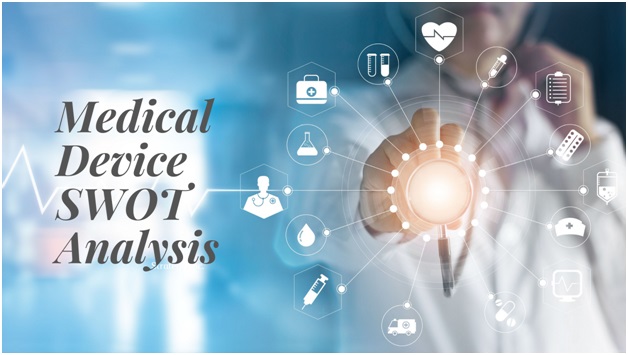 SWOT analysis is a tool that provides accurate strengths, weaknesses, opportunities and threats evaluation.
The following are the four parts of SWOT analysis:
Strengths
Weaknesses
Opportunities
Threats
Strengths and weaknesses are internal factors that can be controlled by decision-makers. External factors include opportunities and threats.
Strengths
Strengths are the competitive advantage captured by device in the target market. For example, the device under consideration for development can address certain unmet needs of a large target market. The medical device can meet the expectations of a growing private hospital sector.
Weaknesses
A medical device company is required to identify weaknesses of the competitors to determine if/how they will be able to address them in a more clinically and cost effective manner. For example, clinics in certain markets may not be able to access the device.
Opportunities
This part of SWOT analysis analyzes available opportunities and opportunities the medical device company may be able to address with the technology under consideration.
Threats
Potential regulations training requirements, potential manufacturing hurdles or other barriers to entry or capture of a potential market.
The SWOT analysis helps in planning and creating strategies such as medical device competitive, commercialization or development strategy. A medical device company can perform a SWOT analysis in different medical device development life cycle stages. However, SWOT analysis is most effective when the device is in the early medical device development stage.
SWOT analysis works well in the following places:
Early planning and brainstorming while doing exploratory work for a new innovation, features or strategic plan.
Unable to find a solution to a problem. SWOT analysis provides a clear understanding of the positives and limitations of the market.
Secure a clear and comprehensive overview of the device, competitor or target market.
Strengths of SWOT
It is an effective tool that provides a structure for streamlining, planning and brainstorming. It uses research and analysis to build an objective project base. It is also easy to create and understand.
Weaknesses of SWOT
SWOT analysis is a good tool but not suitable for every scenario. It is not a predictive or prescriptive tool. The medical device company will still require further research and analysis.
The following are the steps involved in SWOT analysis for a medical device.
Identify what is required to be analyzed
A medical device company is required to have clear objectives to conduct a SWOT analysis. It may include the advantages and limitations of competing technologies. It also includes the analysis of features of the device under consideration for development.
Research
Research may help in identifying unmet desires or underserved segments in the market. It can also identify the needs competing technologies fail to address.
Brainstorm
Brainstorming is required to find solutions to the problems identified during the first two steps (identification and research).
Trim and Refine
The identified solution may not be a complete solution. It may require further research and analysis.
Medical device consulting companies play a critical role in research and analysis and creating strategies. Whether it is SWOT analysis or medical device market research and analysis, a medical device developer should choose the right medical device consulting firm.