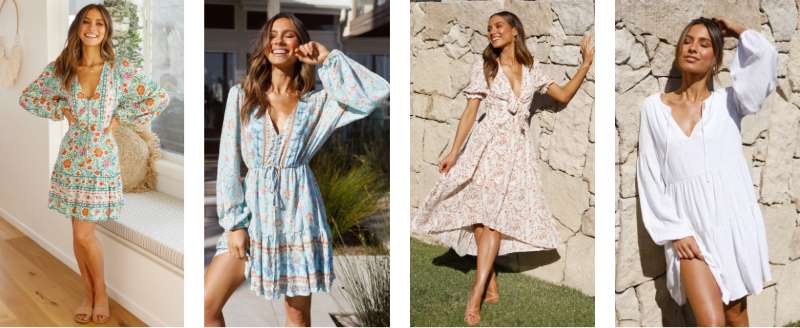 You may need to go to a party where you have to dress casually. This is the simplest dress code, but it may be tough to get it correct. A dress is what is selected sometimes as it looks wonderful and relaxing. 
There are different types of dresses like mini, maxi, fitted, oversized, plain, having prints, etc. All women have at least one in the cupboard. It is possible to look chic with one of these. There are many style choices nowadays. It is even possible to wear a sporty one. These casual outfits can be matched with any footwear along with accessories including sneakers. There are many types of dresses and certain ones work better in comparison to others when wanting to create a comfortable look. The following are some styles that you can consider. 
A short dress
This includes mini dresses. They can be fitted and also semi-fitted clothes. The hemline will go till the mid-thigh. When wearing them you give a playful, flirty as well as relaxing look. 
Many ladies like to buy these. They have a style that makes them look casual and able to be worn to the park, store, etc. You can match them with your favorite sneakers and enjoy your time out.
The casual maxi dress
When it comes to maxi ones, these are long and the hemline is slightly above the ground. It may go till your ankles. If you want to give a dramatic yet elegant appearance then this is the one for you. It emphasizes your shape but is comfortable as well. 
It is possible to get them loose having wide silhouettes. Some fit as well. You have a choice according to what will look good on your body. Ladies like to wear them when it is summer. In autumn these can get accessorized amazingly and look wonderful. 
A dress with a print
There are unlimited points that can be gotten in the category. Appear fresh and playful with it. Prints help give a dress its personality which shows who you are. You can buy these in every length and shape also. You simply need to find the one that dictates your character. 
Floral prints along with polka dots tend to be classics, however, animal prints are trending, especially in neon colors. Others that are popular include geometric shapes plus prints that follow pop art. 
An asymmetrical one
If you want something daring then consider this. They do not have an agreed to structure and break up lines of one's figure. The asymmetry may be like a slanted hemline, irregular neckline, varied sleeve, high-low skirt, etc. 
You can even find shirt dresses, tunic ones, bodycon dresses, A-line ones. Check out different stores like visit Billy J for casual dresses to see where there is much variety. Select the outfit that will look good on your body shape, height, etc. If you do so then you can look relaxingly amazing and attract eyes towards you.