A laser rangefinder is a tool that can be used by anyone that is looking to have a perfect view of an object that is not close to them, it can be used by golfers, as well as hunters.
It does no matter why you need a laser rangefinder. There are certain things you must look out for when buying a laser rangefinder. Let's find out what they are.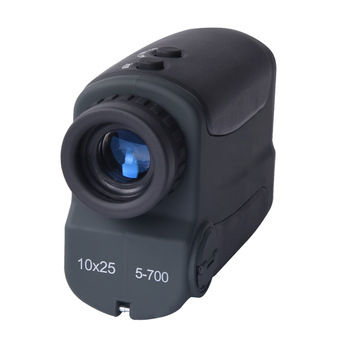 Design
The design of a rangefinder is a factor that you must consider when buying one. When going into the woods to hunt game, you most likely will be carrying a lot of equipment and will not want to add more weight to what you are already carrying by making use of a heavy rangefinder.
Always lookout for a rangefinder that was designed to be light. This will go a long way in making the time you spend hunting in the woods less stressful.
Furthermore, get a rangefinder that is waterproof. You might have to do some hunting when it is raining. If you go hunting with a rangefinder that is not waterproof, you might not be able to do much when it begins to rain.
That's not all. If you must use your rangefinder comfortably in various terrains, you will need to buy one that comes with a camouflage design.
Range Distance
Various laser rangefinders come with different abilities. Some were designed to cover a longer distance than others. Going by this, when buying a laser rangefinder, you have to consider range distance. If the distance you intend to target an animal from is beyond the maximum range of a laser range finder, you will be wasting money by buying it.
To always get value for your money each time you buy a laser rangefinder, ensure you look out for its maximum range.
Magnification
The magnification of a rangefinder is a feature that helps a shooter get a better view of their target regardless of how far away it is. This feature is just as important as the range distance. If a target is not magnified, a shooter might struggle to hit it because of the distance they have to shoot from to avoid being noticed by the target.
If you will be shooting a target that is over 600 yards away, you will get the best results when you make use of a magnification that is not less than 4X. You do not have to stop a 4 X. You can get a magnification as good as 10X. When shooting a target that is about 600 yards away, if you make use of a magnification that is less than 4X, you will struggle to get a good short.
Build
The build of a rangefinder is responsible for its durability. If you want your laser rangefinder to last you a long time, you will need to get one that has a sturdy build. The quality of material that a laser rangefinder is made from is a strong determinant of how durable it will be. The right materials will keep a laser rangefinder resistant to dust and water.
Look Out for Reviews
The easiest way to know about a laser rangefinder without actually buying it is to go through the reviews of those that have made use of it already. When you go through reviews, you can know the features that come with a certain laser rangefinder. If these features are features you are looking out for, then you can go on and buy that rangefinder. However, if these features are not the features you look out for in a laser rangefinder, there will be no point in buying such a laser rangefinder.
Image Stabilization
This is a recent feature that comes with laser rangefinders. It helps you hit the right target even when there is a slight movement in your hands. This feature is one that makes sure that the focusing laser remains on the target even when your hand moves.
This feature is considered by certain people to be unnecessary as it helps people perform beyond their natural capabilities.
Regardless of what certain people think about it, when buying a laser rangefinder, you should look out for image stabilization.
Budget
You should have a budget when buying a laser rangefinder. There are lots of laser rangefinder brands in the market and it will be difficult to get the right laser rangefinder if you do not have a budget.
Here is why;
The many rangefinders in the market have different features and are getting for different prices. Having a budget will make it easy to get the best laser rangefinder for the amount you are willing to spend.