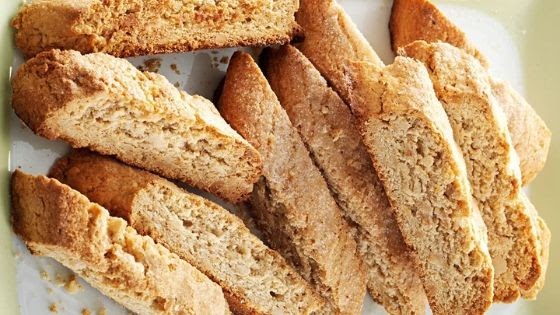 Have you tried cookies of Italian flavored cookies until now? Actually, they are hard to find in the local markets outside Italy. Generally, cookies and biscuits are not touched by anyone until some guests arrive because of their monotonous flavour. Therefore, we recommend trying something distinctive from the Italian origin. Some local bakers claim to sell original Italian cookies but you cannot trust them without checking The authenticity. Always trust the native brands of authentic flavours. Apart from that, you can also follow some easy recipes to bake mouth-watering cookies at home with little effort. most of the ingredients are easily available in the kitchen, you just need the right technique to follow. Italians are known for their unique baking technique for both savoury and sweet food products. Here we are going to learn some easy recipes to try in this lockdown period.
Premium Biscotti With Cranberry and Pistachio Fusion
Dry fruits infusion with cookies is a great combination for all types of occasions. Whether you are cooking for festivals like Christmas and Easter or just want to fill the Jar of cookies with new stock, these are among the best options to consider. As compared to other Italian biscotti cookies this is a simple and fast recipe. Let's proceed with ingredient gathering.
Ingredients
Eggs (2)
All-purpose flour (1 ¾ cup)
Pistachio nuts (1 ½ cup)
Dried cranberries (½ cup)
Sugar (¾ cup)
Salt (¼ teaspoon)
Light olive oil (¼ cup)
Vanilla extract (2 teaspoons)
Almonds extract (½ teaspoon)
Baking powder (1 teaspoon)
Directions to prepare
Total time:- 1.20 hours
Total servings:- 36
Approximate calories:- 90
Take a large bowl and mix olive oil with sugar thoroughly to obtain a rich blend.
Mix this thick texture with vanilla extract, almond extract and eggs. Beat the mixture with a whisk thoroughly to obtain a rich creamy paste.
Pour baking powder, salt and all-purpose flour in the same bowl and stir this mixture properly. Finally, add cranberries and nuts and make sure that they are spread evenly throughout the entire mixture.
Take a cookies sheet lined with parchment paper. Divide this dough mixture into two parts and place on the cookie sheet.
Preheat your oven at 150 degree Celsius and bake the dough for around 35 minutes until it turns light brown.
Take out the baking sheet from your oven and allow cookies to cool down for the next 10 minutes.
With the help of a knife, cut the logs int ¾ inches of slices. Preheat the oven at 135 degree Celsius and bake your cookies again for the next 10 minutes. They are now ready to serve or store in a jar.
Italian Chocolate Cookies
What else is needed when we have the best italian cookies infused with chocolate? How about preparing them easily at home rather than buying from your local bakery? Follow this simple procedure to learn how.
Ingredients
Unsweetened melted chocolate (2 ounces)
Brown sugar (1 cup)
Shortening (½ cup)
Buttermilk (½ cup)
Egg (1)
Cake flour (1 ½ cups)
Vanilla extract (1 teaspoon)
Salt (½ teaspoon)
Baking soda (¼ teaspoon)
Chopped walnuts (1 cup)
Directions to prepare
Total time:- 1 hour approx.
Total servings:- 12
Approximate calories:- 300
Take a large bowl and mix eggs, melted chocolate, shortening, brown sugar and buttermilk together. Use a whisk to obtain a creamy texture.
Add the remaining ingredients and beat the mixture until it becomes smooth enough for cookies.
Take a cookie sheet and grease it with oil properly. Preheat the oven for 180 degree Celsius and bake your cookies for around 15 minutes.
Drop chocolate cookie buttercream frosting over the cookies and let them cool down.
Important things to consider while baking cookies
Always measure your floor quantity correctly according to other ingredients.
Beat the eggs individually and add just one at a time to attend consistency in the mixture.
Ingredients like chocolate chips and dry fruits should be added in the end with hands rather than kneading in the dough.
Get a cookies cooling rack from the market to cool them down from both the upper and lower side properly.
Always soften your butter before kneading it with flour but make sure that it is not entirely melted.
Maintain adequate spacing for cookies while placing them on the parchment paper or baking sheet.
Always preheat the oven to an adequate temperature level before putting your baking sheet inside.
Ice cream scoop is the best measurement device to divide cookies dough into small portions.
These tips will be helpful while making any kind of biscotti, cookies or biscuits at home.