Proper insulation is essential in a home, especially as the temperature outside begins to grow more severe. Not only is a well-insulated home more comfortable to live in, but it's also more cost-effective as a poorly-insulated home leaks heat, leading to increased furnace use. If you're looking to improve your insulation for winter, here are the six most effective tips to keep in mind.
Don't Over Insulate
Although an improperly insulated home is your primary concern, it's also important to be careful not to overdo it when putting in new insulation. If you over insulate, your home's air can grow stale. This leads to lower air quality and an increased risk of mold and other moisture-related worries.
Choose the Right Insulation
Installing new insulation in your home is not as simple as going to a home improvement store, asking for insulation, and putting it in. First, you have to determine the type of insulation you want to use. From fiberglass to foam, there are many options to choose from, each with its own pros and cons. If you're new to insulation, be sure to ask a professional for help in determining the best option for your needs.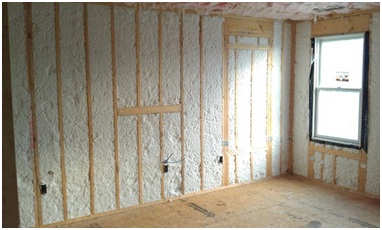 Image via Flickr by Jusus Rodriguez
Check Your HVAC System
Insulation is just one part of an effective heating solution. It's also important to check that your HVAC system is operating at its best. In an ideal setting, you'll have an effective HVAC system putting heat into your home, and sound insulation to keep it there. Check your filters and vents at the start of every season and call a specialist for servicing every year.
Seal Your Doors
Although walls may make up the majority of your home's exterior, they're not the only concerns when it comes to insulation. If your exterior doors have large cracks or seams, it can allow for significant heat loss. Weatherstripping and other sealing solutions help to keep your home insulated for the winter.
Invest in Insulated Windows
Your home's windows are another place to check for proper insulation that can help you save big. If your home's windows are decades-old, it's likely they are leaking heat. Modern insulated windows are designed to keep cold air out and warm air in. Not only does this lower your heating bills, but it also makes your home more comfortable in any room with large windows that create cold spots, like bay windows in a living room.
Hire a Professional
Installing new insulation in your home is an important process and one that should not be handled with half measures. The best way to improve your home's insulation is to work with a professional contractor. This ensures that your insulation is properly installed and you see the full benefit from the process. The better the installation process goes, the lower your bills will be in the future, so professional installation can even save you money in the long term.
Your home's insulation may not be the flashiest part of the house, but that doesn't mean it's not important. From keeping your bills in check to keeping your rooms comfortable, insulation is a vital part of the home. Be sure to keep these tips in mind as you update your home's insulation this winter.