We often equivocate the word cozy with homey – the two adjectives seem almost interchangeable, but this makes a lot of sense. When a home feels cozy, it fills its inhabitants with feelings of relaxation and warmth, emotions that often remind us of what it feels like to be safe and comfortable at home, surrounded by our loved ones.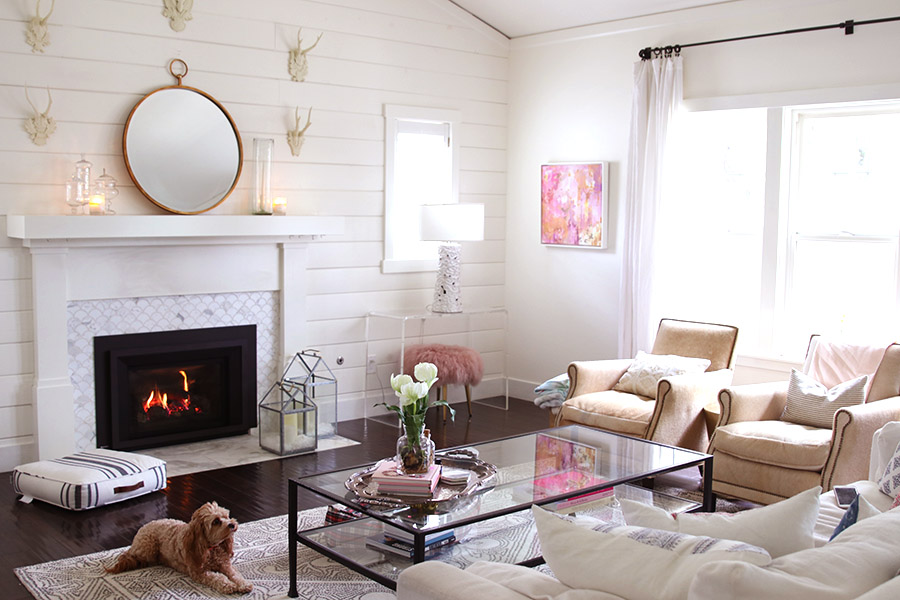 When designing a family home or even a brand-new apartment space where you want to feel at home, there are simple design steps you can take to make the ambience cozier and more relaxing. To avoid creating a modern, sterile like design in your home, follow these tips to crafting a cozy atmosphere in your sacred space.
1.      Use Light and Neutral Colors
In general, a random color scheme of bright colors like red, blue, and green throughout your home is considered a big no-no when it comes to relaxation. Imagine coming home from a long day at work, only to be faced with bright and eye-straining colors that do nothing to alleviate the headache that's been building up all day. To create a cozy bedroom or living room, aim to use a color scheme of light and neutral colors, such as white, beige, or gray – colors that are easy on the eyes.
2.      Add Memorable Words and Phrases Throughout Your Home
Many of us have simple prayers, song lyrics, book pages, and even mantras that bring us comfort and peace in times of need. Placing these texts and phrases throughout your home, whether it be on a wood sign like an "As For Me and My House Sign" or leaving a book open on a book stand to your favorite passage, can contribute to a sense of well-being. A very easy way to incorporate phrases into your home is by choosing a different wood sign for each of your rooms – kitchen, bedroom, bathroom, and living room.
3.      Plush Blankets and Rugs
Because cozy seems to equal warmth, it's important that your home has lots of blankets and rugs to keep your body and feet from having to face the frigid cold. Having a large, soft rug in the main rooms of your home is a great way to set the tone for comfort. Sinking your feet into a soft and gentle rug is a great way to enter a room, and entices visitors to take their socks off. And when you feel free enough to take your socks off, you know you're right at home. Leaving multiple throws and blankets on a couch also alert any visitors that this home is not a place for a quick drop-in, but instead one where guests are welcome to relax for a while and make themselves at home.
4.      Dim and Customizable Lighting
Being able to choose how much lighting you have in every room is an important factor in creating a cozy atmosphere. If the only lights you have are the industrial, fluorescent lights that were initially installed in your home, this can lead to an uneasy atmosphere. Carefully placing lamps in key parts of your home, and being able to turn off certain lights while leaving others on, can help to create a cozy home. Perhaps you want to read a book in your living room, and would prefer to only have the table side lamp by your favorite couch on in the room in order to set the atmosphere for your novel – having carefully placed lights will help you to do this.
5.      Put Up Personal Picture Frames
One great way to make a space more personal is to hang up or place picture frames around your home. Placing on your walls photos and mementos of your family, friends and loved ones will help to facilitate a sense of safety and love. Even when you are alone, you will be reminded of the caring faces of those who care the most about you. Hanging up pictures of your loved ones will not only provide comfort for you but to your guests as well, who will feel the love in the room just by being surrounded by these photos.
Ready to Make Your Home Cozy As Can Be?
Now that we've given you the top tips to making your home or apartment as cozy as can be, we hope you're ready to take the next steps to create that homey atmosphere in your sacred space! Trying to incorporate all of these different elements, from rugs to wood signs, can be difficult, so choose at least the top two design changes that will make the most difference in your home. We guarantee that by implementing at least two of these tips, you'll begin feeling more at home in your home.