Legacy app modernization is an important step for any business owner. As new technologies appear and customer expectations change, the software should follow.
Many companies continue using old software, which doesn't offer top efficiency. This keeps them from staying ahead of the competition and expanding their business.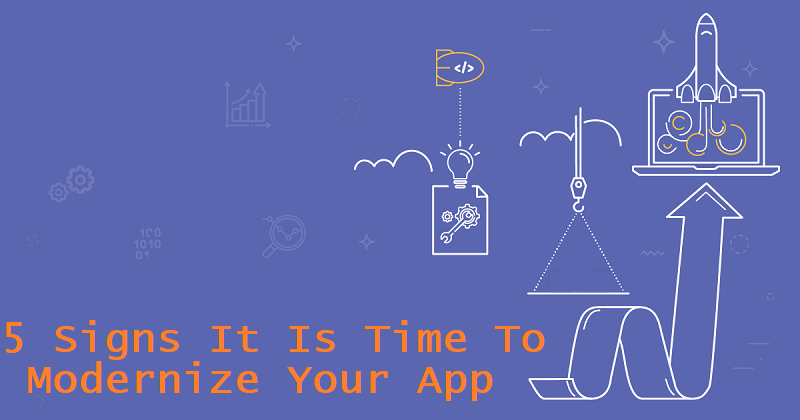 Let's look at the top signs that the time has come to modernize your legacy application.
1.   Your software is slow and crashes frequently
The speed is one of the first telling signs that your software isn't performing as well as it should be. When it lacks speed and takes a long time to perform standard tasks, your app is hindering your work process.
While waiting a minute for the file to load may not seem like a serious issue, when it happens 100 times a day along with frequent crashing, people lose patience. Meanwhile, the entire work process slows down.
Some of such problems may be solved with updates. However, in most cases, you need modernization.
2.   The vendor doesn't support your software
Software development companies can go out of business or invest their time and effort into other products. As a result, the provider stops supporting your program, turning it into a security threat.
By taking advantage of one of the available application modernization solutions, you can keep the functionality of your old program. However, the majority would need to be changed. It could still be a cheaper option than developing a new app from scratch.
3.   The system doesn't have mobile capabilities
In the modern world, the ability to access the program from mobile devices can be highly important for the success of your company. If the only place you can use the program is your office computer, it's time to think about modernization options.
If you aren't ready for a full system modernization, you can explore partial solutions that can add mobility to your program. Some apps can be complemented by mobile tools.
4.   The program is incompatible with modern systems
Your software should be compatible with other modern tools and applications. For example, you may need to take advantage of a live-chat add-on to improve customer satisfaction. However, if your old program is incompatible with such tools, it could cause serious issues.
Failing to take full advantage of modern technologies drags the company back and doesn't allow it to grow. Most likely, your competitors are already using modern tools in full force, gaining a priceless advantage in the process.
5.   The app has a high learning curve
Old software usually has a high learning curve. If your app was created back when using software required special skills and adaptation, you may be suffering the consequences when hiring new employees.
The majority of new apps has a low learning curve, allowing employees to start using them immediately. If you are planning to hire new team members, consider modernization to reduce the learning time.
Final thoughts
Old software usually comes with a variety of setbacks that keep the company from capitalizing on its full potential. Legacy app modernization can improve the software's functionality while making it more suitable for the modern world. If one of the above signs looks familiar to you, it's time to consider modernization.