When you think of the word organization, it may not excite you…especially when we're talking about your laundry room
But, organizing your apartment is a good thing. It helps you keep your place tidy and allows for an easier, more comfortable life.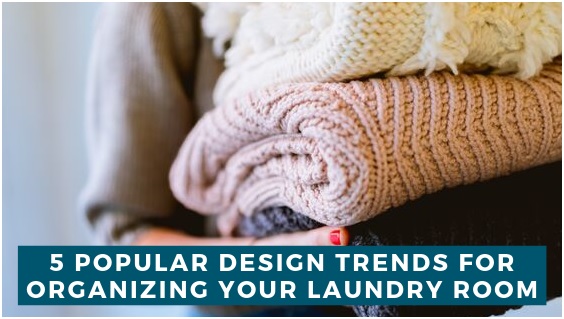 Keeping a laundry room organized is essential. It ensures that you'll always be able to find what you need.
Below, we'll discuss five popular laundry room design trends that can help you stay organized.
Take a look:
1. Incorporate Wall Storage
With limited space, you may not be able to hang fun signs and artwork around your laundry room. Well, you can — but you should think about using your wall space for storage instead.
One idea is to use a hanging storage rack above the washer and dryer. A storage rack can hold many laundry items, including dryer sheets and orphan socks.
You might also use it to hang small items like washcloths and socks to dry.
If you're concerned about damaging the walls, get a repositionable hook. Just make sure the hook is strong enough to support the item.
In other words, you don't want to put a heavy bottle of detergent on a flimsy storage rack. If the repositionable hook only holds up to a pound, you'll be in serious trouble!
2. Utilize Baskets and Storage Containers
Depending on how much storage space you have near the washer and dryer, you may need to use some of the shelves in other parts of the house.
If you're forced to store laundry supplies in the bathroom or linen closet, use some containers or baskets to wrangle everything together.
Make sure your supplies are in reach when it's time for you to do laundry. If everything is scattered around your apartment, it will be challenging to find everything. To prevent disorganization, have one designated area for all your laundry supplies.
If you're like me, laundry is already one of the most dreaded chores on your list. So, it helps to be able to get it done swiftly and efficiently.
3. Separate Clothes as You Wear Them
It's easy to toss all of your clothing into a single pile; dragging it to the laundry room at the end of the week. However, this creates much more work for laundry day. You'll spend hours sorting clothes and unfolding socks.
So instead of having just one laundry basket in your closet, look for a three-piece hamper. There are helpful because you can use them to divvy up your whites, darks, and colors throughout the week.
To effectively use this technique, every time you have a dirty piece of clothing put it in the appropriate hamper. It's so much easier than the alternative.
When it's time to wash your clothes, you won't have to sort anything. Your clothing will already be "magically" sorted for you!
4. Create a Folding Station
A folding station makes laundry day a lot easier. It gives you space to organize your clothing before you bring the basket back to your closet. When you fold clothes on your bedroom floor, you risk dirtying up the outfits you spent so much time cleaning.
If you have a lot of space, you may be able to squeeze your folding station into the laundry room itself. If you're tight on space, however, you might have to fold clothes in another spot.
But that's no problem. If your bedroom is next to the laundry room, you can have a small folding station there.
Use an ironing board as a temporary folding station instead of adding more clothing to your bed. When you're done using it, put the ironing board away in the closet.
Or, if space allows, put a narrow table in the hallway. You can fold your clothing on the table and then put it away.
Being limited on space means you're going to have to put your organization skills to the test. Don't allow a lack of space to be your excuse for not keeping your apartment organized.
5. Roll your Towels
Towels take up a lot of space.
And who's kidding — after washing them, it's hard to figure out where to put them. Personally, mine always fall over shortly after I stack them. It's annoying when they end up looking like a jumbled mess.
But, there's a solution:
Try rolling them.
Yes, rolling them will work. Trust me on this.
All of a sudden, you'll have extra space in your linen cabinets. This incredible solution will help you compress your towels so that you have more room for other things.
You can even take this one step further by rolling your t-shirts, too. Throw a rubber band around them to keep them from unraveling. This is honestly the next best thing to having a walk-in closet.
And by the way, if you're feeling even more motivated, y can learn how to roll your clothes in other ways (check out the Ranger Rolling technique to see how the pros do it).
See, doing your laundry can be easy, after all!
Keeping a laundry room organized will put an instant smile on your face. You'll feel better knowing everything has its proper place!
I must admit:
Solutions like the ones we discussed will help you keep your wits about you. After all, there's nothing more satisfying than feeling organized and productive. It's always fun to embrace design trends that simplify otherwise grueling tasks.
By applying these trends, laundry no longer has to be mundane and time-consuming. Woohoo!
Author Bio: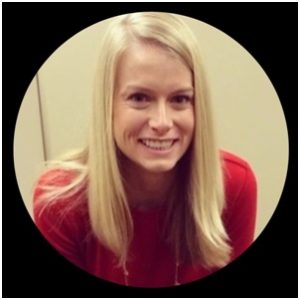 Lindsey is the Community Manager for Siesta Key. She brings several years of experience, managing luxury communities throughout the DC metropolitan area.