If your creative juices are flowing, you're in luck! We've got five tricks you can use to update your bedroom.
After all, your bedroom should be a private oasis where you can unwind after a long day. It's the place where you the most shuteye, so you should make it as calming and relaxing as possible.
If your existing layout and design are drab, it's time to get innovative and add to the interior.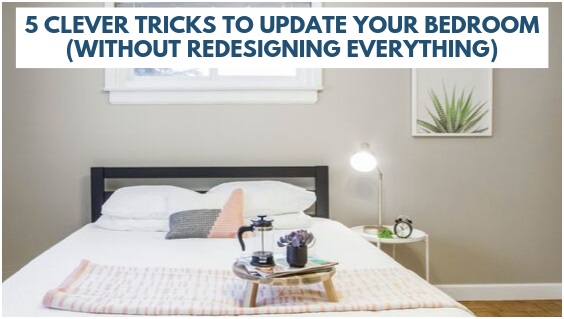 There are easy updates you can apply without going crazy. So let's check out some easy and clever tricks you can use to create a bedroom you adore.
1. Add Comfort and Style with Pillows
Okay, we get that you shouldn't go completely crazy with the pillows. But, we have to admit that adding some decorative pillows can greatly enhance a bedroom.
Whether you go with large patterns or small ones, the sky's the limit. Don't be afraid to go all out with your pillows!
Arrange your pillows to perfection by keeping four pillows in the back near your headboard and three in the front. You can use pillows with assorted patterns and coordinating colors.
Adding a single pillow in the front makes a fantastic focal point. And instead of only using squares, switch it up by incorporating a few oblong shapes.
Not only will decorative pillows make your bed come to life, but they'll also make naptime that much more enjoyable. Plus, it's a nice perk that you'll never have a shortage of cushion!
2.  Embrace Natural Light
Don't underestimate the power of natural light. Not only does it brighten one's mood, but it makes a room look light and airy.
We understand it's not a decorative element, But, it's a simple update that can make a world of difference.
It's also free. If you have a window, it doesn't cost you anything to open it up and allow the sun to highlight everything in your bedroom! You may want to invest in some sheer white curtains, but that's the extent of the money you'll have to spend.
Plus, allowing the light to shine through makes it easier to read, relax, and soak up some rays. We all could use a little bit more sunlight, right?
Decoratively speaking, natural lighting can highlight art pieces. It's an easy way to enhance the appeal of any of your favorite artworks.
To maximize the amount of light that floors into your room, keep window treatments to a minimum. And, use light-filtering blinds or sheer curtains if you're concerned about privacy.
3. Maximize Storage
If you've been dealing with a colossal mess in your bedroom, it might be time to incorporate some storage solutions.
After all, it's challenging going to sleep when there's so much clutter on the floor! Having a big mess in your room cause bedtime anxiety as you try to fall asleep, and you should feel peaceful before your slumber
Instead of allowing a giant mess to take over your room, figure out smart storage solutions.
Plastic containers under your bed may do the trick. Or, you might consider putting them on the top shelf in your closet. Placing a storage chest at the end of your bed is another way to hide belongings.
Depending on how much storage space your room has, you may need to think outside the box. If you're short on space, consider buying some multi-functional storage furniture to keep your room tidy.
4. Hang String Lights
You don't have to wait until the holidays arrive to hang string lights in your apartment.
They'll go perfectly over the top of a bookshelf or hung over your bed. String lights are perfect for adding a minimal amount of light to enhance the room.
Twinkly and lovely, they add personality and look fantastic with surrounding decor.
These lights also look excellent with pictures on the wall.
Use clips to display some of your favorite photos on hanging twinkle lights. Imagine how amazing this will look above your headboard! This is an easy and affordable DIY project that can seriously brighten up a bedroom.
Besides, string lights are lightweight and don't cause wall damage. That's an important factor if you want your security deposit back when it's time to move out.
Hanging them with washi tape or another removable adhesive will do the trick.
5. Create More Resting Spots
Want a place to lounge beside your bed? Add a chair to the corner of your bedroom. And, if you have one too many pillows on your bed, add one to your chair!
You could also incorporate a rocking chair if you have some extra room. There are plenty of options out there, so test a few before committing to one.
Imagine yourself wind down for the night, reading a good book in your new chair. Doesn't that sound divine?
It'll completely change the way you feel about your bedroom! Adding a chair or two is an easy way to make your room feel cozier and more inviting, without having to update the entire thing.
Enjoy relaxing in your cocoon of a room!
If you're getting sick of your bedroom but don't have the money for a full update, don't worry. There are plenty of easy ways to give it a fresh look.
Decorating your space doesn't require a huge overhaul. By simply decluttering and adding a few small elements, you can make your room feel brand-new.
We hope these tips will give you an idea of where to start. The rest is up to you!
Author bio:
The Smith Valley Forge offers a refined apartment lifestyle in a prime location adjacent to the highly sought after King of Prussia Town Center with over 45 shops and restaurants steps away.