The kitchen is the one place in the house that needs to be the most organized and hygienic. It should have enough open space for movements, lots of countertops, and plenty of storage space to make cooking a joy. Island is one of the most important features in a kitchen as it adds not only an extra countertop but also additional storage space. But not all kitchens can accommodate an Island due to their small space. 
If you are one of them who has a small kitchen, do not worry, you can still have an island in your kitchen, but just not the traditional one. A kitchen trolley can be the island of your small kitchen. Also, it comes with added perks — kitchen trolleys are portable!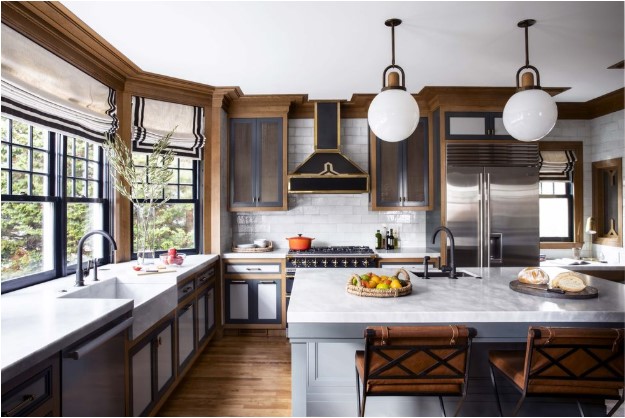 Kitchen trolleys or otherwise rollaway carts can be used as a portable island in your kitchen. Apart from being mobile, they are smaller in size and hence take up very little space. There are hundreds of available kitchen designs in the market right now that you can choose. The modular kitchen comes in different shapes and sizes and is also made of different materials. 
Here's A Guide On How To Choose The Right Kitchen Trolley Design For You 
There are few things to keep in mind while selecting a kitchen trolley design; they are as follows –
Look For A Kitchen Trolley That Allows You To Extend The Surface:

You would want to choose a kitchen trolley that has an extendable surface so that two people can work on the same trolley top without coming into each other's way. Then after you are done, you can drop the leaves or hideaway leaves. 
 

Multiple Storage Options

: You need a trolley that provides a lot of storage space for say knives and general cutlery. If it has storage options for condiments and linens, then you would not have to get up and get your spices every time you sit to have your meal. Multiple storage options in a kitchen trolley

will save you all the hassle. 
The Dimensions Matter:

If you have a small kitchen, it is better to go for a small kitchen trolley instead of a huge one because it will make your space look even more cramped, and you do not want to do that. The sole purpose of getting a trolley is to save space and yet, at the same time, add more storage space and countertop, so keeping this in mind, chooses a kitchen trolley according to your kitchen space. The dimensions of the kitchen trolley are very important if you are going to use the trolley for a lot of purposes and for a long time. In that case, you may want to opt for a trolley that has considerable height. 
The Body Of The Kitchen Trolley:

Since kitchen trolleys can be made of wood as well as metal like steel, you should determine the uses of your kitchen trolley, and based on that, pick a design. Wooden kitchen trolleys look very traditional and go with almost all kinds of kitchen designs, be it modern or traditional. It has a rustic look that feels very homely. Steel kitchen trolleys look more in place with futuristic kitchens. They are sturdier than wooden kitchen trolleys. 
Check The Surface:

Like the body of the kitchen trolley, the surface is also very important, especially if you are going to use the surface for a lot of chopping. For chopping, it is best to opt for trolleys that have a wooden surface. But interior designers recommend trolleys that have a granite surface because not only do they look beautiful, but they blend in with your kitchen countertops and cabinets, hence completing your kitchen. 
Opt For A Trolley With Wheels:

Never opt for a kitchen trolley that does not have wheels because you are buying a trolley for its portability. If it does not have wheels, then you will find yourself dragging the trolley from one part of the kitchen to another, and no, you cannot wheel it to your bedroom to have dinner while watching Netflix. 
Buy a kitchen trolley that has a good build and design because you are not going to change it every few years like you change your phone.
Serve Your Guests With Style 
You do not have to go to your kitchen every time your guests ask for a glass of water or a drink; neither do you have to direct your guests to the kitchen for them to help themselves. It is all solved when you get a kitchen trolley. You can place glass and jar of water on the trolley. You can also place champagne or beer in an ice bucket on the trolley and have the guests help themselves to a drink. 
Apart from that, you can also use your trolley as a desk to do your homework or to work on your laptop. The trolley can also be used to serve breakfast!