If you are looking to update your home's interior, you have come to the right place. In 2019, new trends have taken hold in the housing market, many of them featuring beautiful and modern installations. Your interior can definitely look better if you update even just one or two things. Read on to read our great tips for remodeling your house.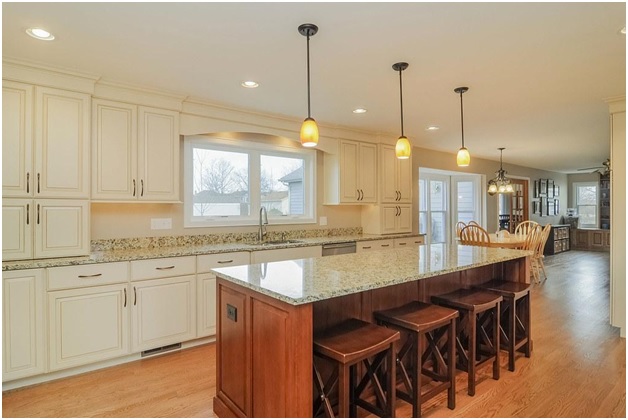 Synthetic Countertops
Synthetic countertops have shifted the countertop industry for the better, as they offer many great benefits. Both solid surface and quartz countertops are durable and strong, preventing the cracks that can happen with natural stone countertops. Furthermore, both materials are non-porous, enabling them to be resistant to mold and dirt, which makes cleaning them easier for you. Synthetic countertops also come in a wide range of visual styles, and solid surface colors look amazing and very modern. They can be matched with almost every interior design, and are often the highlight of any room they are in. With prices very comparable to natural stone, synthetic countertops are a great way to make your countertops more durable and strong and escape any negatives of having natural stone counters. Whether you are desiring kitchen, bathroom, or laundry room countertops, definitely consider installing synthetic countertops in your home.
Decorative Wall Paneling
Although still not very common in modern home design, decorative wood wall panels are making a comeback, and are returning to the forefront of style. Usually used solely as accent walls nowadays, wood paneling provides a neat, trendy way for you to make a room more interesting and beautiful. Furthermore, all types and colors of wood can be used to create sleek, natural-looking accent walls, whether around an office area or behind your bed. With a well-crafted design, wood panels will definitely make any room look great, and for an affordable cost as well. However, make sure to stay within the trendy limits, and to not overdo it with the paneling. While smaller elements of wood paneling are back in style, having multiple walls of wood in a room is still seen as being a bit garish, and is too much wood. Overall, some wood paneling will make your entire more natural feeling and attractive.
Hardwood Deck Installation
Decks come with a lot of benefits. They are usually cheap, frequently DIY friendly, and make your home's exterior even more beautiful. Furthermore, they add visual appeal to the house, creating more curb appeal. A deck also increases the value of your home by growing its square footage. Modern tools can also hide screws from the top of your deck, making decks sleek and better looking than you might remember. A new deck is an excellent investment in your property with a range of affordable price points and normally simple installation — with the help of a good deck calculator.
Closet Makeover
While many homeowners tend to think of the kitchen or bathrooms when considering a remodel, that causes them to often overlook closets. If you have the opportunity to remodel or even build a closet, consider their great benefits. They are amazing places for storing clothes, shoes, and more for you to easily grab when you need them. Furthermore, they are nice places for you to organize your possessions and have space for yourself to sort the laundry before putting it away. Closets are also very attractive to potential buyers should you be considering selling your house, making them a good investment opportunity (especially if you can use if for a while before selling).
Matt Lee is the owner of the Innovative Construction and Building Materials blog and a content writer for the building materials industry