Miami is known for its white beaches, theme parks, and crazy parties. Miami is a place where you can relax without any prejudices. Here the sun heats all year round, and the temperature is always around 20-30 degrees. Miami is a perfect place for those who do not like winter. You can explore Miami from the open bus, or if you want to tour alone – you can rent hire a car at Miami airport. Parking on the beaches ranges from $15-20 a day.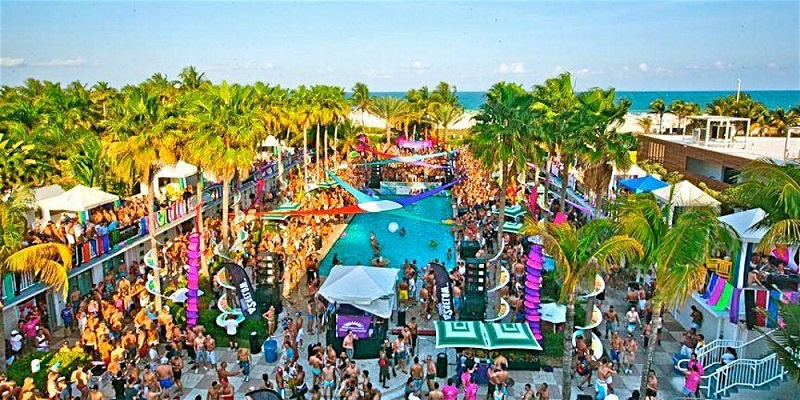 Why is Miami such a popular party city?
You must have wondered why Miami is such a fun city and what to visit if you travel there. Miami is a city filled with cheerful and attractive people. Smiling faces and good fun are waiting for you at every step. You will never be bored because there is fun all around you. Miami is also known as a popular place to hold a wedding ceremony. Pleasant temperatures, unforgettable parties, and beautiful beaches attract more and more tourists every year. There are many tourist attractions in Miami that you should not miss if you go on vacation there. Some of these attractions are:
South Beach is a place where the fun begins in Miami. For all those who enjoy shopping and good parties, South Beach is the perfect tourist attraction. The nightlife in South Beach is very rich and takes place in trendy bars throughout the day and night.
Club Space is a large nightclub in the Downtown Miami area. This very popular club is visited by world-famous DJs who make extraordinary parties. In this club, you can dance on the big podium with a lot of people and have crazy fun.
Cameo is the most popular disco in Miami, where almost all celebrities celebrated their birthdays. Crazy nightlife is guaranteed in this disco with world-famous DJs.
Tobacco Road is the oldest bar in Miami that is known for the fact that Al Capone loved to spend time in it. In this bar, you will get top-notch entertainment with live music and traditional food.
The Ultra Music Festival is held every year in March in Miami. This modern music festival brings together the best DJs and electronic music performers from around the world. At this music festival, you will enjoy great music and entertainment.
You can't be bored in Miami because it is full of fun and various activities.In Miami, you can find bars and strip clubs open 24 hours a day. All these places provide you with complete entertainment with music, dancing, drinks, and dinner. For those who like crazy pastimes, there are also nightclubs with exotic dancers. A large number of fine restaurants offer real seafood specialties. You can eat these specialties on the exclusive terraces of the restaurant, which have a view of the sea and the beach. Whichever place you choose in Miami, the fun is guaranteed. So relax and travel to a popular party city – Miami! This most exciting city in the world will surely not disappoint you!