Lots of people are becoming interested in crafting based hobbies at the moment. This is partly because it gives them something interesting and productive to work on at home where the current situation makes it so that people are spending more time indoors, but it can also mean that you have some great options for making things for your own home, to give as gifts, or even to start a business selling.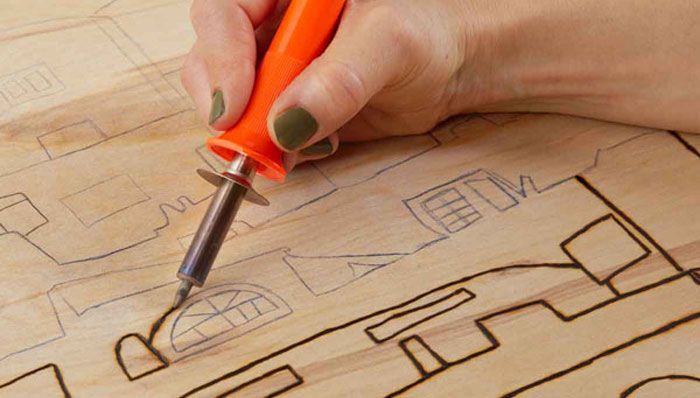 One type of crafting that is growing in popularity is wood-burning. Here we take a look at what wood-burning is, what kind of things you can make by doing it, and whether or not it might be a hobby you would enjoy.
Wood Burning
Wood-burning is the traditional art form of making designs, pictures, words, and patterns on pieces of wood using tools to burn parts of the wood's surface. It is the kind of hobby that can start out with simple pieces like burning mottos or names on to pieces of wood to create pretty door signs and plaques, and end up with you being able to create beautiful works of art using only wood and heat. It is a hobby people have enjoyed for centuries, and there is a market for pieces made by people who do wood burning when it comes to gifts and crafts.
Getting Started
Because wood-burning involves using heat and hot tools, as well as potentially saws to shape the wood, it is not a hobby that young children can take up. However, for teenagers and adults, it is relatively easy to get started. All you need is a kit that lets you burn the wood in a precise and focused way, and some good wood to use as a canvas. This article will help you to develop a best wood for wood burning, as lots of different types of wood are suitable and a lot of it is down to preference in terms of appearance and ease of working with the type of wood in question.
A Great Hobby to Take Up This Fall
Wood-burning can be a good hobby to start working on this fall, as the smell of the burning wood while you work is definitely an autumnal kind of smell that will make you feel cozy and nostalgic.You may also be able to make some of your Christmas gifts using your new wood-burning skills if you start now. It is also an ideal new interest for 2020, as it is something you can do on your own, indoors, that will keep you engaged and interested as well as giving you a chance to learn something new.
Wood-burning is an interesting hobby that can lead to you creating some beautiful pieces. If you are looking for a new thing to master that you can do at home during the current pandemic, then it could be a nice hobby for you to start. There are some cool projects that even beginners can do, so why not take a look around online for inspiration?