Whether it is for a birthday or a Christmas present, finding the perfect gift for children can be difficult, particularly as their likes and dislikes change so regularly. However, by thinking outside of the box, it is possible to get a present that they will love without breaking the bank. To help you out, we have put together a list of top 10 unusual gift ideas for your children.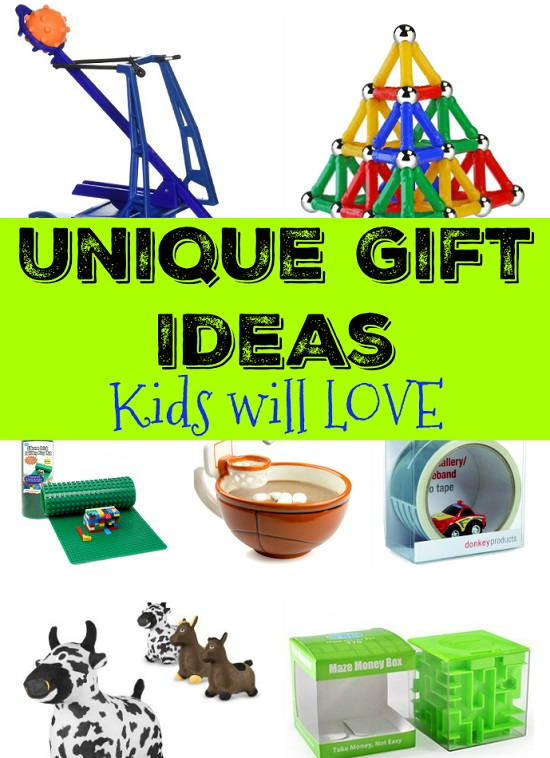 Personalized Letters or Books
When looking for a gift your loved one will never forget there are many options you can choose from. But by far one of the most popular are personalized items. Whether it is a book or a letter from Santa this is a gift that they will remember more than others. This can be kept until they are older and is something that they can show to their friends and enjoy looking at from time to time.
Funko Pop! Figurines
If you are looking for a stocking filler that your loved one will love Funko Pop Figures are the perfect option. With several characters to choose from across a wide range of franchises, you are sure to find one for every member of your family. In addition to this, they are affordable price and can be stored almost anywhere.
Tickets to a Live Show
Another option for the perfect unusual gift is a ticket to a live show. Whether it is a musician or a play, this is something that the whole family can enjoy together. Though this does depend on what is on at this time, this could be a great way to spend time together as a family and relax and unwind. Though this will take time to organize, this is a great day out and something they will remember for the rest of their lives.
Arts And Crafts Items
If you are a family of creative people then purchasing paints and other arts and crafts items is one of the best gifts you can give. With a number of amazing toys as well as slime kits and playdoh, you can give the gift of creativity to your family members.
Board Games
Another present that is great for the whole family is board games. These make any special event even better as you can get family and friends involved. With several games for all ages, it is easier than ever to find the perfect present for your loved one.
Play Sets
Playsets are also another amazing idea for a gift for your loved one. Whether it is a play kitchen or a supermarket, this great way to encourage your children to learn numbers, fruits and also encourages them to share with friends when they come to play. These are highly affordable gifts and are available from a number of the world's leading retailers.
Harry Potter Coding Kit
If you have a child that is a huge fan of Harry Potter then a coding kit is ideal for you. Not only does it give them the magic of Harry Potter, but it also allows them to learn code in a fun and creative way. This is available online as well as in-store and is about £50.
Ride-On Toys
For those that love spending time outside, there is also the option of ride-on toys. From bikes to horses and unicorns you can encourage your children to spend more time outside and away from screens. This is a great way to get them excited about being outside whilst unlocking their imaginations in the long term.
Themed Bedding
Though toys and clothes are fun, there is also the option for completely customizable bedding. Whether it is a photo of you as a family or a character from a TV show, this is the perfect way to encourage them to make the most out of their room. This will allow them to make the room their own, add storage and make it look more appealing in the long term.
An Experience Day
The final presentation that is worth purchasing for your loved one is an experience day. With several driving schools, thrill days, and chances to visit theme parks, this is the perfect gift for someone of any age. They are usable for up to two years and are the perfect choice for those looking for the ultimate gift that suits any budget.
Whether you choose to invest in an experience day, playhouse, or a brand new bike, we are sure you will find the perfect gift for your loved one regardless of the budget that you have.