Winter wedding season is soon approaching, but are you prepared to tie the knot in this cozy and chilly season…?? Even though winters are considered as one of the best times to get married in India and it is one of the busiest wedding seasons as well, but planning a winter wedding is not an easy task. Brides-to-be and grooms-to-be have to keep a few things in mind while planning their perfect Indian winter weddings. Therefore, to make it a little easier for our brides and grooms, we have curated a list of useful tips that can be very helpful in planning a winter wedding in India. So without further ado, let's get started.
Wedding venue for Indian winter weddings
Choosing the right wedding venue is very important especially if you are planning to get married in chilly winter weather. We recommend you choose indoor banquet halls rather than open marriage lawns or farmhouses as your wedding venue so that your guests can stay cozy indoors and not freezing outside. You can browse through a list of hundreds of top-rated Indian banquet halls and book the right one as per your budget or city preference without any hassle.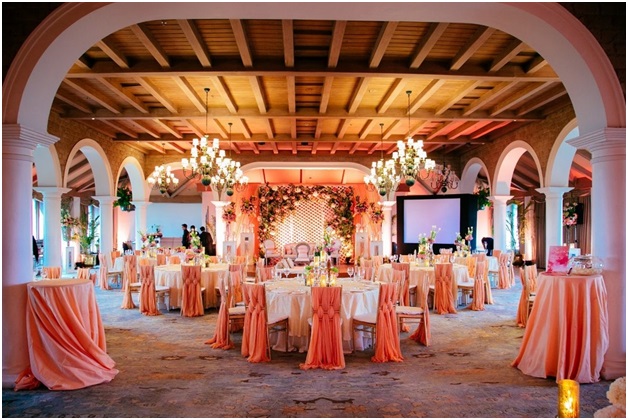 Wedding decor for Indian winter weddings
Choosing the right wedding decor for your winter wedding is very important as well, as you don't want everything to look dull. You can pick the color palette that can brighten up and enhance your wedding decor set up like peach, icy shades of blue, lavender, or you can choose the deep and rich shades like burgundy, cooper, deep red along with hues of gold or metallic colors that can give an ultra-cozy feel to your winter wedding decor.
Lightning for Indian winter weddings
Since you will lose the natural light soon in the winter season as the days in the winters are consecutively shorter as compared to summers, it is important to use lots of different lighting at your wedding functions to get beautiful wedding pictures. You can get creative with lighting arrangement like you can use light lamps or candlesticks at wedding tables or ask the wedding decorators to use big chandeliers or bulbs for wedding decor or you can hang strings of fairy lights in the backdrop of the stage. All this lighting will create a warm and cozy look for your dreamy winter wedding.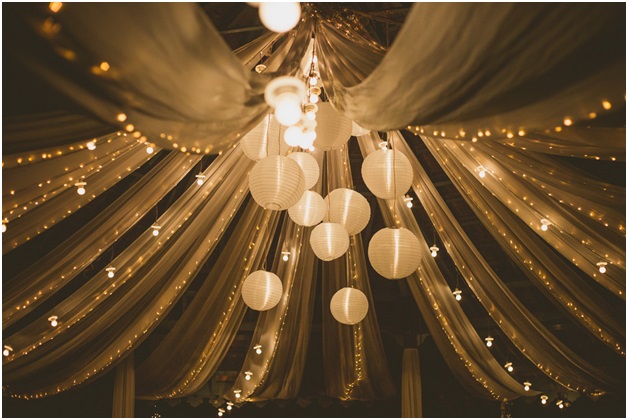 Wedding outfits for Indian winter weddings
During the winters, there will be a dip in the temperature. But that doesn't mean you have to wear bulky and boring wedding outfits to keep you warm. These days, wedding designers are experimenting a lot and designing the entire winter wedding outfit collection for both brides and grooms, using rich and thick fabric like velvet or silk. You can choose to wear these winter wedding outfits at your wedding functions which will give a royal feel and look nothing but spectacular, as well as will keep you warm during the chilly winter nights. So, it's a win-win..!!
Food menu for your Indian winter weddings
While the icy sorbets and cool drinks like popsicle cocktails are a must during the summer wedding, you need to choose different food and drink items for your winter wedding. You can choose comfort food and drink items that can keep your guests warm during chilly winter nights like a hot cuppa of coffee or kulhad chai or smoking a hot bowl of different soups. You should keep calorie-rich sweet food items in your food menu which are packed with lots of nuts, like gajar ka halwa, rice pudding, gulab jamun, etc. Trust us, your guests will love all these winter food delicacies.
So, that's all folks..!! Hope, you will find all these tips useful and able to plan your dream winter wedding without any hassle. You can also check out more other tips, ideas, and inspiration for your Indian wedding at WedmeGood or download our App and get everything needed for wedding planning at your fingertips.