Before they are old enough to trick-or-treat by themselves, you need to join your children on their Halloween adventures. If you haven't been trick-or-treating since you were a child, you've most likely forgotten how cold it can get!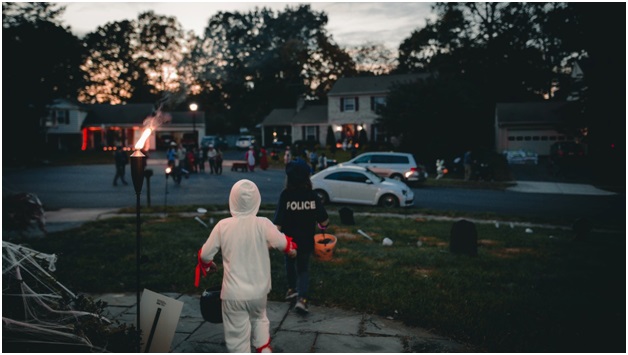 Thankfully, you and your kids don't have to freeze while collecting candy this fall. We've compiled a list of exceptional tips and tricks for keeping you and your little ones warm – we cover everything from mens thermal socks to prepping for poor weather conditions.
1 – Purchase Thermal Clothing for Your Children
For those that don't know, thermal clothing is made with state-of-the-art knitting technology, allowing it to draw moisture away from the skin. This helps keep the body warm for a longer period of time. With this in mind, it is easy to see why thermal gear is perfect for a long night of trick-or-treating.
There are lots of different types of thermal clothing that are particularly useful on Halloween, including:
Hats
Socks
Pants
Gloves
Neck warmers
If you are planning on going trick-or-treating with your kids this year, be sure to pick up a few pairs of thermal socks. Not only will these warm socks keep you comfortable, but if you get a pair of matching thermal socks for your kids, you and your children will be trick-or-treating in style.
2 – Wear A Lot of Layers
It is common knowledge that wearing numerous layers will help you maintain a consistently warm body temperature. There are various ways that you can integrate different layers into your child's costume.
Although it may impact the overall look of your child's outfit, it's never a bad idea to have them wear a coat while trick-or-treating. Thick, fall coats are great for trapping in heat and keeping your kids toasty.
If your child wants to be more subtle, they can wear a long-sleeved t-shirt or hooded sweatshirt underneath their costume. These garments work exceptionally well with costumes that are baggy or loose.
3 – Prepare for Rain
After waiting for months, there is nothing more disappointing to a child than getting rain on Halloween. However, even though it can put a damper on the night, not all is lost.
If the forecast calls for storms or showers, you and your children should bring an umbrella. This will prevent their costumes from getting soggy, thus, keeping them warm.
If you want to go the extra mile, you and your child can wear a pair of rain boots. These boots will keep the majority of the rain and mud away from you and your children's feet. Just make sure that they have a pair that still fits!
Unless you want to deal with coughing and sneezing all November, you and your kids need to stay warm this Halloween. Thankfully, you can do this by wearing thermal clothing, dressing in layers, and prepping for the rain. After doing this, nothing can keep you and your kids from enjoying Halloween.