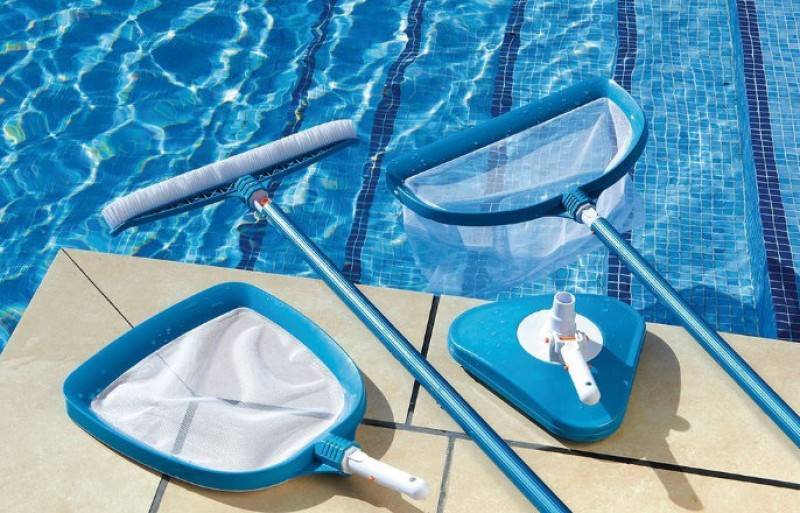 If you have a swimming pool, then you already know that cleaning is a big part of pool ownership. If you're thinking about putting in a backyard pool, then you should know: cleaning is a big part of pool ownership. However, keeping your pool clean doesn't have to suck all the fun out of having a pool.
Keeping your pool clean will allow you to spend less time on maintenance and more time having fun in the water. Here are some simple tips you can use to keep your pool clean. 
Skim and Vacuum Often
Skimming visible debris from the surface of the pool and vacuuming bits that have sunk to the bottom of the pool are regular, necessary chores to keep a pool clean. Luckily, technology has created some time-saving devices to keep pools clean with less work on your part. Automated, robotic skimmers and vacuums are both available to automatically clean with minimal effort and supervision on your part. If you want to keep your pool clean with less manual labor, look into adding some automated cleaning tools to your arsenal. Keeping your pool clean with less work will be worth the investment. Having a high-quality pool deck also adds benefits to your maintenance so it's better to choose a material that is durable and long-lasting such as stamped concrete with your choice of various textures. This will make your cleaning routine more easier.
Clean the Filter
Pool filters need to be cleaned regularly, but exactly how often they should be cleaned depends largely on how often your pool is used, the climate in your area, and the environment around your pool. Keeping an eye on the pressure gauge for your filter can be a good indicator for when the filter should be cleaned. When the pressure increases to 8 to 10 PSI above the normal pressure, it's probably time to clean the filter. Generally, it will probably average out to needing to be cleaned once per month, but it could be less or more depending on the individual factors for your pool. Dirty filters reduce the flow of water through the system and can make keeping the water properly pH balanced more difficult. The actual steps to clean the filter will vary, depending on the type of filter you have. Always follow the manufacturer's recommendations for cleaning and maintenance.
Maintain the Salt Cell
If you have a salt water pool, maintaining the salt cell is a critical component of keeping your pool clean. The salt cell is what converts salt to chlorine to balance the pH of the pool. Having a salt cell means you need to do much less work to maintain the proper pH levels of the pool. But you do have to maintain the salt cell in order for the system to operate properly. Salt cells do need to be replaced every 3 to 5 years, but keeping the pool clean and properly maintaining the salt cell will help to extend the lifespan of your salt cell.
Maintain the Water Chemistry
Though salt water pools require far fewer chemicals to keep the water chemistry at the right levels, that doesn't mean that you can forget about checking water chemistry. Regularly testing the water chemistry will give you early indications of any problems with the salt cell or filter and will help you keep on top of any potential pH problems before they get out of hand. Maintaining proper pH levels will help to prevent algae growth and water cloudiness, among other things, which makes the pool easier to clean and maintain throughout the season. 
Cover the Pool
If possible and practical, keeping the pool covered when it's not in use can offer a lot of benefits for your pool. 
Helps maintain pH levels

Maintains warmer water temperatures

Keeps leaves and other debris out of the water

Reduces vacuuming and cleaning time

Certain covers provide an additional safeguard to ensure no one can fall in when the cover is closed

Reduces water loss due to evaporation

Saves money and reduces energy costs
There are several different types of pool covers available. There are simple, inexpensive tarp-style covers, solar covers, and heavy duty fiberglass covers that can be put on a track system and deployed automatically when the pool isn't in use. No matter what type of pool you have and what your budget is, there is some type of pool cover that will work for you. And even if your main reason for covering your pool is to make cleaning easier, you'll still be able to reap the many other benefits from having a pool cover.
Regular Maintenance Checks
Regularly checking your pool's systems is an important part of maintenance and will help keep your pool working correctly. You should do a complete check each season when you open and close the pool, in addition to regular checks throughout the season. When all systems are functioning at peak performance, you will have to do less work to keep the pool clean. Poorly functioning filters, pumps, or other pool systems can put more strain on other parts of the system and cause the entire pool to have ongoing issues. Quality maintenance is a critical component to having a clean pool.
Though cleaning the pool will probably never be anyone's favorite part of owning a pool, using a simple routine to keep your pool clean will ensure you can maximize the amount of time you spend having fun in the water.
Thinking of putting in a new saltwater pool or converting your existing pool to saltwater? The experts at Discount Salt Pool are your saltwater pool system experts. Discount Salt Pool is America's largest specialty provider of saltwater swimming pool equipment. Since 1997, DSP has helped hundreds of thousands of people convert their pools to salt. We offer expert advice based on decades of experience, friendly and knowledgeable customer support, and manufacturer-direct pricing on the best salt pool systems available. Order online, visit our Texas headquarters, or call us now for personalized help and recommendations on your saltwater pool needs.