The age old issue of having a slender marketing budget is something that every organisation at every industry equally faces. And apps are no different to that as well.
It's seldom that app developers are left with a satisfactory budget after sacrificing majority of their monetary resources to provide their app with unique functionalities.
However, considering the current levels of competition in the app industry, if you can't aggressively market your upcoming app, then it's as good as gone.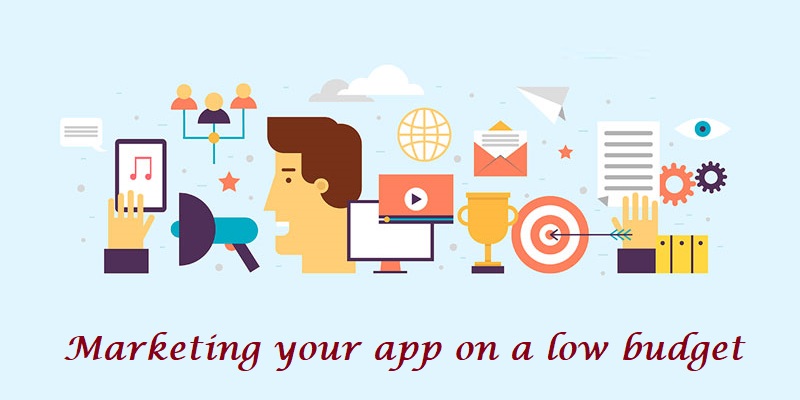 So what's the solution?
Low Cost/ smart marketing is slowly becoming a thing nowadays and there are quite a few marketing tricks that can blow your app's reach through the roof and not drain your pocket as well.
Let's have a look at a few such low-cost marketing tactics.
Trying to create a viral video is a one-time investment, which if successful, can land you with loads of organic engagement.
That's because, the level of social sharing that a viral video experiences is not only humongous but unrivalled as well.
But, the downside is that it's not easy at all. You really need to strike a chord with your viewers or future target customers to make your video viral or at least close to being the same.
Here are a few pre-requisites that app development companies should consider prior to making a viral Video.
Implicitly promote your brand: Never go full on with promoting your brand in the video. This is the first red flag towards a video going viral.
Instead focus on giving implicit cues about your brand during and after the video ends.
Create that emotional connect: This is the most important one. The most prevalent trait that a viral video has is that it makes its audience genuinely laugh, cry or get angry about something. If you can't evoke such kind of an emotion, your video would immediately go to the "View and scroll over category".
Have a Clear CTA- This is a part where you can show less subtlety and place a CTA ideally at the end of the video.
An ideal CTA would be to invite the viewers to subscribe to your e-mail database. You can target them accordingly once your app is finally launched.
Something that you should also keep in mind is to not rely extensively on your audio.
This is because, a significant amount of viral videos are also viewed through mobile devices, and mobile users don't always have quiet place or headphones that they can put on immediately.
In such situations they might watch the video on mute.
Who doesn't like free stuff? Providing free stuff to your users can act as a pocket friendly alternative to certain app marketing strategies.
Majority times, providing extremely simple and less extravagant incentives can become a major hit among an app's target customers.
For example Chick-fill-A invited people to download their app and provided free chicken nuggets in return.
Another popular strategy to enhance your mobile app downloads is to offer reward points. Starbucks is a perfect example of this. The brand provides a vast number of different rewards for using the starbucks app.
The strategy of giving reward points can have dual benefits as it not only helps the firm in generating new users, but also ensures that the existing users keep on using the app regularly.
Collaborate with Micro-Influencers
This primarily comes in handy when you are launching a new app. Micro-influencers are the best choice when it comes to spreading the word out in a very limited time period.
For example you can conduct a joint podcast with a micro influencer and talk about your upcoming app such as how you came up with the idea or the manner in which you carried out your app designing etc.
This is because they have an audience that is highly interested and open to try out the products (apps in this case) such influencers promote.
In fact collaborating with a micro-influencer would help you in developing a user base that is high interested in and motivated to try out your app. In short you would be able to garner a relatively higher quality user base than other mediums.
This is something that celebrity influencers inherently lack as their subscribers consists of a large amount of unrelated people who are just following the influencer due to his celebrity status.
There is also the cost factor as well, as collaborating with a celebrity influencer can be insanely costly.
On the other hand 85% of micro-influencers charge less than $250 per sponsored post/video.
Wrapping Up
The scope of making mistakes or significantly diminishes when you are marketing on a low budget.
Therefore app developers should ensure that they have made every possible effort to understand an app's customer base in and out.
This is the first step to creating any marketing strategy and messing up this step can be highly detrimental for an app's marketing tactics.