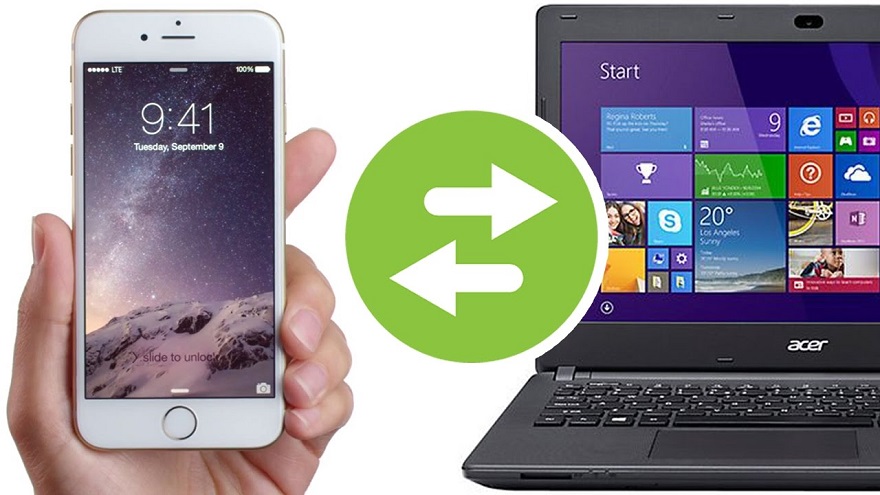 Do you have videos on your iPhone that you want to save and transfer to your Windows or Mac PC? The procedure to follow is really simple and intuitive. In addition, for completeness, we will also show you the reverse procedure, which is to transfer videos from PC to iPhone. All you need is obviously your iPhone, a PC with Windows or a Mac.
1: Transfer videos from iPhone to Windows PC
A very fast and simple method to transfer videos from iPhone to Windows PC is to copy them directly from the device memory. All we have to do is connect the iPhone to the PC. The window with the files in the device memory should automatically open. If it does not open automatically, just open File Explorer and click on the icon of our iPhone in Devices and Drives. There is a folder called DCIM. In this folder, there are all our videos and our photos, divided into subfolders. All we have to do is drag and drop or copy and paste the files we want to save onto our desktop.
2: Transfer videos from iPhone to Mac with AirDrop
A very convenient way of transferring videos, and even photos, from our iPhone to a Mac is to use AirDrop. It is a technology that allows us to send files via a wireless connection, without the need to connect it via cable to the Mac. You can apply this method only if you have an iPhone 5 or up and a Mac 2008 or up.
3: Transfer videos from Windows / Mac PC to iPhone via iTunes
First of all, iTunes must be present on the PC we want to use. If you don't have it then you have to download it from the official website. After completing the installation, we start the program. At this point, we can connect our smartphone to the PC via the USB cable. The software will recognize our device. Click on the icon of our device and enter the Photos section. Then we click on Synchronize photos from here and choose the folder where the videos that we want to transfer to the smartphone. Finally, click on Apply. In the end, the selected videos will be transferred to our device. The procedure is also valid for the transfer of photos.
4: Transfer videos between Windows PC and iPhone via IOTransfer
If you think iTunes is difficult to transfer videos from PC to iPhone, you can try IOTransfer, one of iTunes' alternatives, as well as a YouTube video downloader. It's a great PC software that makes it easy to transfer videos, music, photos or other files between your PC and iPhone. Follow these steps to transfer the videos from your PC to your iPhone.
Download IOTransfer and install it for free on PC.
Connect the iPhone to PC via the USB cable, then start IOTransfer on the PC.
Click Manage and select the video from the menu on the left.
Click Import and select the video on your PC to begin transferring the video to your iOS devices.
As you can see, it's easy to transfer videos from PC to iPhone with IOTransfer. If you want to transfer a lot videos, IOTransfer can also help you do it quickly. You can then watch the transferred video on the iPhone. If you want to transfer videos from iPhone to PC, just select the videos at the homepage of IOTranfer, then click Transfer to PC.
Conclusions
As we have seen, it is a breeze to transfer videos, and even photos, from our Apple device to PC and vice versa. And which method do you use most often? Let us know through the comment box.