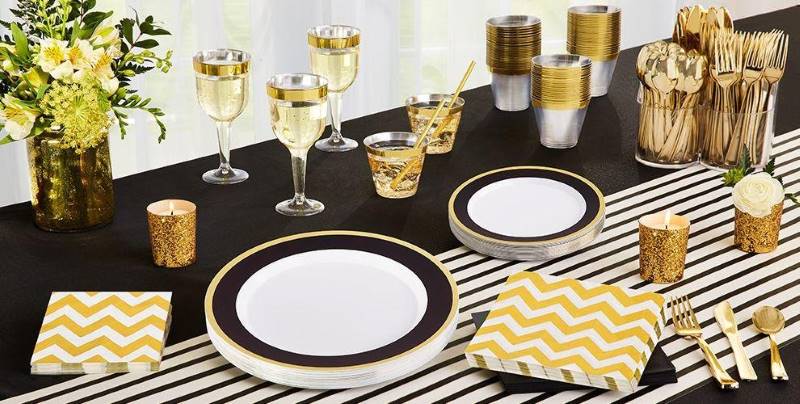 Want to relax with friends, and plan a casual party at your home? Maybe you are organizing a kid's birthday? Or do you want to invite your business partners to a formal dinner to discuss new deals? 
Whatever gathering you plan, there are many things to think about if you want everything to go well. On this page, you can find out handy tips on throwing an excellent party. Make sure to put dinnerware on your to-do list.
The choice of plates will depend on two key factors – what kind of party you are planning and what food you will be serving. Then you need to think about the number of guests, and whether you'll serve plated meals or a buffet. And finally, you can think about the style of your dinnerware.
Formal Party
Business people often organize formal dinners in their homes, where they invite colleagues and associates. It is possible to negotiate and contract jobs much more successfully in an atmosphere that is more relaxed than in the office or meeting room.
As for the choice of dishes, for a formal party, you need a formal setting. If you don't have much experience choosing dinnerware, you will certainly not go wrong if you opt for one-color sets. Choose the color based on the decor of the room where you will organize the dinner. If you are undecided, classic beige or ivory sets are always trendy.
Dinnerware made of fine materials such as porcelain or bone china will give the impression that you care about every detail, which business people especially appreciate. And if you have a bit of a sense of style and want to impress the guests, opt for hand-painted sets.
Casual Gathering
Parties are not something that happens every day. And if you plan to have one, you are organizing it because of some nice occasion. You are throwing a party to have a good time and make your guests pleased.
When you decide to invite friends to an informal get-together, you probably plan to serve plenty of food that they love. You'll need large plates for this, whether you plan a buffet or dinner at the table. 
Check the following source to learn when you should opt for plated meals and when for a buffet:
https://www.thebalancesmb.com/buffet-vs-plated-meals-what-you-need-to-know-1223500 
Casual hanging out with friends is the right time to show some sets that you have never used before. Match the plates with the party's theme (if any). If it is an entirely casual gathering, feel free to opt for some unusual dishes. Just make sure they are big enough.
You can set hexagonal plates (or several different shapes for each dish separately if plated meals). Or choose tableware with some fancy borders. You don't have to use expensive kits, but get those from earthenware or stoneware (but none of these are recommended for machine wash).
Children's Birthdays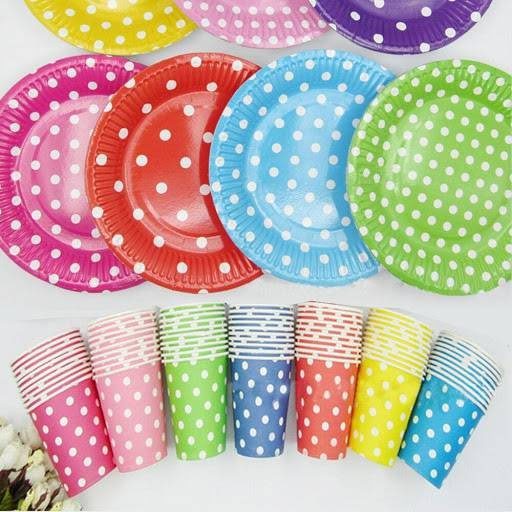 Kids' birthdays are pretty informal parties, so dinnerware doesn't have to be top quality. Children often don't even pay attention to such things. Still, adults like to show off and be creative when it comes to birthday parties of their youngsters.
For younger kids, parents often choose sets with characters of favorite cartoon characters or animals. Teenagers usually don't mind how the plates will look like, so you have all the freedom to choose the dinnerware for their parties. Try with glass or melamine sets.
Since birthday parties are often themed, plates should keep up with the decor. Kids are often not careful and can easily break a plate and injure themselves. That's why disposable plates are a good idea—those made of plastic or stiff cardboard the real thing.
Outdoor Entertainment
For a casual BBQ or pool party, you should adhere to the same rule as described above – you don't have to spend a fortune on dishes. Choose one that shows you and your style, like Our Place essential dinnerware, and make sure these are shatter-resistant. Melamine plates are affordable and can be found in a variety of colors and designs. Best of all, they are easy to machine wash and ready to use again.
Food is perhaps the most important item you need to worry about. Everything related to it should be carefully selected and matched with the party's theme or type. That refers to table decoration and dinnerware. Stylishly matched accessories and dishes complement the look of your table. Also, the food served on attractive plates looks much tastier.