Just like your kitchen, living room, and bedroom, you can also make a lot of improvements in your bathroom, too. But these improvements shouldn't be limited only on installing a new sink or getting rid of your tile molds! The truth is, leveling up the look of your bathroom can be a lot more fun than you've expected.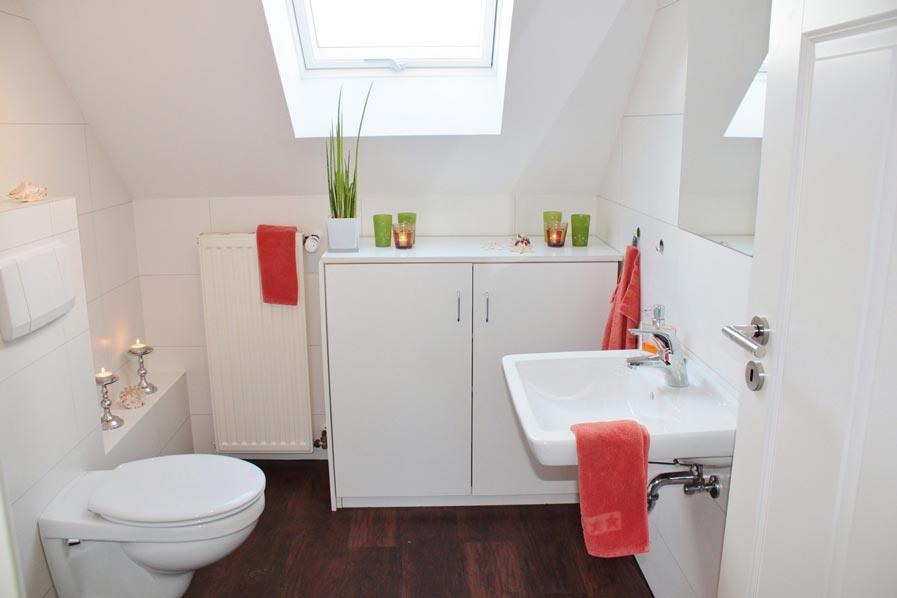 Are you still having some doubts? Then, have a look at our top tips on how you can give a new life on your bland-looking and boredom stricken bathroom.
BOTANICAL WALLPAPERS
Botanical wallpapers are heaven for the eyes, and it's actually one of the top choices of professional interior designers when making major improvements.
It can give you an aura of relaxation, which fits perfectly inside the bathroom, and with its design, your bathroom would only require minimal decorations because botanical wallpapers can already provide a dominant improvements in your bathroom.
HOUSE PLANTS
Having a dash of nature inside your bathroom is a great way of improving its look. House plants are one of the most fitting plants to put in your bathroom, and along with your floral wallpaper, these two decorations can greatly improve the vibe of your bathroom. Boy, this combination is truly awesome!
'NATURE COLORED' TOWELS
Your botanical wallpapers and house plants are enough to have a 'nature' feel inside your bathroom, but how about maximizing 'the feel' even further with the color of your towels?
Choosing towels with 'nature colors' such as green, brown, blue, and yellow, that come in different hues would certainly complement your floral wallpaper and house plant decorations.
WINDOW BLINDS
The 'visual effects' of window blinds in a room are really stunning, and it's really a good idea to add this into your bathroom.
When the sunlight is too bright outside, you may want the kind of covering that blinds provide, that covers the room in darkness, but allows slit of lights to pass through. It's amazing when these slits of light can be seen inside a bathroom. It's just awesome.
STORAGE SOLUTIONS
Storage solutions are one of the most delicate parts of your bathroom because they must meet all your loading demands while saving as much space as possible. Plus, it must have a pleasing aesthetic and ergonomic design.
With all the complexities involved in your storage space, it is recommended that home renovation experts must be involved in designing and installing a storage space for your bathroom. Since it will become a permanent part of your bathroom, it must meet all the standards of the right storage, or risk having a long-term headache.
MIRROR MIRROR ON THE WALL.
If your budget doesn't allow you to tear down your walls to expand your bathroom, you might want to buy a couple of large mirrors in the meantime. Mirrors are used in many establishments to give it a more spacious look, and there's no way you shouldn't try it in your bathroom. The various reflections it creates also act as an added decoration, which makes the look of your bathroom more appealing. Boonstra can help you to install a big mirror properly.
CHANGE YOUR WATER CURTAINS
Looking at an old and worn-out shower curtain is a real eyesore, and by just touching it, you can have a feel of how icky it is (eww!). Changing your curtain shower quickly freshens up the vibe inside your bathroom, and it is also more hygienic.
People have different preferences with the designs of their shower curtains, some like bright colors, but some prefer simple or even pale colors. Whatever it is, the important thing is not to let it hang for many months before changing it, both for aesthetic and hygienic purposes.