Employees are one of the main assets of any organization. This fact about employees becomes more relevant for large businesses and government organizations where thousands of employees are at work. Many such organizations find it difficult to manage employees and other business functions at the same time. The details of employees are neither maintained nor structured. Managing human resources can be a nightmare in such mammoth institutions.
Here, eHRMS or e-Human Resource Management System comes into play by administering and resolving HR issues. The eHRMS is designed specially to lower the burden of human resource on the management and has the following objectives:
To maintain an online database of employees so that the routine activities of HR management can be performed efficiently.
Provide employees with an interface where they can feel that they are an essential part of the organization.
To create a system that taps the skills and capabilities of employees with a view to maximizing the efficiency of the organizational function.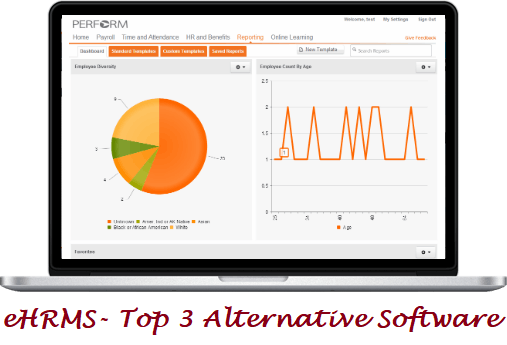 However, there are lot many other applications or software which are as efficient as eHRMS. They also have the same objectives and can be used in place of eHRMS to make the system more effective.
Top 3 Alternative Software to eHRMS
Following are the top 3 alternate software for eHRMS:-
1) BambooHR
BambooHR is a compact HR system dedicated to handling different recruitment and employee workloads. It is a cloud-based human resource management solution that is designed for small to medium-sized businesses. The software provides important features such as employee database, applicant tracking, and time-off tracking.
It is available in two different packages:-
Essential Package – This package can cost up to 6.19 dollars or INR 440.82 per employee and per month for the following features:
HR management – Employee records, benefits and administration, standard access levels, workflows and approvals, and email alerts.
Employee Self-service – Employee directory, time-off management, company calendar, mobile application, and single sign-on.
Email support.
Customer success webinar library.
Advantage Package – This package cost up to 8.25 dollars per employee per, per month for the following features:-
Onboarding and offboarding
Applicant tracking system
Advanced tracking
Training tracking
Company branding
Custom tabs
Audit trail
Customized workflows and approvals
Custom access levels and alerts
Phone support and
Integrations via BambooHR marketplace and open API
This package also includes all the features offered in the essential package.
Benefits of BambooHR
BambooHR is one of the top alternates for eHRMS as it can offer the following merits:-
BambooHR plays an important role in the onboarding of freshly recruited employees. It sends a special email to them with training information and access to all files and functions in the system. Employees can easily export their personal information in the system and can establish connections with other employees.
Applicant Tracking System
This feature displays job openings in a separate tab where the user can see applicant leads and applications, and take necessary action. The user can simply filter down the menu by using the system's special text editor to add a longer description. After the completion of the list, the user can upload it to various social media platforms and online job boards.
Along with the standard equal employment opportunity reports, the user can also pull out benefit reports. This reporting can also be done via mobile devices.
2) Gusto
Gusto is specially designed to perform complex processes such as payroll, benefits, and HR management. This software can deliver a well-designed user interface coupled with some amazing payroll features and automation functionalities. It has won the 2017 Supreme Software Award and Expert's Choice Award.
It offers three packages:-
Core Plan–Includes all payroll features, expert support, employee accounts and profiles, health benefits, and company administration.
Complete Plan – The user gets advanced hiring and onboarding tools, time-of requests, employee accounts, and profiles, employees and directories, health benefits, and company administration.
Concierge Plan – Incorporates certified HR pros, HR resource center, dedicated support, payroll features, employee accounts and profiles, health benefits, and company administration. It includes all the features mentioned in the above two plans.
Benefits of Gusto
Gusto offers the following advantages:-
Gusto just needs some entries to perform calculations. This software is fully payroll automated and can perform calculations with accuracy. Hence, it saves a lot of time for the user.
Streamlines Human Resource
The user can consolidate all the employee data. Important information can be organized at the same place. Gusto makes HR management more transparent by complying with the HIPPA standards.
 Integration with Third-Party Systems
Gusto can easily integrate with all other important third party systems and blend within a software architecture. It gets synchronized with accounting, time and attendance, and expense system.
3) Paycor
It is an integrated HCM (Human Capital Management) platform that provides human resource, recruitment, and payroll solutions. This HCM technology is considered as the most modern and intuitive platform that improves the level of business processes to an optimal level.
The price of this software depends on the type of solutions the user wants to integrate in the business. The user will need to contact the Paycor service provider to know about its price and other related expenditure.
Benefits of Paycor
With its HCM technology, Paycor offers the following benefits to its users:-
Payroll and Tax Compliances
It has a powerful payroll tax compliance solution that ensures accurate compensation. It has timekeeping software known as "Time Clock" providing authentic payroll integration and maximizing the efficiency of timekeeping and compensation.
Deep Insights and Analysis
It allows the management to acquire deep insights into the HR metrics which also includes employee retention, labor costs, and other information,
This application has a simplified user interface which makes it easy to control the workforce. It can be integrated with a number of pre-existing HR applications. It can also help the user send customized email templates to employees.