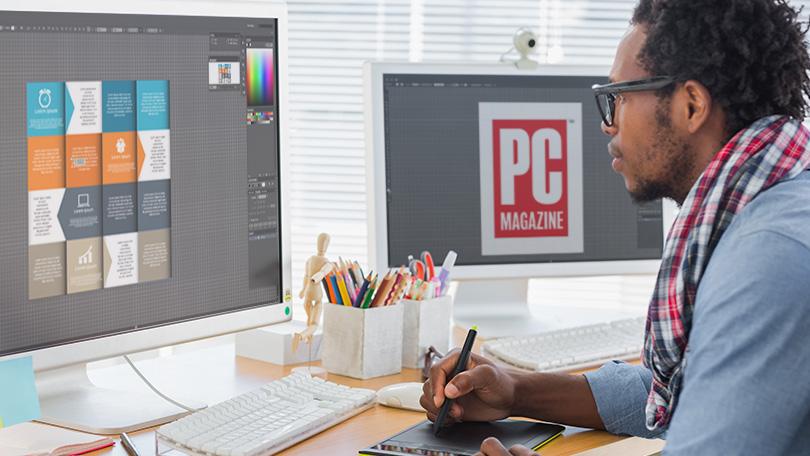 Monitors make a significant part of how interesting your next logo design will be. A good monitor offers excellent resolution and is great in performance when it comes to graphic design. And those who fail to bring monitors into consideration while designing suffers an incredible business loss. It happens only when they fail to realize how monitors can impact their logo design.
A good professional logo design company never take risks when it comes to client's businesses.
Are you a professional logo design agency seeking a good monitor which offers you a combination of high resolution and extreme performance? Here are a few things to keep in mind before you pick one.
Aspects to Pay Attention to Before Purchasing a Monitor for Professional Logo Design
So before you go ahead making up your mind to purchase a powerful monitor for your logo design business, you need to pay attention to certain aspects such as screen resolution, screen size, color accuracy, ergonomics and above all price. Let's discuss all these aspects one by one for your help.
Screen Resolution
Just over half a decade ago, a new resolution for the monitor stepped into the market changing the entire viewpoint of this generation. It simply blurred the line between what's real and what's virtual. Introduction to pixel resolution quite changed the perspective of the world on how monitors work.
The best resolution currently is the 4k resolution, the Ultra High-Definition (UHD). The resolution offered by a normal 4k monitor is 3,840 x 2,160 pixels which is exactly four times the resolution of a normal 1080p monitor which we are normally using. These monitors are also coming with support for High Dynamic Range (HDR) which makes the motion much smooth and classic than a normal res.
Other monitors which are less in range than the 4k monitors lie in the resolution scale of 2,560 x 1,440 pixels also known as the 1440p monitors. If you can't afford a 4k monitor, you can always choose this.
However, one way or the other, you must keep in mind that the cost of a monitor greatly relies on the resolution. Higher the resolution, greater will be its performance & greater will be the cost of monitor.
Screen Size
Another important aspect to keep in mind while choosing a monitor is the screen size. Imagine you are in the graphic design business and you are responsible to work with images of high resolution.
If you want to get into the minor details, you need something that can give you more clarity.
Hence, when you choose to go for a high-resolution monitor, make sure to find a monitor which falls in between 27 to 32 inch range. However, if you can't afford something in the high-end range, then you can always settle for the 1440p category as there are some really interesting 29-inch monitors for you.
A good 29 inch monitor can provide you an ultra-wide WQHD result with an aspect ratio of 21:9.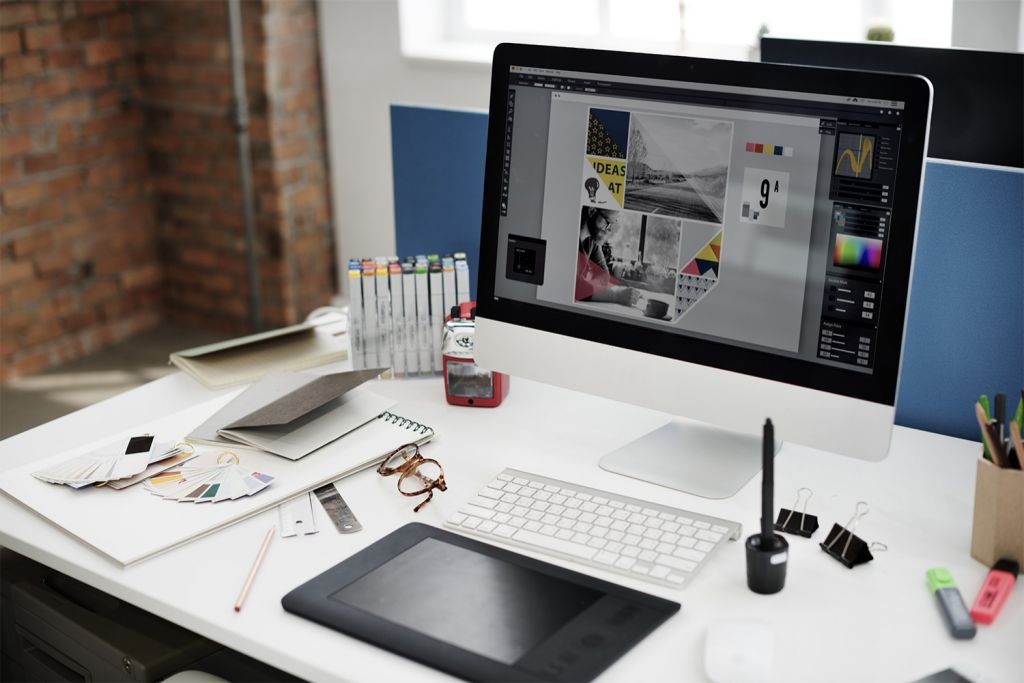 Color Accuracy
So before a professional logo designer plans on printing out its crafty work on paper, he or she makes sure that whatever comes out from the printing machine looks exactly how it looks on the screen.
Not only it concerns the dimension and resolution of the image, but also it addresses colors to be accurately displayed as they are displayed on the screen. Monitors with high-end technology and advanced performance (AH-IPS) panels can only enable a designer to match the color accuracy.
Hence, when you choose a monitor, take a look at the look-up table for the monitor. It should either be in the 10, 13 or 14 bit category. This selection will help you to frequently calibrate your monitor. You will be able to produce 99 percent of the results within the respective Adobe RGB color space.
Nowadays, in the market, you can easily find pre-calibrated monitors easily. But, if you ask me, I will recommend you to get the calibration done on your own.  Here's a color calibration guide for you.
There are several PS panels which are worth the money. PS panels are great to determine various shades of grey and set different level of shadows. They are great in highlighting the details as well.
Ergonomics
If you are someone who's planning to sit in front of a screen for hours and hours, then you need to address on the adjustments of your monitor as well. Keeping the ergonomics in mind, you will have to decide about the swivel of the monitor and how you will move it into a comfortable viewing position.
Certain designers are very keen about the pivot of the screen. They want a screen which they can turn to 90 degrees to create a portrait mode. Such screens can come in real handy from the design pov.
Another thing that is important to address is whether the monitor offers USB ports or not. Having a USB port on the monitor is a plus for designers as they can easily insert other storage devices. One can find USB ports easily located on the side of the monitor. It is not a necessity by any means tho. But, it can become quite handy for users to readily upload & download images without much hassle.
Especially, when you are using tower PCs you will not have to duck down under the table to add one.
Price
So here we are at the final stage of our monitor assessment, the pricing plan. It is the option that we all have been dearly and persistently waiting for. Truth be told, high end monitors aren't the cheapest.
For a normal UHD 4K monitor with 32 inches screen size, you should keep at least $1000=1200.
Whereas, a 27-inch WQHD monitor may be a whole lot expensive and may range in $500-600. If you are planning to go for something less like in the 24 inch monitor range, it may cost you around $400.
As the saying goes, the quality of the work greatly depends on the tools of the craftsman. If you want your graphic designs to make a remarkable impact on the market, then you need to get the right tools.
A good monitor is definitely one of them.