'It's the most wonderful time of the year', as the saying goes.
And it's time, if you haven't already, to start thinking about your Christmas decor. Whether you opt for the bare minimum, or you quite literally deck the halls, there is a lot to think about when decorating your home for Christmas.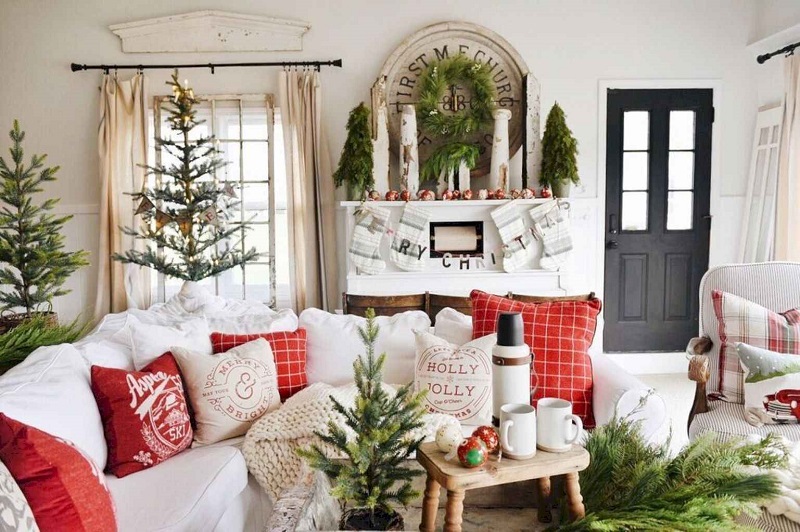 What's the overall plan?
Some things to consider for your Christmas decor:
Will you decorate indoors and out?
Will you decorate all your rooms? If not, which ones will you decorate?
Will you pick a theme?
Will your decorations need to be pet/kid-proof?
Once you've made a plan, then the next thing to consider always has to be the theme. Always start with your Christmas living room decor first, when deciding how you will decorate, as this will be where you spend the most time in your home and entertain your guests, so getting this area of your home right, is the single most important, in your overall design.
Some ideas of Christmas themes for your home:
A color theme – this could be a single color of decorations (say, all white or all red), or you could choose a main color and a few accent colors – for example, copper, with white and turquoise is a very modern palette. Gold, red and green will give a very traditional look. And then there are all the colors in between!
Maybe take a minimalist approach, and opt for very modern decorations, a modern, minimalist tree or even a hanging wall decoration that looks like a tree – there are all kinds of alternatives to a proper tree these days. Choose LED light strings instead of tinsel, and a modern style infrared heater if you don't have a log fire.
A homemade/country crafts theme, and opt for lots of hand-stencilled carols on chalkboards, lots of home-crafted pieces, drape candy canes around the house. Think felted animals as decorations, flowers (fresh and faux), berries and plaid throws to add a cozy feel to your decor.
A high-end theme. Make your home look like it's straight out of Beverly Hills by choosing a colour palette of gold, silver and white. While ordinarily, we wouldn't put two metals together, at Christmas, a lot of shiny baubles in mixed metals look extraordinarily expensive, set against the lush, dark green of a Christmas tree.
A cozy theme. Center your Christmas living room decor around lots of faux-fur blankets and plaid check designs. Find some artificial holly garlands, tipped with spray snow, some plaid bows, grey faux-fur pillows and throws and if you don't have a traditional fire, make a feature out of setting up a faux fireplace above an infrared heater. Don't forget to also check out infrared heater reviews and buyer's guide.
An off-beat theme. A pastel palette of pale pinks, blues and yellows can look beautiful with a matt finish (don't choose shiny) and white and bronze accents. Quite out of the box and different, but if you are a fan of sugared almond colors the rest of the year, why not use them at Christmas? Rules are there to be broken!
Coastal. A coastal theme can look beautiful if you live by the water or simply appreciate ocean hues. Opt for bronze, navy can copper, with highlights of turquoise and white. Use wooden decorations and wrap driftwood with cool white LED lighting.
A regal theme. Choose lavish blood reds and regal purples, with warm gold tones, for an opulent and timeless design.
Most living room Christmas themes center around a fireplace, although many modern homes don't have one. How do you make something in an otherwise square room your focal point for your Christmas design? Whatever you do, the cardinal sin at Christmas is having a cold home. Ensure you have a focal point of warmth to ensure your guests stay warm and cozy in a way that matches the warmth of your hospitality.
Find another focal point. It could be a bookcase or a windowsill. Consider making that your focal theme.
Consider buying an infrared heater. These not only ensure your room stays cozy for the holidays, but you can make that your focal point. There are many to choose from to give different looks, depending on your design. Look online for different styles and designs that can work for your room size and your style and Christmas theme.
Choose a stove-type heater for traditional, Christmas looks and Nordic chic.
Choose a real flame effect heater to put a modern twist on your Christmas decor.
Choose something wall-mounted if you are short of space.
Or pick something eclectic and off-the-wall for a funky twist on Christmas.
Once you have decided on your Christmas living room decor, then you can start to consider the rest of your home. Think about taking the design into your hallway, to ensure first impressions, when people enter from outside act to set the scene for your centrepiece, your beautiful Christmas living room. You may also consider a few tasteful decorations in the guest bath and cloaks, and up the stairs – bannisters look beautiful wrapped in holly or lights (or both). If guests are staying for the holidays, also think to about a few little decorations in their bedroom – this can be a simple little candle, or a few baubles in a mason jar. Don't forget to include your kitchen in your design to ensure your Christmas spirit is with you while you cook for your family and friends.
Have a lovely Christmas in your newly decorated, cozy Christmas home!