Every girl dream of her wedding day and wishes to have perfect and same as she desires. There are many wedding venues in the world, but the sites Bali is bestowed with are meeting almost every dream wedding style. The biodiversity made Bali the top tourist attraction in the world. Bali wedding sites are perfect for dream weddings with all facilities arranged by The Seven Agency in Bali, the only registered agency in Bali. There are many locations out of those sites below are three wedding ceremonies that are one of its kind.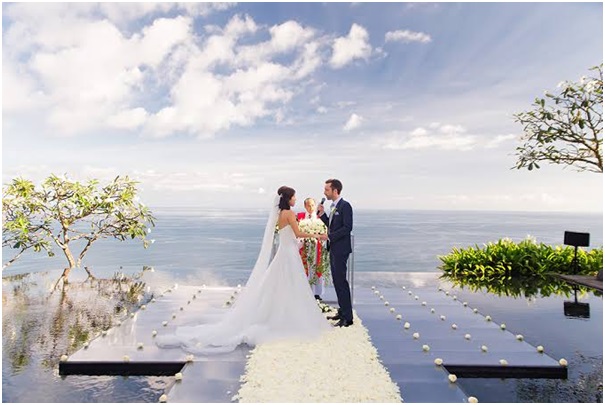 Exotic elephant wedding
Imagine your wedding in a really beautiful place, How about a wedding on a most beautiful, exotic animal elephant. In the Bali elephant wedding package you can celebrate your wedding in a unique and memorable style. This exotic animal will add a royal, graceful element to the wedding. You will ride elephants and set off to a journey of honeymoon trip by riding them. This great ride will be best for your wedding photoshoot which you can enjoy later with your friends and family members. This tropical wedding style ceremony is great for those people who love adventure. Elephants are innocent animals; therefore according to the local culture, they bring happiness and fortune.
Morabito cliff wedding
Situated in the center of Uluwatu,
Morabito Art Cliff is a leading site for marriage in Bali. Morabito cliff is right in front of the Indian Ocean; the cliff provides you tranquil and pure relaxation in the arms of nature. Paris and French-based jewelers designed the best interior and architecture, Morabito Art cliff is a marvelous piece of art. H Breathtaking view with nature's most beautiful scenery, panoramic view of Bali is a magical location for a wedding venue, in the center of ocean and jungle encircled with natural beauty in Bingin cliff.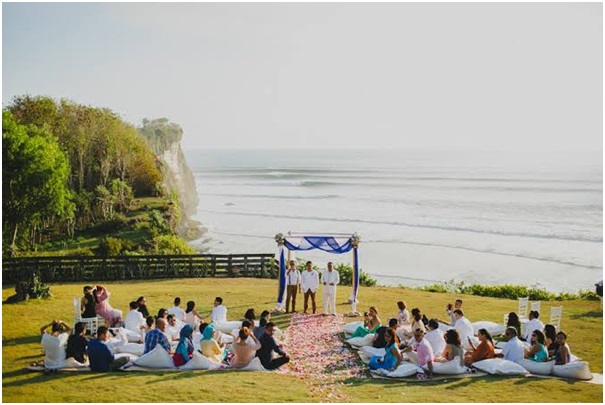 Sacred beach wedding
Traditional Bali villa is surrounded by clear blue waters which presents an unbelievable island setting. Sky touching green hills standing on the rice lush and fertile fields gives a glimpse of heaven. Sunshine kissing your skin and cold ocean breeze cuddling with hair, you will feel the serenity and unexplainable glee. This exotic site is at 2 hours drive from the busy tourist spots in Seminyak and Kuta. It is an excellent place in the middle of two cliffs, which gives sceneries of Agung tropical mount and white and black sand beach. It is the best place for romance and wedding ceremonies. The traditional restaurants and cafes serve tasty food with Bali's signature taste. After the wedding you can do multiple activities, for example, you can enjoy a candlelight dinner in the luxury villa.
If you are an adventure lover and want to make your wedding movie perfect then Bali is the best place for you. The classic fairytale-like locations and services almost at every site enables it to match everyone's requirements. Furthermore, if you are interested in the exotic wedding but confused about the arrangements, then there is Bali's only registered company, the seven offers reasonable packages which provide you a wide range of options.