Having a backyard is bliss. There are so many things you can do in your backyard, such as spending some family time with your loved ones or throw a party on weekends or simply relax with your favorite drink after a hectic day at work. Also, you can give a paradigm shift to your dull and unattractive backyard with a new avatar, and there are so many ideas that you can explore, for example, making patios and decks, a garden formation, developing an outside kitchen, and many other things.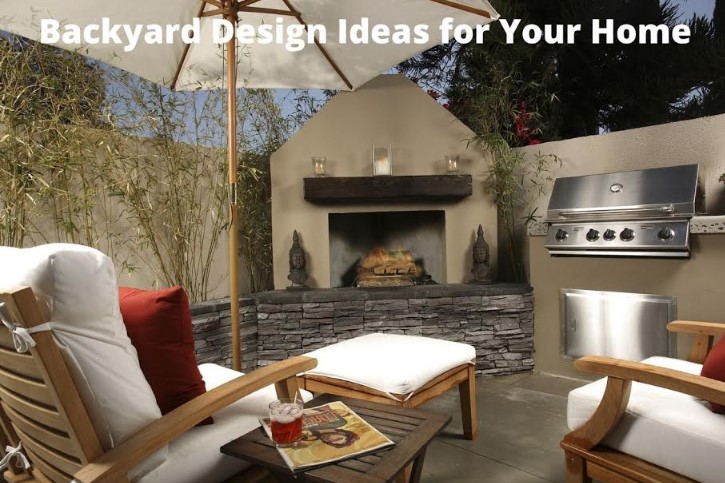 In this post, we will discuss some of the best ideas for the backyard environment for your home that will give a startling and appealing look to it.
Patios and Decks 
If you use your backyard for informal meetings and gatherings quite often, you can think about introducing a patio or a deck there. It will completely change the entire area, and there will be a place in your home that can be used for family gatherings, weekend parties, and small events. Patios and decks can be constructed quickly and won't cost you a fortune. However, the value of money is merely unbelievable. All you need to do is to hire a professional interior designer and discuss the possibilities of patios and decks in your backyard. There are many designs and styles you can experiment with when it comes to patios and decks, which won't look dull and featureless.
Introduction of Plant Flowers, Cacti, Shrubs and Succulents 
If you have a backyard that is large and spacious, you can create a small garden there to give a natural and organic look to your home. The trend is popular among homeowners in Australia, and it completely transforms the overall view of your home.
The best and basic thing to start is to go with plants, flowers, Shrubs, Cacti, and Succulents. There are more than 1000 types of these flowers, cacti, plants, and shrubs available, and it will give a magnificent and enthralling look to your backyard. Also, you would be able to enjoy your time while maintaining them, especially if you are retired.
However, you need to research a bit to find out convenient plants for your soil by knowing about sun and water requirements, hardiness zones, soil pH, and other crucial things.
A beautiful garden will surely please your eyes and also give breath to the home. It will look more vibrant, radiant, and alive.
Set Up an Outdoor Kitchen 
If you spend a significant amount of time in your backyard, you can set up a small outdoor kitchen with a platform to make your favorite dishes on weekends or whenever you have time. A small space in your patio or deck can be dedicated to the outdoor kitchen, and you can make a fully functional kitchen by introducing counters, a grill, refrigerator, and other kitchen accessories and appliances.
It will be a trendsetter, and you will surely love to experiment with your spouse about your favorite recipes at weekends. Just go for it.
Advantages of Outdoor Kitchens 
First and foremost, outdoor kitchens improve the value of your home, in terms of aesthetics and money-wise too.
In addition to that, it will receive utility bills of your home too as you will be cooking more often in your outdoor kitchen.
Furthermore, you will have more living space in your home to experiment with.
If you are allergic to cooking smells, an outdoor kitchen can keep that unwanted smell out of your home.
Stay Cool with an Awning.
Most of the homeowners want a covered deck as it saves them in rainy and hot seasons from excessive rain and heat. In addition to that, it also keeps the environment of the backyard cool and comfortable. A covered deck with a retractable option is what retractable folding arm awnings offer to you, and you should try it.
When your deck or patio is adjacent to your house structure, going for an awning makes complete sense. In addition to that, nowadays, there are freestanding awning options available too.
Advantages of Awnings 
It gives more time for outdoor activities. For example, in summer, you might need to go inside the home in a hot and scorching day, but if you have folding arm awnings installed, you don't need to. The entertainment is unlimited with awnings as it does not give any excuse to go inside the home.
Another important advantages of folding arm awningsare it increases your home's market value to a great extent, along with improving the aesthetic appeal and beauty.
Awnings also protect your home from rain, snow, and those harmful UV rays of the sun. Stay healthy, happy, and comfortable in any season of the year.
Also, awnings can reduce your energy costs as you will be spending more time relaxing outside your home while your fan and AC are off.
Create Walkways 
Not just the backyard, you can construct a walkway in your front yard also, and it will look astonishing and beautiful. Walkways don't just add a great feature in your backyard, and you can make a garden surrounding it to make it look lovely and beautiful. You can use many materials to make walkways such as gravel, bricks, paver, flagstone, wood, stone, and combinations of these materials.
Advantages of Walkways 
It offers an aesthetic appeal to your exterior space, which can be highlighted when you are selling your home.
Also, it offers the convenience to reach out to different parts of the home easily and quickly.
There are many design options available when it comes to walkways. You can give an altogether different persona to your home with beautiful and appealing walkways.
Conclusion 
Making your backyard exciting and entertaining is the most important thing you will do to have some gala time with your loved ones. From installing patios and decks to creating a garden or a kitchen, there are so many other options available to choose from. Make the most out of the space and make the backyard the most beautiful part of your home.