My fiancé and I have a bit of an unconventional engagement story. I actually proposed to him. However, he insisted that he wanted to get me a ring. I was hesitant because a lot of jewelry comes from mines with human rights abuses, and a lot of mining practices are bad for the environment. I didn't want a symbol of our love to have these connotations. So I started to do some research, and that's when I came across Brilliant Earth. What follows is my Brilliant Earth review.
Ring Selection
Brilliant Earth allows you to create your own ring or choose from their selection. If you want to create your own ring, you will start by picking a setting material and style. Next, you select the type and shape of the diamond you want. Brilliant Earth offers four different types of setting material: platinum, 18K White Gold, 14K Rose Gold, and 18K Yellow Gold. All the metals they use in their settings are recycled. I liked this fact a lot because it meant that I wasn't going to be contributing to environmentally devasting and ethically questionable metal mining practices.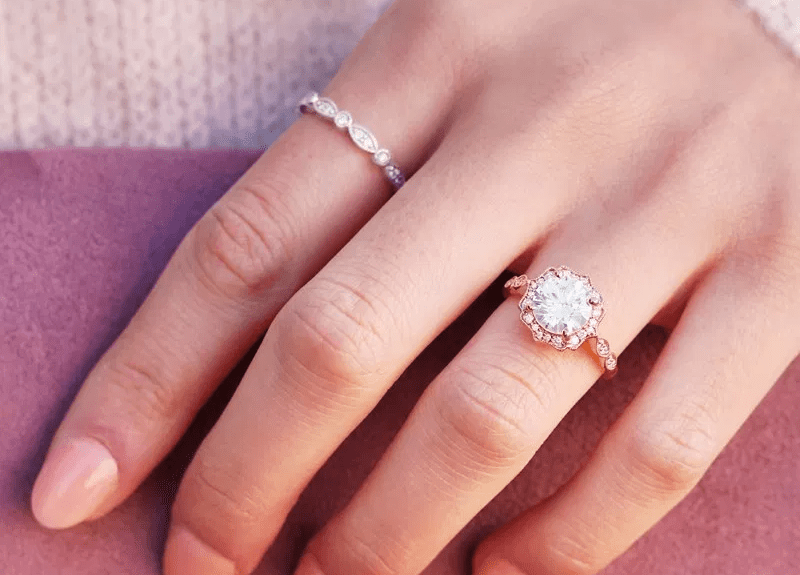 There is a variety of setting styles to choose from, and I spent a long time going through all the options. I eventually settled on the Entwined Celtic Love Knot. Then I had to decide what kind of diamond I wanted and what shape I wanted it to be in. The thing about Brilliant Earth is they let you select the exact diamond you want. They provide you with a list of the diamonds available. The list includes a lot of information on the components of the diamond. It provides information such as the clarity, the culet, the color, the quality of the cut, and where the diamond came from. Although to be completely honest, I only knew what a few of these criteria meant. However, having these criteria meant that I could find out precisely what kind of diamond I was getting by doing a little research on terms such as "culet." This made me feel more confident about buying online.
Brilliant Earth also gives you the option to choose a lab-created diamond for your ring. Lab-created diamonds have the same makeup as mined diamonds, but they're grown in a lab. If you select this option, then you know for sure that you're not buying a blood diamond.
Pricing
I did some comparison shopping, and I found that Brilliant Earth's prices were on par with other ethical jewelry makers. However, what I really appreciated was that they had different payment options for their US customers. I was given the choice of choosing from two financing options, Affirm Financing and Wells Fargo Financing. Affirm Financing offered several monthly repayment plans. Wells Fargo Financing required that you get their Jewelry Advantage credit card, but they offered no interest for 18 months. I decided to go with Wells Fargo, and the process was easy. I was taken to the Wells Fargo site, where I filled out some information, and I received my credit card a short time later.
Shipping and Returns
Brilliant Earth offers free FedEx shipping on US, UK, Australian, and Canadian orders. Most purchases are made to order, and therefore delivery time varies. All shipments are insured and registered for their full value. When my purchase shipped, I received an email notification with an expected delivery date. However, I was pleased to discover that my order arrived ahead of schedule.
I was happy with my purchase, but if I wasn't, I had 30 days to return it for an exchange or a refund. Brilliant Earth would even pay for the return shipping.
When the ring arrived, it fit a little loose, so I sent it back to Brilliant Earth for resizing. They offer complimentary resizing within 60 days of shipment, with free shipping both ways. The process was simple, and I got the ring back reasonably quickly.
Conclusion
Brilliant Earth was the right choice for me for several reasons. They offer socially and environmentally responsible diamonds and metals. I was able to create my own ring, choosing the specific diamond, setting, and metal, and they offered financing options, so my fiancé was able to afford the ring.