When it comes to designing a home or renovating it, most of us tend to put most of our efforts and budget into the upgrading of the kitchen, living rooms, and bedrooms, however, the bathroom usually stays neglected.
For an elegant and lavish home, the decor and design of the bathroom are also essential; still, there is no way around the fact that in most homes, the bathroom is the smallest room, with everything else, most people keep the size of the bathroom small, however, just because the bathroom is small, it doesn't have to be claustrophobic.
There are many design features and upgrades that you can add to the bathroom to make it feel twice as large. Here are seven practical ways that will make your small bathroom feel more open and airier.
Focus on the walls: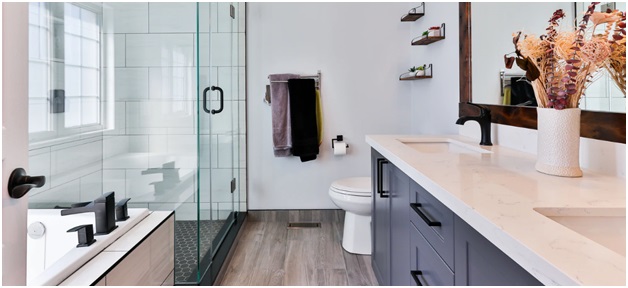 In any room, the color of the walls has a significant impact on our mood. Where light colors give a feeling of openness, some darker tones can have a negative effect. For a bathroom, the best option is to go for neutral tones; in fact, pure white is the most commonly used tone for bathroom walls.
However, making everything white doesn't mean that your bathroom has to lose character; you can use different materials, textures, and art pieces to add some color to the walls. Furthermore, you can add accent tiles in a different tone like lilac grey, or other pastels to make the bathroom pop.
Bring some nature inside:
These days, the trend of indoor plants is on a massive rise, bringing some nature into the home, has many advantages, firstly it can add some color to the decor and give it a fresh appearance. Secondly, indoor plants can improve the air quality and fragrance of your home, and finally, they can also make a room feel bigger.
Subconsciously, our minds associate plants and greenery with the outdoors, and hence when a room has plants in it, it feels bigger and wider than it is. Therefore, look into getting some ornamental plants for your bathroom. The green leaves will look great with the white tiles on the walls, and they will make the bathroom more comfortable and less claustrophobic as well.
Improve the lighting:
When it comes to interior design, few things are as important as the lighting. Even a lavish and luxurious bathroom will start to feel drab and uncomfortable if the light is not right.
Conversely, the right type of lighting, with a delicate balance between natural and artificial light can make a smaller room feel bigger. Therefore, when decorating a small bathroom, proper lighting is essential.
First of all, you need to implement multiple light sources, instead of single ceiling light, use various smaller LEDs, furthermore, add some mirror lights on top of the vanity as well.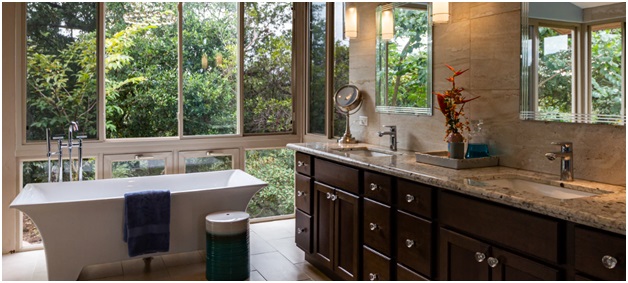 As far as natural light is concerned, it would be best to have a large window in the bathroom. Now, most people shy away from adding large windows to the bathroom, to protect their privacy; however, you can add one-way glass to the window and use blinds for the night. A window will make your bathroom feel more comfortable and, of course, larger.
Make some comfort-oriented upgrades:
The way we feel in a room is also determined by how comfortable we are. For instance, if we aren't comfortable, even a large room can start to feel claustrophobic. Therefore, you should make some upgrades in your bathroom to make it feel more comfortable.
One of the upgrades that I'd suggest is adding a hot tub instead of the original tub. A hot tub may be a little expensive, but it is worth it when you consider that you will be able to relax and soak in the hot tub after your long stressful days at work.
When a place is so soothing and relaxing, how can it feel claustrophobic? Therefore, checkout aleko hot tubs for a perfect upgrade.
You can also add a walk-in shower, which will give your bathroom a more seamless feel; however, make sure that you use glass panels for the walk-in shower.
Opt for a floating vanity: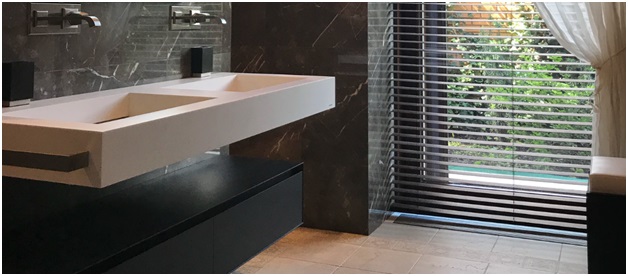 If you want to make a small bathroom feel spacious, you need to opt for sleek fixtures, and most importantly, you need to have a floating vanity. Instead of a chunky installment, with a lot of storage, opt for a sleeker look, which allows your bathroom to feel more spacious.
You can also add a floating countertop with the vanity if you want some extra space or double washbasins. Also, add some elegant looking baskets under the vanity, if you need space for some light storage.
Add a large mirror:
One of the best ways to make your bathroom appear more stylish and open is to install a giant mirror. Mirrors are a great tool to expand the perceived space of a room; this is a trick commonly used by retail shops.
A large vanity and a huge mirror also have some other advantages; for one, grooming your beard or doing your makeup will be much easier in the form of a large mirror. The bathroom lighting will also be improved if you install a large mirror, as it will reflect more light and make your bathroom feel more vibrant.
Avoid Clutter:
Clutter is like the worst enemy of elegant interior design. It can make even a well-designed room look smaller and claustrophobic. When your bathroom is already small, it is very easy for clutter to build upon the counter and around the vanity.
However, for a seamless and open appearance, you need to make sure that everything is well organized and properly stored. Therefore, consider making some shelves to maximize your storage without taking away from the bathroom space.
Final thoughts:
The bathroom is usually the smallest room in the house; however, its importance cannot be denied. Though it is difficult to physically expand the bathroom, some design upgrades can make even a small bathroom appear larger and more vibrant.