The best combo for every camping night is probably a cozy sleeping bag and a comfortable pillow. A perfect sleeping bag pillow will relax and recharge you after every hectic day in the wilderness.
Pro-level campers compare seven factors to pick their favorite sleeping bag pillow. It was their secret but not anymore!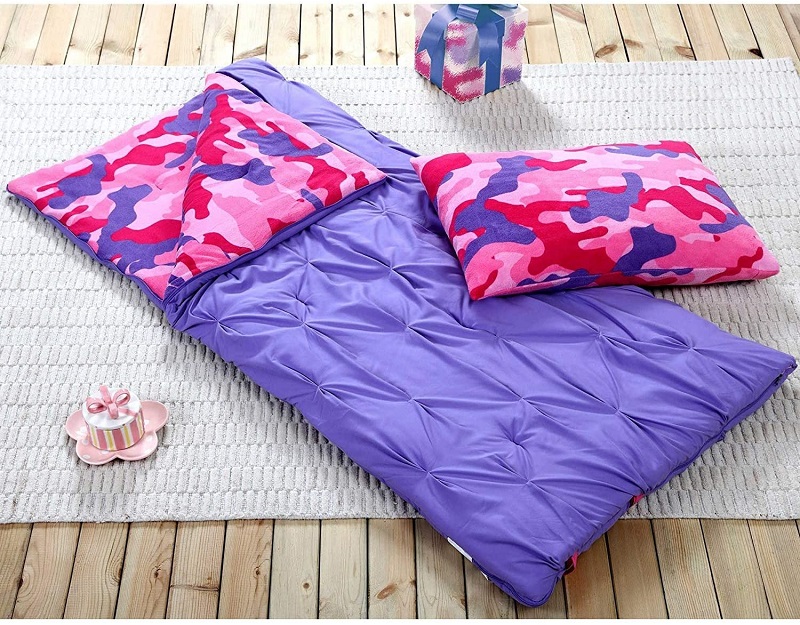 We have brought seven secrets of picking the right pillow that will turn your sleeping bag into a cozy cocoon.
Why do you need a special pillow for a sleeping bag?
It is not difficult to pick a camping or travel pillow for the outdoor section of any supermarket. However, not every travel or camping pillow will go great with the sleeping bags.
Leaning on an airplane seat and sliding in a sleeping bag is not the same. Thus, the best travel pillow for air travel may not be any good for your camping trips.
A sleeping bag pillow should be convenient to carry and comfortable to use in any outdoor condition. Besides, durability is another important factor. Otherwise, you may end up buying a new pillow before every trip.
Materials of the sleeping bag pillow are different from any other travel pillow. They need to withstand harsh weather and diverse sleeping patterns. It is therefore not surprising that a pillow for a long road trip and backpacking trips will have different made and texture.
We have rounded the seven most important factors for choosing the perfect pillow for a sleeping bag.
7 Essential features of the Best Sleeping Bag Pillow
When you are choosing the perfect pillow for your sleeping bag, make sure to consider the following seven factors.
1.   Dimension and Weight
The size and weight of a pillow may be an issue for sleeping bags. Thus, we recommend using a bit weighty one so that it stays there.
Pack light if you want a memorable camping backpacking trip. However, you can carry a few extra ounces to have a refreshing sleep and support your head and neck.
Travel pillows with medium weight are great for sleeping bags. They will maintain the optimum gap between the neck and the sleeping bag.
You may find your camping buddies cranky throughout the whole trip because of neck pain. If you want to avoid it, get a medium weight pillow.
2.   Compressibility
The portability of a sleeping bag pillow depends on how a pillow compresses. It's easy to carry a pillow that compresses most. You can easily inflate most of the backpacking pillows with higher compressibility.
You need to pick a pillow with medium compressibility for sleeping bags. The pillow will be easily squeezed inside your backpack. Moreover, it will also fit with any sleeping bag and sleeping pad.
3.   Price
No wonder high-quality products will have a higher price. The same goes for a sleeping bag pillow. Typically, you will end up paying a little higher price for a good pillow for a sleeping bag.
Plastic and Dyneema pillows are cheap and lightweight. However, they are not suitable to fit with sleeping bags and pads. Make sure you pick the perfect pillow for a good night's sleep.
We strongly recommend you to go for a bit pricey pillow for a sleeping bag. It will ensure a good night's sleep after every camping day.
You do not have to go beyond $30. This range will give you some of the best travel pillows for sleeping bags.
4.   Temperature Control
The best pillow for sleeping bags is supposed to maintain the perfect temperature for your face and head. No matter how warm or cold it is outside, the pillow will keep it favorable for you.
Inflatable pillows have an air chamber inside. If there is no barrier between the air chamber and your head, a change in outside temperature will change the airbag temperature. As a result, your sleep will be disrupted.
Best sleeping bag pillows come with an insulation barrier that covers the air chamber. The barrier is typically made of foam, fleece, foam, or linen.
Make sure you pick the most suitable barrier materials to your skin.
5.   Ease of Cleaning
Cleaning the pillow is necessary after every camping trip. Even the cleanest camp pillow needs a little washing after every trip.
Do not machine wash the airbag, in case you are using a hybrid pillow. It will distort the bag for good. However, you either can through the pillowcase in the washing machine or wash it by hand.
Carefully read the care instructions before you buy the perfect camping pillows for the sleeping bag. You will get a clear idea about washing and storing. Unlike delicate pillows, machine-washable pillows are easiest to use.
If there is no care instruction attached, wash it by hand. Yes, it will add some hassles in your life.
6.   Rustlings
Rustling sounds romantic in the wilderness. However, it will ruin your sleep, if your camping pillow gives the feeling of pressing your head on a potato chips bag. Typically, cheap Dyneema and plastic pillows are noisier than other pillows.
In such a congested place like a sleeping bag, even a mild rustling will ruin your sleep. If you want to avoid this problem, get high-quality synthetic pillows. They make the minimum noise despite a higher price tag.
7.   Down the "hill" Sliding
The last thing you will expect while inside a sleeping bag is the pillow is sliding out under your head. It is not only annoying but may cause serious problems for your head and neck.
Typically, sleeping bag pillows with excess air slides out. If not filled correctly, the stuff sack travel pillow can also do the same.
Inflate the airbag of the pillows according to your comfort. Moreover, you can also use Velcro to keep the pillow stationary. It will attach the pillow with the sleeping bag.
It's time to hit the road
Your sleeping bag now has a perfect pillow. Every camping tour night will be a relaxing one to get ready for the next morning.
Why are you waiting? Pack your backpack and hit the road. No matter where you go, seeoutdoor.com will always be with you as the source of the most authentic camping tips and tricks.