Ben Franklin said, "Nothing can be said to be certain, except death and taxes." These days, it feels like we can add another sure thing — outrageously expensive college educations. This may be especially true for business schools. The average tuition for a bachelor's degree in business is $40,000. The price tag for a two-year MBA program? It's over $60,000. For most, the only option is to take out loans, which means starting your career with a seemingly insurmountable load of debt. Here's the good news: with a touch of creative thinking, a bit of sacrifice, and some legwork, it's possible to offset the cost. Here are six alternative financial steps to pay for a business school that you may not have considered.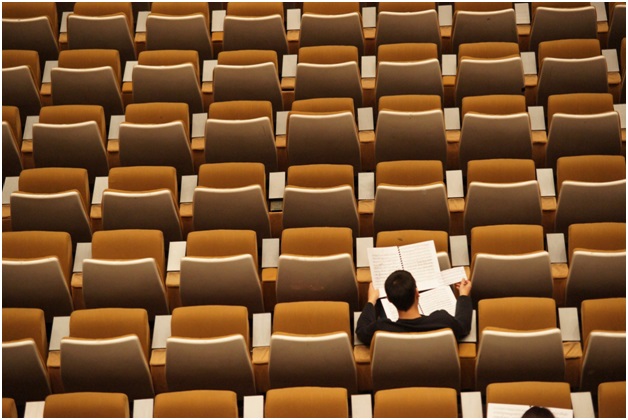 Have your Employer Pay
Many companies — especially Fortune 500 companies — will pay for their employees to get a Master of Business Administration. If you already have a bachelor's or associate's degree in business, look for a business career with companies that have programs like this in place. It'll be a sacrifice to work full-time and handle a master's program, but you'll be earning a salary and you'll graduate with little to no student debt.
Knock Out Classes During the Summer and Winter
Business schools often offer a range of classes during the summer and winter breaks. They're more intensive and they can cut into your rest and relaxation, but they come with one huge advantage: they're usually cheaper. Class selection may be limited, especially for highly specialized courses, but gen ed and core coursework is usually on the menu.
Find a Side Hustle
There are one major thing students these days have to work to their advantage that their forebears didn't: they live in a gig economy. In the past, adding the responsibilities of a job to the already significant burden of the full-time study was a major setback. Now, students can find small jobs that can be done on their own time and require little to no investment. Here are just a few options enterprising students might consider:
Driving for Uber or Lyft
Wrangling and charging scooters for Lime or Bird
Doing odd jobs for TaskRabbit
Watchdogs for a service like Rover
Offer tutoring in your field to other students or local businesses
Teach English to foreigners via Skype
Think About an Online Business School
Online business schools have fewer operating expenses than their brick-and-mortar counterparts and most pass those savings along to their students. There are a few ways to maximize these savings. Look for online-only programs, not online courses from a traditional college. This isn't always the case, but many traditional schools charge the same tuition for their online courses, so look for established online schools.
Also, look for online colleges with a tiered tuition system. These systems typically charge per credit but offer cheaper per-credit rates the more classes a student takes. Some even have a tuition ceiling. For instance, every credit a student takes over the full-time schedule (usually 12-15 credits) is offered for free.
Recruit Friends, Family Members, and Strangers
Getting college money as a birthday or graduation gift has been a staple since the invention of higher education. Now, though, students have new tools at their disposal. Sites like LeafSavings lets friends, family, and strangers give gifts, in the form of gift cards, to college students and college-bound students. Unigo hooks students up with companies that want to make a difference (or look good) by giving scholarships to students. Finally, crowd-funding sites like ScholarMatch, Upstart, and GoFundMe are a fantastic way to get find donors and resources for paying for business school.
Start at a Community College
If you're looking to earn a bachelor's degree in business to start a business management career, you're looking at a good four years of schooling. The first two years are going to be filled with general education and basic business courses, so why pay full price for them? Local community colleges are much cheaper. In fact, according to College Board, public 2-year colleges offer an average cost of is $3,440, while public 4-year universities will set you back $9,410 on average, even for in-state students. Here's the thing; with few exceptions, community college credits will transfer seamlessly into a 4-year institution and you'll get a quality education for significantly less.