When you look for contemporary fitted kitchens, please keep in mind that your design idea is of paramount importance. There may be plenty of alternatives for off-the-shelf kitchens, but it would be better if you pick a distinct one that reflects your unique tastes and passions.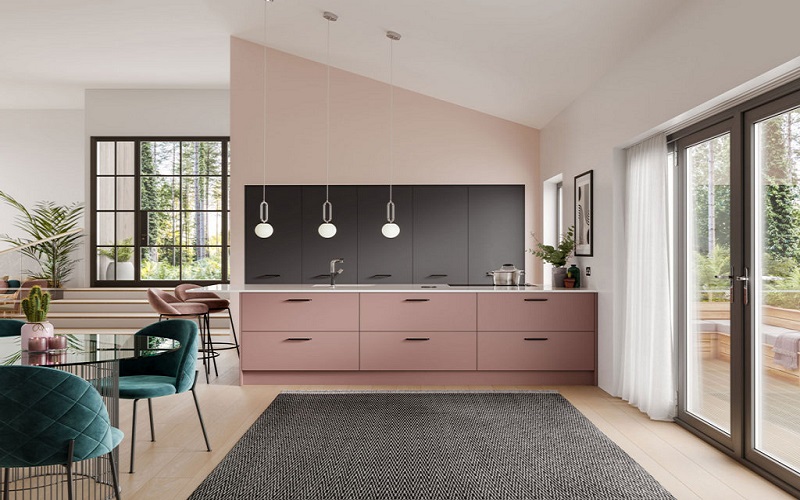 Since the kitchen is the heart of your home, getting a perfect design is essential. A huge variety of colours and styles, blended with ever-changing fitted kitchen trends, make it challenging to know where to start from. Here are five trends to check out for your contemporary kitchen.
Island Kitchen
Kitchen islands are getting extensively popular as they are versatile to include additional storage, encompass seating, and house that extra unit you have been wanting.
Having a kitchen island is about the additional space you get for storage or placing appliances. You can even incorporate the sink as it will free up space in the main area. You get to enjoy that extra storage for your non-everyday appliances like countertop oven, a stand mixer, etc.
As the island brings extra seating in your kitchen, you can ask for more helping hands when cooking. Moreover, the island is an excellent area to serve breakfast and help your children do their homework.
Parallel Kitchen
Since a parallel kitchen enables efficient use of space and functionality, it is in trend and here to stay. You can make the best of this kitchen model.
If you want, you can even stow away your appliances on one and empty the other for your cooking.
L-shape kitchen
L-shaped kitchen format is trendy, and you can find it in many homes. The design is simple by nature and easy to incorporate into any kitchen.
Characteristically, it is formed of two countertops that connect. They use a maximum of only two walls. However, you can easily manipulate the position to make the utmost out of your L-shaped kitchen. Apart from its sleek and flexible layout, it is trendy for the functionality that it offers.
I-Shaped Kitchen
Many homeowners are choosing I-shape fitted kitchens because of the spaciousness they offer. This kitchen model is all about length and works best in a narrow space.
I-shape kitchens will not permit you to create a triangle of tasks but can, however, turn out to be functional. The professionals can create space in a way that furniture elements are set side by side along one wall.
U-Shape Kitchen
Since the contemporary age is busy, you are always in a hurry. You can find ease in using a U-shaped kitchen because of its efficiency.
Here, a U-shaped kitchen describes areas such as:
The Washing Zone: It is the sink and zone for drying dishes and cleaning up.
The Cooking Zone: Here, you keep the cooker and hob. It is a place to prepare food.
The Storage Zone: It includes cupboards and other areas like your fridge to store food.
The format can keep all the zones slightly close together. Once you have this kitchen layout in your contemporary kitchen, you can work swiftly and effectively. Many restaurants follow the U-shaped design because it is a practical way to store and cook, then wash up the dishes.
Now that you know about these five fitted kitchens trending in the market, have a word with professionals to bring one in your kitchen!