Furnished apartments can be convenient and cost-effective, accommodating short-term rentals and lower moving budgets. However, they don't always feel like home. Designers and engineers crafted the apartment complex with uniformity in mind, so your apartment likely looks just like all the others. And without a few personal touches, your home can feel bland and not like your home.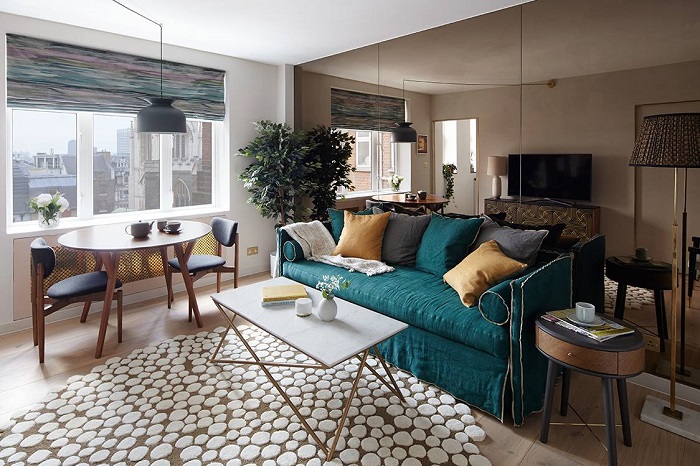 The following are some fun ideas to transform your furnished apartment to match your personal style. While you won't be switching out the furniture, you can creatively add to each room and eventually feel more at ease in your own space.
Choose fun bedding
Your bedroom is a place to relax and escape, so you want it to feel like your space. While you don't have a choice in the furniture, you can certainly add personality with the right bedding. Choose a bedding set that includes your favorite colors and patterns. Then use the bedding as inspiration for bedroom knick knacks and throw blankets. These personal touches will give your bedroom a homey feel without making dramatic changes to the space.
Add pops of color  
Many furnished apartments are designed with various shades of neutrals. And while many residents enjoy this simplicity, these colors might not be your taste. You can offset the neutral color palette by sneaking pops of color into the decor. Place colorful throw pillows on your couch, choose bright kitchen gadgets, and throw down vibrant area rugs. These features will serve as a reminder that this apartment is your own.
Buy some plants
Greenery can instantly make a space feel more like home, so consider bringing houseplants into your space. A small succulent on your coffee table and a leafy floor plant next to your reading chair will create a more inviting atmosphere. Fake plants can also do the trick for those without a green thumb. If you have a short-term rental, you can either take your plants with you on the move or give them away to friends.
Hang art on the walls
Wall art is another key part of any furnished apartment. Ask the property manager if you are permitted to hang art on the walls with nails. If not, sticky command strips can do the trick. Hang paintings that have meaning and bring color into the space. You can also transform your photographs into wall art with services like Simple Canvas Prints. Some rental companies might even allow you to hang temporary wallpaper or wall decals. When you see your favorite art and photos every day, you'll be reminded that this apartment is fully yours.
Rearrange to match your taste
You don't always need to transform the decor to make a space suit your taste and lifestyle. Many renters don't think to simply rearrange the furniture. Moving some pieces around can make a room more appealing and functional, while completely transforming the flow of your apartment. Turn a living room end table into a nightstand and convert your dining table into a work space. While you might not buy any additional furniture for your apartment, you can rearrange and repurpose the existing pieces to make them suit your needs.
Any time you are renting an apartment, it can be tricky to make it feel like your own. This is especially true when the property manager has restrictions on how much you can modify the space. However, you can turn your furnished apartment into a home by adding color and personal touches in each room. As you add more of these touches over time, you might not even notice that you didn't pick out the furniture.