Each and every man is different and so they have a different personal and lifestyle as well. That is why when it comes to the watches they wear, they are also different. Every man should pick up their watches depending on their mood, profession and of course according to their lifestyle.
Men's watches are of different varieties and one has to be sure that what watch to wear and where to wear them. For example, it is not a good idea to wear a sports watch to a professional meeting or a formal watch when they are attending a tennis match.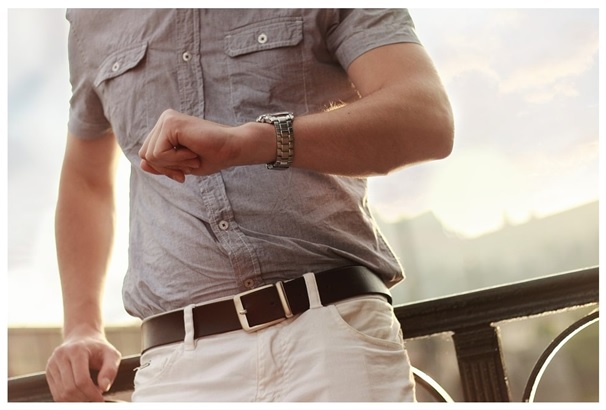 So, one has to choose a watch not only according to their mood and style but also the venue and the occasion where they are wearing it. Here are some major types of watches that one can wear if they need to flaunt a style statement.
Field Watches
They were mainly designed in the period of war and they were specially made for the officers. They have a very formal look with very minimal designs and also they are very durable in nature. The face of the watch is mostly white or black in colour and the index has the opposite colours. They can also illuminate at night and show the right time. The dial size of the watch varies from small to medium. They come with leather or canvas straps. They are very easy to use and as they are simply looking (yet elegant) one can wear them regularly at formal occasions and at their workplace.
 Dress Watches
These are designed much later; that is in the 20th century keeping in mind the rich and elite people. They were designed to bring the pocket watch to a wrist one. Though they are simply looking they look very sophisticated. It can thus easily draw attention. The face of this watch has a sleek look and the numbers are written in Roman. The dials have a normal size and the band is strictly made from leather. Sometimes they appear with thin metal belts as well. They are also very user-friendly watches for all ages. As the name suggests these dress watches are mainly to be worn with a tuxedo or a coat suit. One can wear them to a formal party.
Aviator Watches
In the year 1904, Louis Carter designed a watch which was specially made for his pilot friend and so the name aviator watch and the design came to the scene. As years passed, designers kept the original designs but added the chronographs so that it can become handy for the users. A chronograph is a kind of a sub-dial that is present within the case and it shows the time of a different GMT. It can have a compass as well. They mostly have a black face and the dial is mostly over-sized. This is because pilots can have a quick reading. They can have a leather belt and they are a bit complicated when it comes to functions as compared to the other 2 mentioned above. One can always wear them to any casual gatherings.
Dive Watches
This is a very common version of men's watches and they are mainly used when one has something to do with water. These watches are very much water-resistant and it became very popular with the name submariner watches. These watches have a strong appearance and the dials are medium-sized. They have a metal strap and they are supposed to be worn underwater. But one can also wear them with formal wear at any event.
Racing Watches
They are mainly designed for the car racers. This watch was designed in the 1930s  and the accurate timing shown by these watches are its selling point. These watches have bright colours and the dials vary from being medium to large. The brand strap can be of either metal or leather. As these watches are very bold looking, one can never wear them with any formal attire. It is a good idea to wear them with casual wear or semi-casual wear and one can always flaunt them in a fun party.
One can choose from any of these varieties according to their style and necessity.