When it comes to hair care or skin care, there are many men who think these are only for women. The world is changing rapidly and it's time to grow up. If you don't take care of your skin, it will cause several skin issues. Men's skin gets more exposed to harmful UV rays, dirt, and pollution. These things clog your pores and make your face look dirty and you get skin debris, like pimples, acne, rashes, and other skin ailments. Following a skincare routine can keep you away from these disturbances and give you clear and healthy skin. Today, you will know about simple skincare tips for men that will help you a lot-
Use Face Mask
Washing your face with face wash and water is not enough. You need a deep cleaning to get back the natural glow of your skin. A charcoal face mask is really effective in doing so. Charcoal absorbs all the dirt from your pores and helps your skin breathe. Apart from a charcoal mask, you can also use turmeric and aloe vera mask where turmeric is antiseptic and keeps you away from any infection and inflammation, and Aloe soothes your skin and absorbs excess oil.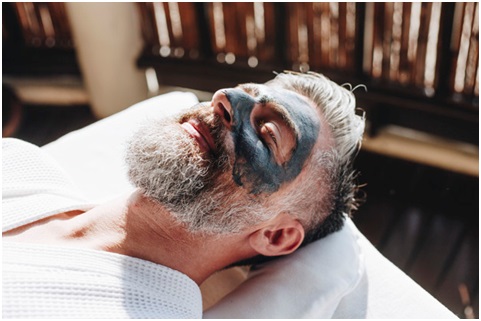 Use Non-comedogenic Lotion
Moisturizing your skin is very much important. Lack of moisturizer can make your face dry and flaky which is quite embarrassing and awkward. Also, too much dry skin causes skin rashes, redness, and inflammation. Using non-comedogenic, oil-free lotion can provide enough moisture to your face while keeping it non-greasy. Try to use a night cream so that your skin gets moisture throughout the night and you wake up with healthy skin.
Use Sunscreen While Going Outside
Men often forget to apply sunscreen while going outside. Usually, men are more exposed to the sun than women. So, their skin gets damaged more by the harmful UV rays. Therefore, you should use sunscreen always, even on gloomy days. While buying sunscreen, check out the SPF whether it is 40 or more than that. You can buy non-comedogenic sunscreen as that won't clog your pores and keep you away from pimples and acne.
Don't Forget to Exfoliate Your Skin
Men's skin is tougher than women and when dead skin cells deposited on the outer layer of your skin, it becomes harder. As a result, you get irritating black and whiteheads which can ruin your look. You should exfoliate your skin twice a week to get rid of dead skin cell deposition and have smooth and clean skin easily. A Charcoal Scrub could be the way to go. Remember that you should use a scrubber for men, but not the one that is made for women. Exfoliation is needed for any type of skin.
Stay Away from Sugar
Too much sugar consumption can cause skin breakouts and acne. So, if you have a sweet tooth, you have to practice self-control. Stay away from any kind of high-glycemic food which gives your insulin level a spike and causes inflammation on your skin.
So, these are the best tips that you can follow to have healthy and clear skin. Also, make sure you follow a strict healthy diet so that you stay healthy from the inside and get rid of any skin issues.