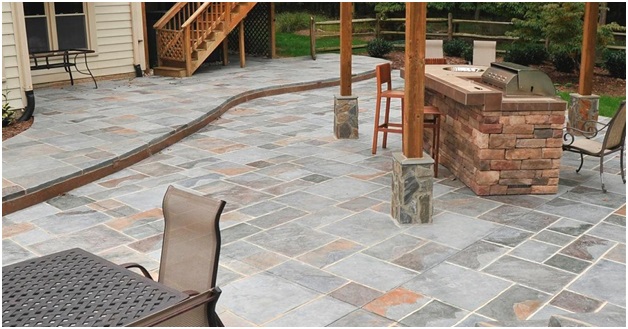 Stamped concrete is a textured concrete that replicates brick like structures, stones, tiles, and wood. It is one of the most trending concrete types which people look for beautifying their patios, flagstone, aggregate walkways, and pool decks. The maintenance of stamped concrete is less than other concrete surfaces, and it is affordable too.
Benefits of using stamped concrete:
Stamped concrete is catching most of the interior designers' attention as they enhance the beauty of a place, be it hotels, or be it your home. You can come across stamped concrete in most of the nature-oriented surroundings such as big resorts. They are also preferred for pool decks and flagstones to improve the look and feel owing to its durability.
You can find below some of the additional benefits of using stamped concrete:
They are economical and long-lasting. Also, they stay durable if you clean them properly and maintain their appearance at regular intervals.
You can make them as per your surroundings need. They are customizable too.
They are available in various textures, designs, and patterns that complement the interior and exterior of your house or resort.
They can be augmented with lamps and bulbs of different colors.
It requires less maintenance as compared to other concrete surfaces.
It is more resistant to moisture.
It is easy to install and within less time than what it takes for normal concrete surface.
Designs Options for Stamped Concrete: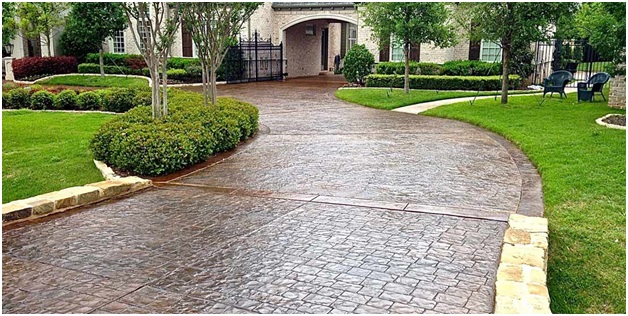 You will find a wide range of options in stamped concrete, which are adorable and enticing. Many people feel inspired by the aesthetics of stamped concrete and try to implement them for beautifying their patios, pool decks, or flagstones. It is better to pick designs that resemble your home interior.
You get some of the best color options for stamped concrete, which are more relevant to earthy textures such as brown or gray. But you can also have brick red colors, dark olive pastels, green and blue blended shaded to suffice your needs. Some people also experiment with multi-colored patterns for a shimmering look.
Now let's come to patterns. If you are looking for a rough and wild design, then you can have patterns such as flagstone, fieldstone, cobblestone, and bricks structure. And if you want to have a standard pattern, then select the slate or wood patterns that are elegant and simple.
How much will it cost for a stamped concrete surfacing?
The stamped concrete will cost you around $8 to $12 per square foot, but sometimes more intricate patterns can cost you about $18 per square foot. It all depends on your budget and the type of material you need for surfacing. Also, the complexity and labor work involved in surfacing will cost you extra money.
If you still crave for stamped concrete, then you can opt for a solitary pattern which is less expensive than the multi-pattern designs. Installing multi-pattern designs with special color effects and textures is both costly and sophisticated, which requires a lot of time and effort.
Types of stamped sealers: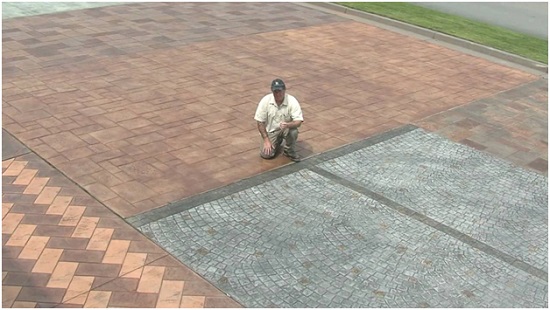 You will find two types of stamped sealers that are used to protect surfaces from stain, dust, and corrosion.
Penetrating sealer:
Penetrating sealers, penetrate the deeper layers of concrete and fill up all the pores of the concrete. They combine well with the surface and form a single substance making it resistant to water and heat absorption. It also protects the surface against deicing salts and corrosion.
It is inexpensive and easy to reapply for maintenance purposes. Penetrating sealers are UV rays protective and hence doesn't change the color over time. They offer a matte-finish and suitable for stamped sealers rather than the ones who provide a shiny and glossy finish.
Film-forming sealer:
As the name suggests, the film-forming sealer forms a protective coating over the stamped concrete surface. They are suitable for decorative concrete surfaces to enhance the look and feel of the concrete.
The film-forming sealers look best with colored stamped concrete surfaces and also make their appearance glossy.
You can find the acrylic film-forming sealers that are easy to apply. They help improve the beauty of both exterior and interior stamped concrete surfaces.
Another film-forming sealer is urethane. Its intensity is double than the acrylic sealers and also provides better protection against chemical intrusions. If you have the stamped concrete along the roadside or at places where it comes in contact with more people, you can opt for urethane film-forming sealer.
The best among film-forming sealers is the epoxy sealer. It increases the longevity of the stamped concrete surface by making it resistant to abrasion and chemicals. They are preferred for interior use as they are less resistant to UV rays. If you use it for exterior surfaces, it may change the color of the stamped concrete surface over a long time.
Sealing stamped concrete and its maintenance: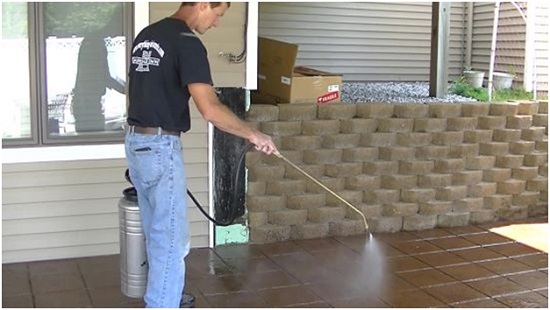 Sealing the concrete is an essential part of increasing the lifespan of the concrete. It also enhances the beauty of the architectural patterns. Concrete sealing is a process where a thick liquid material is applied on the concrete surface. This liquid fits into the pores of the concrete and make a single substance resistant to dust, corrosion, and water intrusion. If concrete sealing is not done appropriately, then it is difficult for the concrete to survive for a long time. As the surface may get in contact with harmful substances, that destroy its existence and beauty.
Stamped concrete is more durable than other concretes. It is available with long-lasting paving materials that require less maintenance over time. Although, the maintenance, including cleaning will depend on the subjection of stamped concrete to traffic, chemicals, and weather conditions.
You need to seal stamped concrete surfaces to maintain the color and texture of concrete. Weather conditions, traffic, and dirt can easily make their way on the stamped concrete. To avoid the destruction of stamped concrete, you need to clean and reseal them frequently. If you haven't maintained them for years after installing them, which washed off the allure, then don't worry. You can still restore them with proper sealing, and cleaning them over specific periods.
Conclusion:
It is necessary to take care of the concrete surfaces and, first of all, to decide which concrete surface is suitable for your architecture. With this article, we think that you have found the details about stamped concrete and practical steps to maintain them.