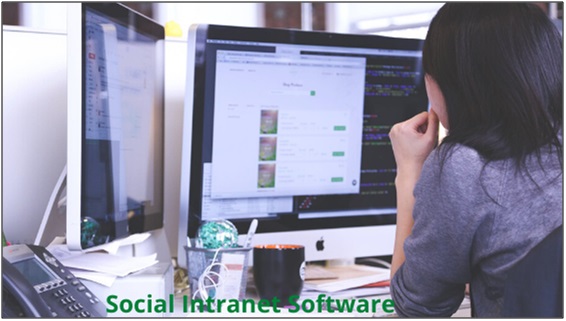 One of the bigger questions pertaining to Intranet Software Applications used organization-wide in different industries is, "should social media be made a part of the intranet service"? Technology today has redefined the meaning of the word 'networking' and 'communication.' It revolutionized the old ways and is far more efficient than ever. But many businesses are still very hesitant about jumping on board and adopting social intranet software to their own advantage. They assume that social media is for laymen and not business-oriented.
Baby Boomers vs. Gen Y
It is a really good idea for businesses to change the way they communicate and market, especially due to the changing waves in the internet trend toward social media networking technologies. Researchers and experts studying trends coming up in communication and networking have definitely given their answer, 'YES.' This evolution in answers as they began to lean towards the studies and papers prepared about Generation Kinetics. Generational kinetics play a huge role in defining the upcoming trends, and this is one area of study that could affect all other fields, including technology, trends, marketing tactics, and even education. This answer of 'yes' came as a conclusion from the fact that 'baby boomers' (those of the age 45 and above) are getting replaced at workplaces by Generation Y's. The incoming group of Gen Y's are between the ages 18 to 30 and other 31 to 44-year-olds. Both these slots of Gen Y are driven by technology and are heavily information-oriented. They benefit from the help of these newer technologies that use social media. The older slot among the two is efficient in using older technology such as email, snail mail for communication purposes. In contrast, the younger slot uses a variety of new technological communication methodologies.
Dominating the Technological Space
Looking at the Statistics from the US Bureau of Labor, it indicates that Generation Y is by far the largest supplier of workers throughout the country at the moment, and they are also leaning towards those industries that rely on internet technologies for the execution of everyday work. All the processes that one used to invest manual labor into – such as banking, insurance, research, shopping, or even entertainment – are now something that can be done with just a click of one finger. Therefore now, the internet is becoming the sole dominating space in the technology realm. This amount of change has been brought about by the use of the internet and social media by Generation Y. Can we say the same about Intranet Software Applications?
 Social Networking and Internet Technological Growth
If we begin to even aim at discussing the most recent internet technological growth – it will indicate that social media and social networking has played a massive role in its growth. Social networking has exploded massively after the advent of Facebook, Twitter, YouTube, MySpace, and Instagram. Even in workplaces now, more employees are relying on social media to communicate daily. They allow one to exchange messages and opinions publicly, as well as privately – making it faster to pass along messages. These new ways of communicating will soon make emails obsolete. Nowadays, email has become a secondary methodology to communicate.
The Conclusion
All this research, study, and statistics by inference shows that there is no argument when it comes to making the plunge to adapting social media networking into social intranet software. If one asks most companies across the globe, what is the biggest challenge they face as an organization – they will always answer effective communication between employees. Now is an ideal time to lean on the best social intranet software that will help your organization grow far beyond anyone's reach, as they will cater to the very needs of Gen Y – the most significant working force in the industries currently.