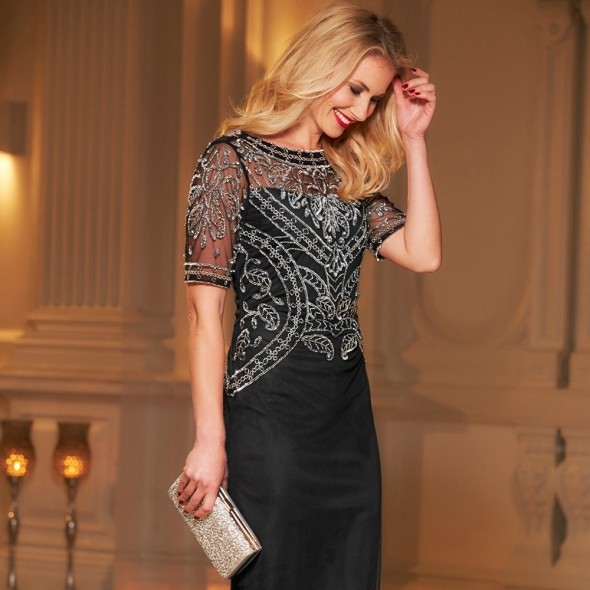 Picking out the perfect party outfit can make or break your night. Navigating the dress codes of a function can seem overwhelming at times, and simply getting started can feel like an impossible task. However, there are a few tricks you can use to help you pull something fabulous together. Let's discover how you can find an outfit to master occasion dressing for 3 different scenarios.
The Office Party
Finding an outfit for the office party is a difficult balance between looking stylish while at the same time maintaining a sense of professionalism. Although it can be tempting to throw on your flashiest frock, a classic look is far more appropriate. Go bold in a classic tuxedo smoking jacket and a smart pair of tapered trousers. Fit is everything where suiting is concerned, so do not be afraid to take your ensemble to a tailor for a few subtle adjustments.
Blush velvet is everywhere this season and will show your boss that you mean business. Pair your suit look with a chic cream blouse and accessorise with colorful pops of leopard print and gold jewellery. However, if in doubt about color, black is your best friend and will ensure you remain sophisticated and refined. Furthermore, depending on your budget, you can go high end or high street to nail power dressing once and for all.
Girls' Night Out
Ladies' night is the perfect time to celebrate in style with sequins. Hitting the town with the girls enables you to try a fashion-forward look and explore the trends of the season. Consequently, treating yourself to new party clothes is always a chance to introduce some sparkles, color, and fun into your closet. Willing to splash out on a beautiful dress that spells timeless glamour? Why not shine bright like a diamond in a sequin dress from Skies Are Blue.
A sequin minidress is a guaranteed showstopper, and light-catching sparkles will make you feel like the belle of the ball, even if you end up ordering fries in a takeaway at the end of the night. More is more where sequins are concerned, so if the occasion calls for it, don an encrusted clutch and glitter heels to channel your inner disco diva. Top with red lips for a party look that will make your girl gang desperate to snap a selfie with you.
Family Gathering
Family gatherings are the perfect opportunity to enjoy a delicious meal alongside a few drinks and a catch up with the ones you love. Attending a low-key event does not mean that your outfits have to suffer through. Plus, dressing appropriately will ensure that you look polished, put together, and confident. The minimalist dressing is key here, so embrace a pared back look and natural hair and makeup. Remember to check the weather ahead of time so that you can plan an ensemble with a coat or jacket that will keep you warm if there are plans to head out anywhere public.
With this in mind, dress comfortably so that you can indulge to your heart's content while still looking stylish. A pair of pants with an elasticated waist can look relaxed, cozy, and casual when paired with an oversized shirt. A family party is also a chance to treat your feet to rest from heels by slipping on a pair of elegant flats. Finally, consider how long you will be expected to stay around. If you are hosting, try on your outfit ahead of time so that you know you will feel happy in your clothes and can focus on entertaining your guests.
Ultimately, party dressing is all about feeling collected, comfortable, and confident. Dress in clothes, colors, and cuts that make you happy so that you can focus on letting your hair down, mingling with friends and family, and making a good impression.
Looking for some new jewelry to complete your party ensemble? Take a look at these blog posts for 5 types of jewellery every woman should own to inspire your next purchase.