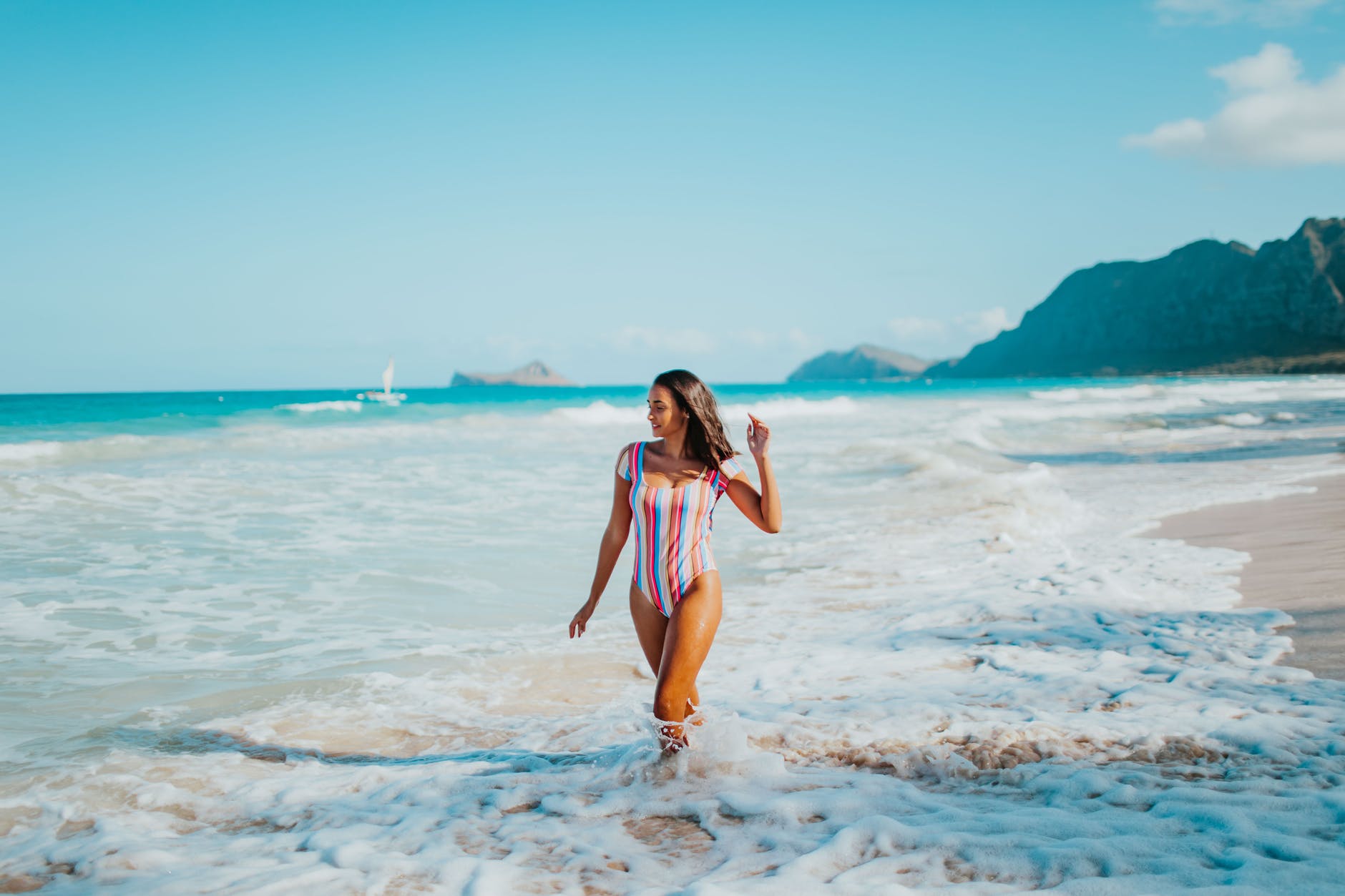 After a long and cold winter to little chilly spring, here comes the summer, the king of all the seasons. Every time summer comes, it gets us very excited. From visiting beaches to having camping expeditions, this is the ultimate time to enjoy outdoor activities.
To fully enjoy outdoor activities like going to the beach, doing camping, rowing boat, and attending pool parties with friends. One does need a proper swimwear. Usually, women spend the entire year getting their beach bodies ready to flaunt bikinis and swimsuits. However, choosing a swimsuit that complements your body and goes along with the trends is quite challenging.  After all, you can't pull off a swimsuit the same way your friend did because you both have a different body shape.
Thus, focus on something suitable for your body type. If you are wondering how? Look below to see different body types and swimsuits for them:
If you have an equal hip and bust measurement with a thin waist, then you have an hourglass body shape. You can grab a strapless bikini to flaunt your waist and curves. Besides, a sweetheart neckline swimsuit would flatter your body shape better, giving you a chance to flash your shoulders. You can also try those cut-out swimsuits; their sleek design would turn all eyes at you.  Pick single tone colors to keep it simple, yet classy. If you have some collarbones to flaunt, then an off-shoulders swimsuit can be a perfect choice. 
This body type has a larger bust compared to hip measurements. So, if you opt for typical swimsuits, they might not provide you with enough coverage. Hence, you have to stick to conservative necklines like high necks and square necklines. For the designs, these days, people are obsessing over leopard prints and frilly swimsuits. It is up to you whether you want to opt for prints or neutral colors. If you are opting for bikinis, then go with patterns and prints to balance out your figure.  
Women with a smaller chest and large hips have a pear-shaped figure. Hence, they need to get a swimsuit that enhances their bust to maintain a balance. You have many choices than just getting padded swimsuits. One-shoulder bikinis and swimsuits are a better choice for this body type.  However, if you plan to try out something different, then you have the option to look for a more suitable swimwear online. Not only are there style guides available online, but the instant chat feature on the website allows you to talk with a customer representative for consultation directly. 
Usually, women with plus-size bodies shy away from flaunting their bodies in low-coverage swimsuits. Well, you can try anything out to feel comfortable in your skin. Get yourself those single tone swimsuits with deep cut out necklines or ones with stripes and lines. It can help you look a lot smaller than you are, giving you an option to play with different styles and colors. Besides, if you don't feel confident pulling off swimsuits, then pair it off with a long shirt or wrap around a skirt to give some coverage to your legs. 
Some people also call it a rectangular figure due to a straight silhouette of the body. The bust, hip, and waist measurements are almost equal. Thus, you need to grab something that makes your body look curvy. You can go for a high cut swimsuit with a low neckline, pairing it with a belt to make your waist look even smaller. For bikinis, triangular tops and tie-sided bikinis can help you emphasize your curves. However, you can wear almost every style except for horizontal stripes since they won't look flattering on your body shape. 
Conclusion 
The majority of women are unaware of their body shape. That is the reason they end up buying the wrong swimsuits and complain about it forever. Well, you might come across swimsuits for 'every body type,' but it fails to give an ideal look. You can look above to see different body types and pick a swimsuit that flatters your body shape.