As the temperatures begin to rise and the days get hot, it's essential to dress appropriately for the warm weather. Finding the right clothes can be difficult, especially when you want to be fashionable but not sweat like crazy. The best way to dress for the summer heat is by choosing fabrics and materials that will keep you fresh. It's necessary in the summer months to opt for loose-fitting clothing, such as cotton, skirts, and sheer fabrics that will keep you more comfortable but still looking stylish.
A stylish option for summer is the two-piece, which can be fun and flirty and come in many different styles, such as shorts and a crop, skirt, or pants. The plus-size two-piece sets come in many materials and look good on all body types. Two-pieces are an excellent option for beating the heat in the summer because of its versatility, ability to wear at any occasion, and it's a piece that can be mixed and matched with other items in your closet.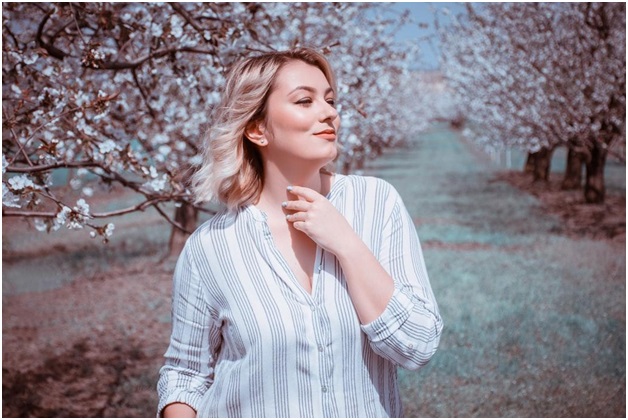 Summer is a fun time to show off your fashion with floral prints, crop tops, and high-waisted shorts. Also, look for flowy materials that help keep you cool during the hot months. Below are five fashion trends that help you beat the heat.
1. Cool Fabrics and Materials
When looking for clothes for summer, opt for clothing made with breathable materials, such as cotton, linen, or jersey. These materials do not constrain your body and let your skin breathe, which avoids sweating in the heat. Look for dresses, tops, and shirts made of cotton. Also, look for shorts made of cotton or linen, as they are comfortable options for staying cool on hot days.
2. Consider Looser Cuts & Styles
Avoid wearing skin-tight clothing and clothing that constrains your body. Looser clothing is cooler in hot weather, helping create a layer of air between your skin and your clothing. This is when you want to look for dresses that are A-line cut, loose-fitting around the arms, chest, and waist. Also, look for tops that are cropped, and skirts or shorts that are loose around your waist and legs. Anything to constricting will rub against your skin in the heating, irritating, or a heat rash.
3. Look for Light Colors
Look for flowy dresses or skirts in light or floral patterns. Light colors help with the summer heat because they absorb less sun than darker colors. Pastel colors are the best option during the warm months, avoid dark colors, which includes emeralds, purple, or blue.
4. Keep Your Legs Bare
Look for light materials that do not cover your legs during a heatwave, especially if you are trying to stay cool, you want to wear shorts or skirts over pants. Get shorts, skirts, or dresses in breathable factors that do not constrict your legs. If you must wear pants, again look for ones made of cotton and breathable materials.
5. Show Off Your Arms
Choose tops that are short-sleeved or sleeveless. If you are trying to avoid sweat lines, wear sleeveless tops. Again, no matter what you decide to wear, the fabric needs to be breathable in the heat.
Final Thoughts
Summer is the opportune time to show off skin, if you are proud of your arms, legs, or midsection, then show it off. Experiment during the summer with fun outfits such as off-shoulder dresses, crop tops, sheer shirts, or short-hemmed skirts and shorts. Stick to light colors and flowy, loose materials that let your skin breathe. Always make sure your clothing is breathable and not constraining to help you beat the heat in the summer.