Are you tired of wearing yourself out by scrubbing and using caustic chemicals to clean in your kitchen? Here are 12 guaranteed cleaning hacks to keep your kitchen sparkling clean. Most add almost no cost and work better than store-bought solutions. Let's take a look.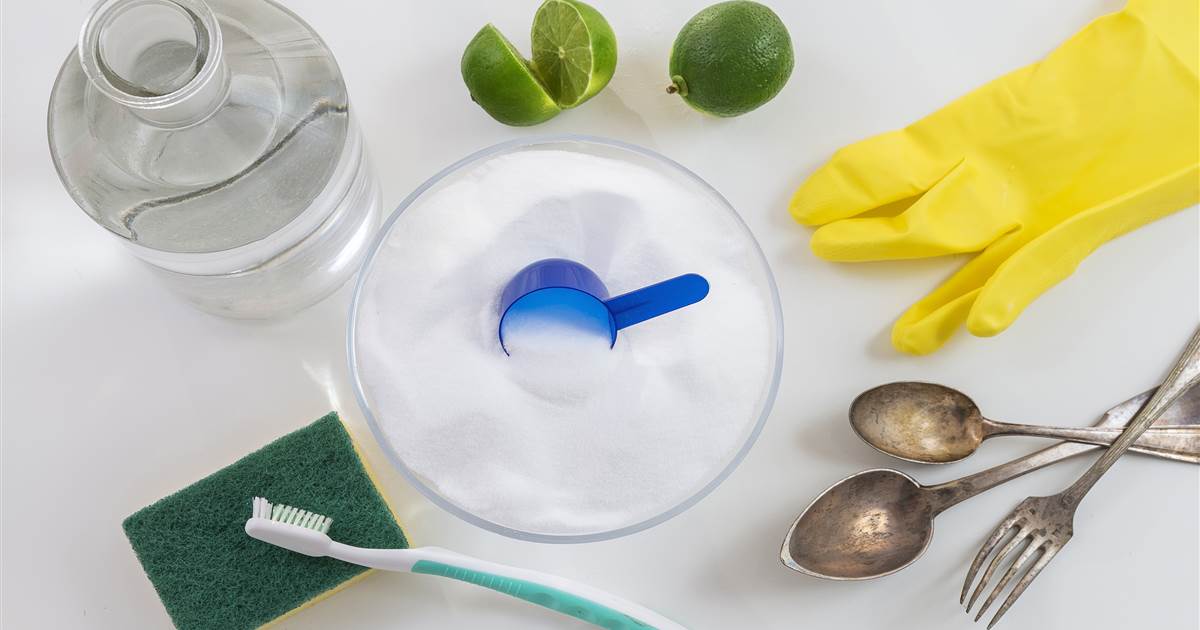 Cleaning Kitchen Cabinets
Over time grease and stains from fingerprints can take a toll on your cabinets. To get them back to spotless condition, wipe down with a mixture of borax, vinegar, and dish soap. Stains will disappear, and your cabinets will look new again.
Unclogging Dirty Oven Exhaust Filters
Have you looked at your oven exhaust filter lately? Over time grease and grime builds, causing an ugly discoloration. Remove the filter and soak it in a boiling pot, with a mixture of water and one cup vinegar for thirty minutes, then rinse.
Take Off Caked on Food from Pots and Pans
Sometimes caked-on food can seem impossible to remove. Try soaking the pan in hot water with dish soap for an hour and pat dry with a paper towel. Sprinkle salt into the pan with warm water and scrub with a rough-sided sponge.
For those of you with ceramic sinks, you know they can become stained over time. To get them back to their shiny, original condition, try mixing soap, sprite, and water in a bowl. Use a sponge to wipe down the ceramic with the mixture and allow to sit for 10 minutes before rinsing.
Eliminating Smells from Wooden Cutting Boards
Over time, wooden cutting boards will become stained and smelly from bacteria. Use a mixture of baking soda and squeezed lemon juice and rub it into the board. Give it a good scrub and rinse for a fresh cutting board.
The correctly named backsplash takes the brunt of grease from regular cooking. To keep clean, NJ Cleaning World Inc. recommends that you spray a little dish soap and water onto the ceramic tiles after each stovetop cooked meal and wipe. To keep the grout between the tiles clean, scrub with baking soda and water with a toothbrush once a month.
Clearing Stained Coffee and Tea Pots
After many uses, both your coffee and teapots will gather a dark stain on the bottom of each. For the coffee pot, run 3 cups of undiluted vinegar through your coffee system, followed by three freshwater cycles. For teapots, boil water with 2 cups of vinegar to help break up and remove stains.
Cleaning Tarnished Silverware
When silverware becomes unsightly, soak your utensils in a mixture of 4 tablespoons of baking soda to every 1 cup of vinegar for one hour. Rinse and rub dry each with a soft cloth. Doing this once a year will give your utensils a shine.
Preventing Water Spots on Glassware
Some of us have water systems with hard water. Without a water softener, your glasses and dishes may have unsightly water spots. Wash your glassware by hand and add a little vinegar to your rinse water to free your crystal of any water spots.
Solving Stained Dish Towels
Don't you hate it when your favorite dish towel receives a food stain? Place a pot of water on your stove, add 1 cup of vinegar, and add some dawn dish liquid. Bring to a boil and watch the stain vanish.
Cleaning Sticky Appliances
Kitchen appliances form a sticky substance on them from oil particles floating in the air.   Regular dusting will not remove the stickiness from them. Use washing detergent mixed with warm water and lightly sponge away the sticky oil film at least once a week to keep them in top condition.
Plenty of counter space is essential when cooking large meals. NJ N. Vitale Disposal Inc. recommends getting rid of junk before you do anything else.
Moving items out of your way can be a hassle in the kitchen. Have designated spots for all your kitchenware and keep decorative items down to a minimum. Your kitchen is for cooking, so remove any items that do not directly relate to food.
Conclusion
By following these kitchen hacks, you will quickly find how such simple solutions can make a difference. Not only will cleaning effectiveness improve, but at a fraction of the cost of using store-bought chemicals and cleaners.